Click Here for More Articles on NBC's RISE
BWW Interview: Josh Radnor & Rosie Perez Head Back to High School for NBC's RISE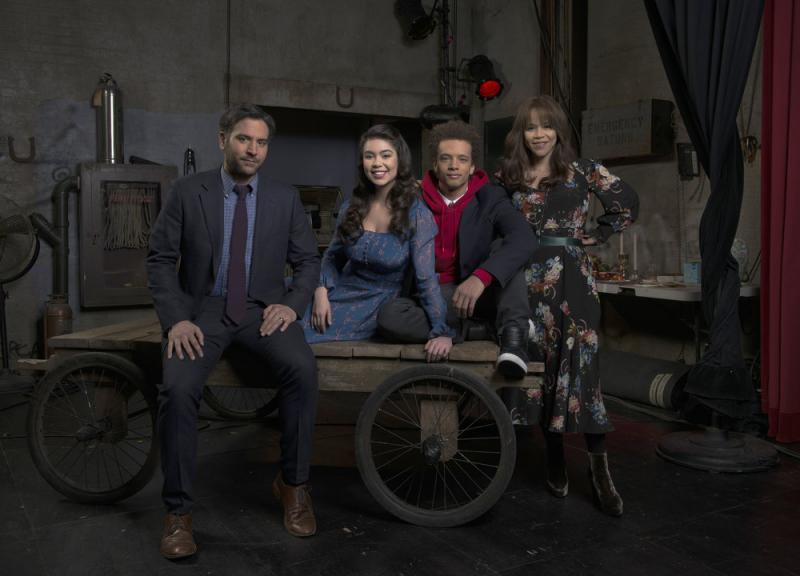 In just days, NBC will premiere its newest drama, Rise, which airs Tuesday, March 13th at 10pm ET/PT following the season finale of "This Is Us," and debuts in its regular time period on Tuesday, March 20th at 9pm ET/PT on NBC.
From Jason Katims, executive producer and showrunner of "Friday Night Lights" and "Parenthood," and "Hamilton" producer Jeffrey Seller comes a heartening new drama about finding inspiration in UNEXPECTED places. When dedicated teacher Lou Mazzuchelli (Josh Radnor) sheds his own self-doubt and takes over the school's lackluster theater department, he galvanizes not only the faculty and students but the entire working-class town.
BroadwayWorld chatted with Radnor and his co-star Rosie Perez to find out all about the new series!
---
What has this whole experience been like for you so far?
Rosie Perez: It was fun. It's taken me a long time to finally settle down and commit to a TV series. And it's been a great experience so far and I'm just so happy to come to work every day. When I read this script, I was like, "I am in." I didn't even finish it, only went halfway through and I called my manager and I said, "I'm in, I'm in."
What do you love about your character?
RP: I think when we first were doing it, the first scene where Lou comes in and she's a little tough with him, I told Jason, "I'm gonna pull back on that." I said that's a stereotype of a quote-on-quote "nasty woman." And I said, "I think I can show her strength in other ways." And he went, "Cool!" And I said, "Really?" because I thought I was gonna be prepared for a big fight about it and he's like, "Let me see it."
It's such an important series already. What do you think the importance of this series is going to be and what you hope audiences take away from this?
RP: Of course, the obvious one is the importance of the arts. It should be the fourth "R" in education: reading, writing, 'rithmetic, and art. They all go together. But also I would say that the political note that is subtly touched on about our education system... the fact that the art department at Stanton High has to compete with the football department is absurd. My character understands - she loves "Spring Awakening," it's an amazing play, but it's gonna rock the boat, and it's gonna affect ticket sales and that in turn is gonna affect the kids. So she has to play politics and she's trying to guide Lou and teach him the ropes because he's a newbie.
I also like the politics of a man getting a job that should've gone to the more qualified woman, and even though Principal Ward says, "Oh, well I don't like her," why does he feel so righteous in that he can dismiss her abilities and her talent just because she's quote-on-quote "difficult?" If she was a man, she would be viewed, not as difficult, as somebody who knows her job and is strong and what-have-you. What pulls me in with the character Tracey is that she sucks it all up, not because of a man, or a male-dominated world - she sucks it all up because she cares about the kids so much.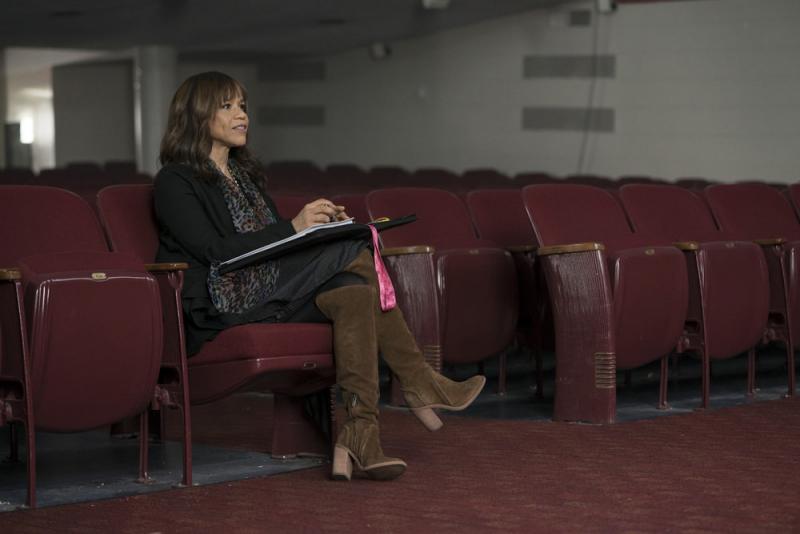 What was the first Broadway show you ever saw?
RP: It was The Wiz.
Josh Radnor: Hi!
We're talking about the first Broadway show that Rosie saw was The Wiz.
JR: Oh, wow.
RP: I was in a group home and I became very introverted and shut down and angry and quiet. When I was in that theater - it was on a school trip - and I just felt all alone in the DARKNESS and I related so much to Stephanie Mills' character and her plight. I remember I just started sobbing, especially when she started singing "Home." And I remember the other kids were looking at me and whispering and kind of giggling, and it was the first time as a young person I didn't care.
How old were you?
RP: I was 12 years old.
Was that a defining moment for you when you said, "I want to do this?"
RP: No. It was a defining moment for me - not that I want to be an actor, because I never thought I wanted to be an actor, but it was a defining moment in regards to the walls tumbling down. My teacher at the time just smiled at me and hugged me. And I felt such a release. I felt like a weight lifted off of my shoulders and for a child in my situation that was priceless.
Josh, was there a show you saw or was there a defining moment when you said, "I want to be an actor"?
JR: I think it was the second musical I did. I played the Emcee in Cabaret at my high school. People were kind of pulling me aside and saying, "That's like, a professional performance you're giving. You should consider doing this." But it felt so outside the realm of anything possible. And I was also terrified. How would I tell my parents that's what I wanted to do? It felt like [Laughs] a BETRAYAL of the highest order.
Do you remember the first Broadway show you ever saw?
JR: I don't exactly, but I do remember a trip when I was around 18 or 19 my family, we all went to New York and we saw a couple Broadway shows. We saw She Loves Me and Laughter on the 23rd Floor, the Neil Simon play. I remember they were so comedically precise and hilarious, all those actors in there and I said to my parents afterwards, "I'm not as good as those people on that stage, but I'm gonna be." [Laughs]
What do you love about this show and your character Lou?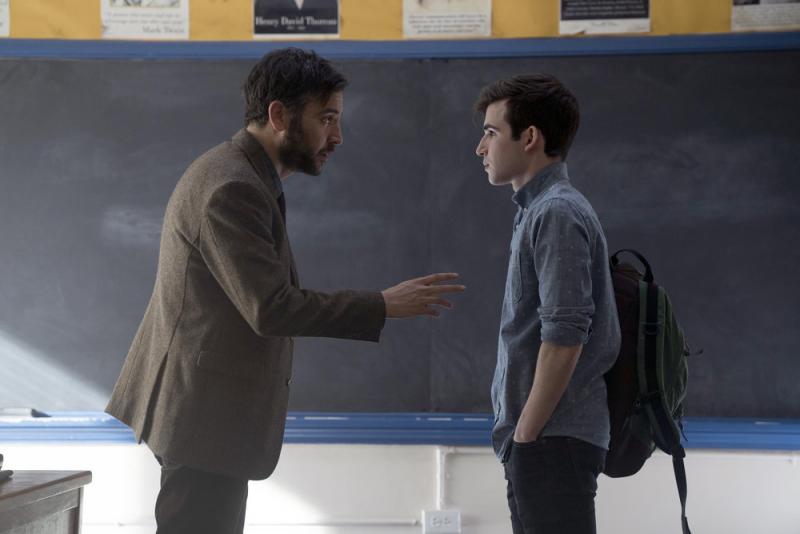 JR: I love that he is sincere and is idealistic. It doesn't seem like he's been overtaken by cynicism. He still believes in teaching, he still believes in the power of it and his students. He still believes you can inspire, but he's also in a bit of a rut at the beginning of the show, where he feels like he needs something. He needs some new jolt of energy or inspiration. And he's also loved theatre.
I started making music with my friend, Ben, two years ago and I just started playing guitar in January and I'm taking it very seriously and I love this idea that you can make a course correction in life or take on something new, whether it's an instrument or a language, or taking over a Drama Department and revitalize your life. I think when you get older you tend to stick with things you're good at and it's hard to get out of your comfort zone and get into things that you might fail at.
He really risks failure in this. He takes on an incredibly hard, complicated piece. It could be a very public failure in his first time doing this. There's tension everywhere he turns. I don't think he knew what he was taking on when he said this, but it's the stuff of great drama because it's not about good guys vs. bad guys. It's about people - complicated people - brushing up against each other and trying to do the best they can.
It's such an important show. What do you think audiences will take away?
JR: Well one of the reasons why I love being an actor and why I think doing plays, whether you become a professional actor or not or even being an audience member, is that it asks you to step out of your own experience and step into someone else's shoes. I think we have a real empathy deficit in this country. Everyone's so dug in in their own camps and their points of views and they don't understand what it's like to be someone else. They even deny the validity of other people's experiences. That's happening from all angles.
I think to drop a theatre department in the middle of a working class town that's centered around football and probably is more politically conservative... just to have this ticking time bomb of this play that's about to go off... and what it's doing to the students and how it's making them confront issues around their parents and issues with themselves as they're coming into their own and growing up. It just feels like a very smartly conceived show at this particular moment in time.
What's your take on Spring Awakening?
JR: Well, it's a very smart piece to do because you're watching two stories. You're watching this town and all the people in the town and they're trying to put on this show. And then inside the show is this piece that reflects all the themes that they're dealing with anyway. And I think that's why Lou picked it, because he wanted to be provocative. He wanted a show that wasn't just jazz hands.
RP: Yes. But in Broadway, we do love jazz hands.
JR: But I think he wanted to get out of a comfort zone and really try something new and daring. I don't think he bargained for how hard it would be and what it would call upon on him.
Talk about the dynamics you two have in the show.
RP: The dynamic between us is very, very complicated because as I stated I got passed over. In the backstory of my character, she's been working at the school - she went to the school and she's been working at the school for 20 years waiting for this moment. When she gets passed over, she swallows her pride for the children. But there are times where she's definitely not submissive toward him, and she keeps trying to tell him, "This is how it goes." At times, she's right and at times she's surprised that she's wrong, and that increases her respect for Lou although she doesn't really like to admit it.
I hope it inspires adults, because we make the decision for our children: inside the classroom, outside the classroom, inside the White House, out on the streets. All of that is very, very important, and so I hope that it inspires the adults to understand the importance of the arts, and to understand that you shouldn't play politics when it comes to a child's education.
JR: I don't think arts programs should be slashed. I think they should be quadrupled. I think if you want an engaged, passionate citizenry, there's no better way to cultivate that than giving kids arts programs. I think Rosie and I are in total agreement on that. I think their relationship is really fascinating because they actually are a terrific team. Tracy knows stuff about these kids and about this program and about staging shows that I don't know, but I think I also bring a different kind of psychological astuteness to the work that is new for her. And we end up being a great team. But it's hard one, because we really do butt heads. Not like me and Rosie off-camera, which is nothing but bliss, right?
RP: One hundred percent.
---

The cast OF RISE includes Josh Radnor, Rosie Perez, Auli'i Cravalho, Damon J. Gillespie, Marley Shelton, Rarmian Newton, Ted Sutherland, Amy Forsyth, Casey W. Johnson, Taylor Richardson, Joseph Tippett, and Shirley Rumierk.
"Rise" is created by Jason Katims, who serves as showrunner and executive producer.
Jeffrey Seller
,
Flody Suarez
and
Michelle Lee
also executive produce. Mike Cahill directs and executive produces the pilot. "Rise" is produced by
Universal Television
, True Jack Productions and Seller Suarez Productions.
Related Articles