Interview: Jeff Richmond Talks GIRLS5EVA and the Intersection of Music and Comedy!
Richmond was nominated for the Tony Award for Best Original Score in 2018 for Mean Girls.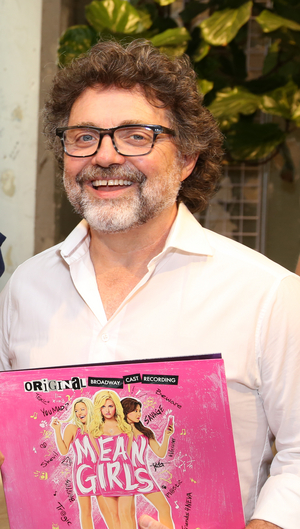 If you loved the Peacock original series "Girls5eva," you probably loved one of Tony nominee Jeff Richmond's songs.
Richmond scored and wrote the songs for the series as well as serving as the Music Supervisor and Executive Producer. He is an award-winning composer, songwriter and producer for television, theatre and film.
Richmond served as composer and an Executive Producer on NBC's "30 Rock," winning three Primetime Emmy Awards alongside his wife Tina Fey. He was also a musical director at "Saturday Night Live," where he spent five seasons composing original songs.
His most recent television credits include "Unbreakable Kimmy Schmidt", "Mr. Mayor", and Peacock's "Girls5eva"; for the latter Jeff composed an original soundtrack album.
Richmond was nominated for the Tony Award for Best Original Score in 2018 for Mean Girls.
BroadwayWorld spoke with Richmond about the huge response to the series, incorporating theatre actors into the television world, the intersection of music and comedy, and, of course - the genius of "New York Lonely Boy."
Read the full interview below!
---
Thank you for Girls5Eva. I first wanted to ask you: how have you been enjoying the response to the show?
It's fantastic. It's so great when you spend the time creating something and you're creating it with people you like - and you're creating, even in a time of peril. But then, to come out the other end, and you created something you care about and also other people care about it? It's a fantastic feeling because that can go either way. You can be building something and doing all your best and suddenly you realize, 'eh, people are kind of liking it.' But this was great; it was fantastic.
How did the pandemic impact how you created this?
The idea came from Meredith Scardino, who has been a writer in our stable of writers for the last, I don't know, eight years. So she came up with the idea. I believe it was the winter of '19 and we were ready to start work, pre-production, in early '20 - a year and a half ago now, before the pandemic. We were getting ready to go and everything shut down, of course; nobody could get together and nobody could do anything fun or work or meet up in a studio. But we were coming around the end of the summer and things seemed like they were getting better. All that time we were in talks with the studios and artists and unions about 'how are we going to get back to work, how are we going to do this?' All of Broadway, everyone, has had to wrestle this. I'm going to give a lot of credit to the television studios and the film studios who figured it out, worked with the unions, and came up with protocols based on all the available information. We were able to step in and begin shooting in October. We shot everybody there every day, full crew, all the artists and everything. [We] wore masks and shields and got tested everyday. Going into this thing, we were all in this very scary time, not knowing when things were going to happen, just questioning when we were going to come out, where was the light at the end of the tunnel. So then getting to work was great. It was joyful to get everyone together to do it. Broadway was shut down and we were able to get a lot of Broadway artists. They were able to feel their way through being able to perform when the lights were out. It was a great experience.
I was excited to see the Mean Girls crossover with Erika [Henningsen] on the show.
Yes, Erika and Ashley [Park] and Jennifer Simard too, who comes in as a guest star.
It's really great you got to bring all those people in. What was the most joyful part of collaboration for you?
I enjoy working with the writers very much. The writer in this particular case was Meredith Scardino. I love taking comedy writers' lyrics and turning them into songs and making them scan because a lot of them come at this with not all the tools. They listen to music, but they rhyme and their scan is often off, so you have to go back: 'well, if we can add a beat or two here or if we can do this, we can shave or elongate this section or if we take these four words and turn it into a bridge' - so there's this great back and forth. The thing that I love about working with Meredith is that she already has this skill set. I'm sure you've noticed but she has very funny, observational lyrics. They are truly comedy lyrics, and they still can sing and scan like music and that's a pleasure for me. The other thing that's great is you have this bevvy of extremely talented people to perform it, record it, and to do it live on stage. To have Renée [Elise Goldsberry] and Sara [Bareilles] and Busy [Phillips] and Paula [Pell], who I've known for years and years and years, you just knew that everything was going to be taken care of and that it was going to be a good time the whole time - and it truly was!
Can you talk a little bit more about writing for this incredible cast of hysterical and talented women?
When we were first casting, everytime that we would cast somebody, I would be excited about it and the opportunity to work with them. The first person who was cast was Sara, who I have enjoyed for so long. We knew that she was really funny and a great performer, so knowing that we would have her vocals and her honesty and her honesty towards the way she performs - it was great. Then we had Renée coming in, so we knew we could blow the doors off anything. We've worked with Busy before and I always knew that Busy could sing. She loves music so much and she has such an educated ear for what's current in the world. She's very well listened; not only can she hear them, but she knows them. She's the kind of person who gets out and meets people - fans and singers - so she has this other great, interesting aspect, and she's also very helpful in the process of creating things and wanting them to sound right. Paula - I can't say enough about her. Paula I've known for twenty five years. We used to write together at Saturday Night Live. We used to write the kind of funny boy group, girl group songs that we ended up parodying on this particular show, and now we've come full circle - except, I'm not in it, I'm still behind the scenes. Also, let me also say, because I've worked with Ashley and Erika for so long, knowing when we were doing these flashbacks that I was going to be able to bring them in to sing, I knew exactly what to expect from them - that's so much fun. You always end up bringing in people that you've worked with, I think that's the other thing. You enjoy working with new people, and you enjoy looking for new people, but there's something about 'I want my family back.'
You talked about this in more general terms but you work almost consistently at the intersection of music and comedy. Where does that exist in your brain?
It's a good question. If the question is 'where does comedy come into play with music so that you can write funny songs'' (or, songs that are doing what they're supposed to do, which is to elicit laughter, and also to feel like it's got a good groove and it's a good song), then I think what the composer has to remember is it's not the job of the music to be funny. It's the job of the words. The best thing a composer can do is assimilate as close to what that style should be. In this case, if we're looking at pastiche and knock-offs of 90s power girl groups, we should be aiming to fill in all the blanks of that. So that's where they meet: the music is in support of those words and it's not trying to be funny in and of itself. Sometimes the music becomes funny just because, in retrospect, that kind of music is kind of funny when you have such a great observational notetaker like Meredith and these other lyricists that I've worked with for a long time.
Another thing I can say about that too, though, is that I don't want to feel like, 'oh we should just be making the music sound like it's from there.' You should also take the step to land it as a pastiche but spend enough time on it so that it sounds catchy in your own self. We have a roadmap of what those songs are supposed to sound like because they were written very honestly by the people that wrote them back in the 90s (or 70s or wherever you're trying to aim for a particular style). They've laid it out for you. These are the sounds that you should aim for and these are the beats and this is the structure of those. I think the next challenge is to take those things and to take it one step further and make sure you yourself are enjoying it, so therefore, other people can enjoy it with a little fresher ear and a little fresher take as well. That is such a long winded answer to a lengthy question you asked (laughing). Where the lyric and the music come together - that's a biggie.
Thank you for that answer. Going along with that, I was such a major fan of The Milk Carton Kids so I was so excited that "New York Lonely Boy" has really exploded from the show. Can you tell me a little about creating that song?
I love that song. That's one of my favorites from this whole canon of Girls5Eva stuff. I think the lyrics, the observation, again, are so funny. Because you're doing something episodic, you don't have the chance to do full length songs as often as you'd like, so, often in a script, you'll have the essence of the beginning lyrics of a song. Maybe it feels like a verse or chorus, and then you step away and fatten it out. We're lucky to have the opportunity with this series because we knew we had all this talent, so that if people wanted longer songs, we were able to use the real estate at the end of the episode to go ahead and write the longer version of the songs. That one was one in particular. I love it, I love Simon and Garfunkel.
I love how melancholy and joyful at the same time those songs are. They come from a period where I was listening to those kind of songs. In the script, it actually says 'a Paul Simon-esque vocal.' For the longest time, it was just my vocal on a demo track. Even when we were cutting and editing to picture, it was just me and we were like, 'wait a minute.' The final mix of this episode was coming up in a week and we had to get it together. We said, 'who are we getting to sing this?' and we went down this list of people: some Broadway people, some other people we knew we could get to really quickly, even though it was in the middle of Covid. Then Sara said The Milk Carton Kids, and I said 'oh my gosh, that's perfect.' They're old friends; she's known them for ten years. So I called Kenneth [Pattengale] and Joey [Ryan], and they were happy to do it. They covered it in LA and we sent things back and forth. You can't get anybody to sound closer to that than those guys - and they're so funny.
Yeah, it helps that they're hilarious.
They're hilarious! So they already know the tongue-in-cheek approach to what they're singing. But once again, it goes back to that thing where the music sounds so legitimate. We mixed it like it was supposed to sound like a 1960s, or 1969 [song], everything about it. Those guys approach that stuff honestly; all that material sounds like that. They're terrific.
Could you tell me a little about who, specifically, were you listening to when you were writing these songs?
I was listening to the Lennon Sisters - no, I'm kidding. We were listening to all those girl groups: Spice Girls, in particular, and the way that they structured their songs, Destiny's Child, TLC, and a couple of other ones. You do a fair amount of research and get enough and then you listen. You're not spending days and days because TV works a lot faster than Broadway; the train is moving so quick from the get-go. Listening to the Spice Girls was great structure-wise in that the music industry built those bands to be able to sell this idea globally for monetary reasons. You almost didn't have to know the words. You'd just know there's this one, there's the power one, there's the sporty one, oh, that's the sassy one. Everyone can identify them. They each got their turn to sing in their songs, their verses were centered around what characteristics they were portraying. Songs were built like that. And I think that 'feminasty' phrase idea was an idea Meredith crystallized with Busy. Because it was assumed that Summer, the character she's playing, could not sing very well - she'd gravitate to the nearest harmony - the one thing she could do is sound sexy at the end of the song.
To bring it all back to Broadway - Renée, Mean Girls, all the incredible Broadway talent you got to bring into this project - how do you think Broadway talent adapts for the screen? Do you think it's a natural transition for them?
I think it's very individual for everyone. I think some make it much easier and some others maybe don't? I've never experienced the 'others don't' but I'm sure it's out there: people who can't figure out how to work around the screen. We're super fortunate that everybody we've had could do that really quickly. One observation I can make is how we would work choreography with James Olsop and how she would work with the four of them, specifically. The people who were working on Broadway the most really wanted to drill it and get it in their body before they got in front of the camera so we would try to find more time for them to work. And then other television people like Busy and Paula - Paula, we used to do musical numbers on SNL and you barely got to rehearse them before you went live to millions and millions of people. There's a sense that you're rehearsing it in front of a camera anyway. It's always a rehearsal; the cameras are rolling and the director and the editors are going to cut the best takes and glue the musical number together.
By the end of shooting this season, everyone figured out how each other worked and it became a little bit of both coming together - how Broadway works, how people who go down to 42nd stages and go to the eighth floor to rehearse and how that happens, and then how people on television work in a different way. It all married together. And I've worked with a lot of super fun casts - they almost always get along - but this particular cast ... Maybe it was because of where they come from and the communal-ness of being Broadway people and television people, or coming in during Covid, everybody knowing that they had to start the world somehow - whatever it was, I think I can genuinely say they all loved each other. They were the loving-est bunch of people. They were great.
We have Broadway (and Mean Girls) coming back in a few months. What are you most excited about live theatre coming back?
There's a lot. I think Broadway means the return of New York in a lot of ways. Looking for people coming back to the cities and filling up all the restaurants and all the arts getting back. The absolute resurgence as an industry, for one, which the city desperately needs and has thrived on for years and years and years and years. And people getting back out into the world again, I guess. I am very excited for Mean Girls to get back up running again and get back up on tour, I love those people as well.
It's a very exciting time.
It's great to look around and see things getting back to normal. It's been a dark winter.
---
"Girls5eva" is available to stream on Peacock. Watch a season one trailer here: