BWW Interview: A Fresh Canvas- Alfred Molina & Alfred Enoch Get Ready to Bring RED to the Big Screen; In Cinemas 11/7!
As BroadwayWorld previously reported, the critically acclaimed production of John Logan's Red with Alfred Molina and Alfred Enoch will be screened in selected cinemas across the UK and North America on November 7 2018. Filmed at the Wyndham's Theatre, where it completes its run on July 28, the production is based on Grandage's original 2009 Donmar Warehouse production, that went on to win six Tony Awards including for Best Play and Best Direction of a Play.
Under the watchful gaze of his young assistant, and the threatening presence of a new generation of artists, Mark Rothko takes on his greatest challenge yet: to create a definitive work for an extraordinary setting.
The play's stars, Molina and Enoch chatted with BroadwayWorld as the show was entering its final performances in July. Check out what they had to say about the upcoming theatrical release!
---
I know that you only have a handful of performances left. How does that feel? What was your mindset going into this final week of shows?
Enoch: It feels strange. This has been such an enjoyable experience for me. The thought that it will be gone next week is quite a strange one really. Especially a play that's been as fulfilling as this one to do, so I'm just enjoying it every week... but you know, it's just hanging over me that we only get to do this play six more times
Molina: Yeah
Enoch: Which is a strange thought, bittersweet, but it's been amazing, a real joy. A real pleasure and a privilege.
Is there a period of mourning involved just in leaving a character behind?
Enoch: Yeah absolutely. That's something you probably find, if not every, most parts I've played but I'm just worrying with this because of what it's meant to me. I think it might be an even more difficult process. I'm off to Paris as soon we finish to go...
Molina: Are you? Oh that's right!

Enoch: So I'm throwing myself into something, not the plane I hope... [Laughs]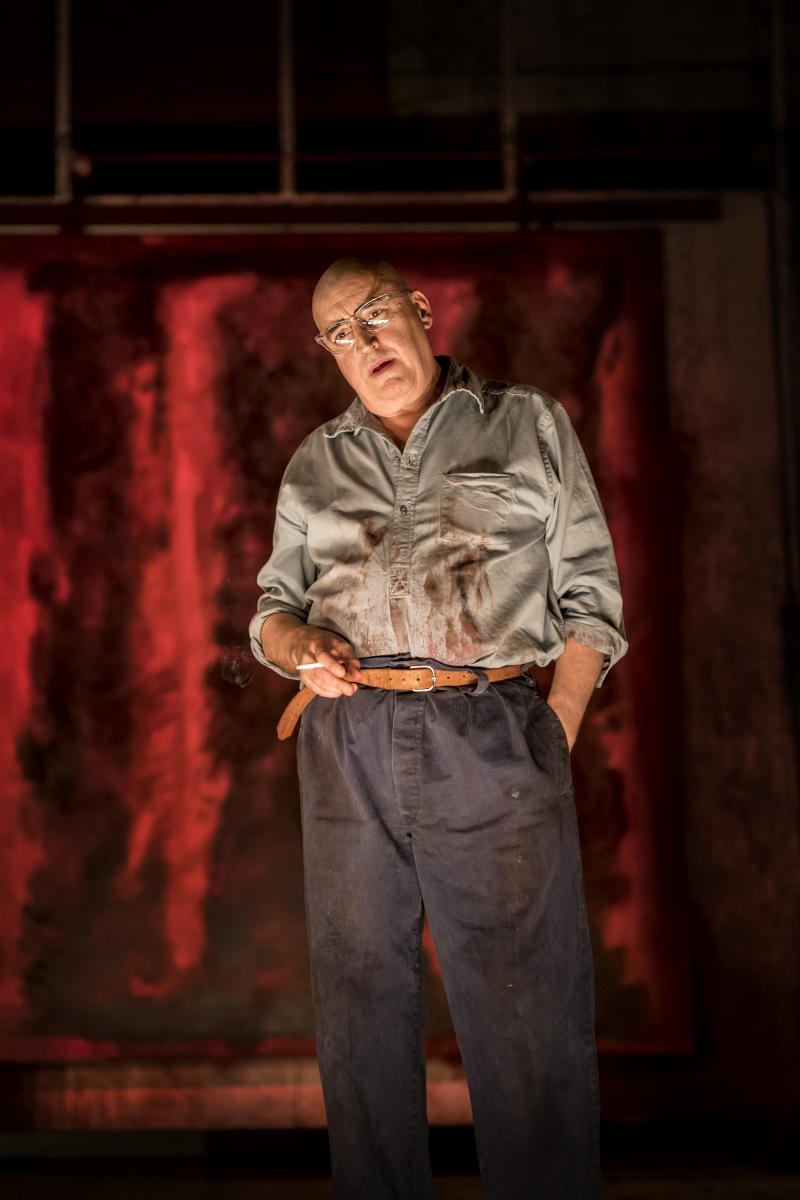 Molina: I actually echo what Alfie's saying. There is a poignancy to the last week of any play, especially if you enjoyed it. I've done plays that I've actually hated doing and I couldn't wait for the last week. It's sort of like every play you do, you're fiddling with this warm fuzzy feeling that you can't wait to get out of the play. But certainly with this, I've lived with this for a long time and I know this will be the last time that I'm doing it. There is a kind of poignancy to it. This has been a really special event mainly due to the nature of the play, the nature of the role, what it's meant to me personally, professionally, what it's done for me in terms of making me understand where I am as an actor, and what I can contribute. It's the most demanding thing I've ever done. It's probably the best play I've ever been in, certainly the best part I've ever had the privilege of playing. So all of that is all mixed up in it.
I can't help but be reminded by a wonderful moment in the play when I'm talking, when Rothko's talking about his work, his paintings and will they ever forgive him for what he's about to do. Ken turns around and says "They're only paintings." At the bottom of everything we have to remind ourselves it's only acting. It's not like we're making a lot of contribution, but we'll carry on acting and hopefully we'll feel this way about the next job or the next play. That's the wonderful thing about being an actor- there's this continuum of working. And hopefully the next job will both be slightly better because we've learned something here.
Mr. Molina you've obviously gotten the chance to play this several times with a handful of different costars, what would you say has differentiated this particular run, with Alfie by your side?
Molina: Well all three, Eddie [Redmayne] and Jonathan [Groff] and now Alfie, they've all come with their own vision- their own passion for the role, their take on it. We've always been very clear about allowing that freedom. So Jonathan and Alfie weren't being required to fit into an existing format. The part was theirs for them to do with it as they chose and so that's been a fantastic thing, because it means fifty percent of the cast has changed so you have to completely rethink what you're doing. That's been the exciting thing. I've had to be less of a revival and more of a rediscovery.
The real change though between now and when we did it originally, is what's happened in the world in the last nine years- how things have changed and how there's a different dynamic between Rothko and Ken for an existing audiences. It's a very different dynamic than it was nine years ago. There are residences and themes and echoes in the play which didn't quite exist in quite the same way before. Now they have, they've added an extra dimension to the play which I believe has made it richer and deeper and more intriguing.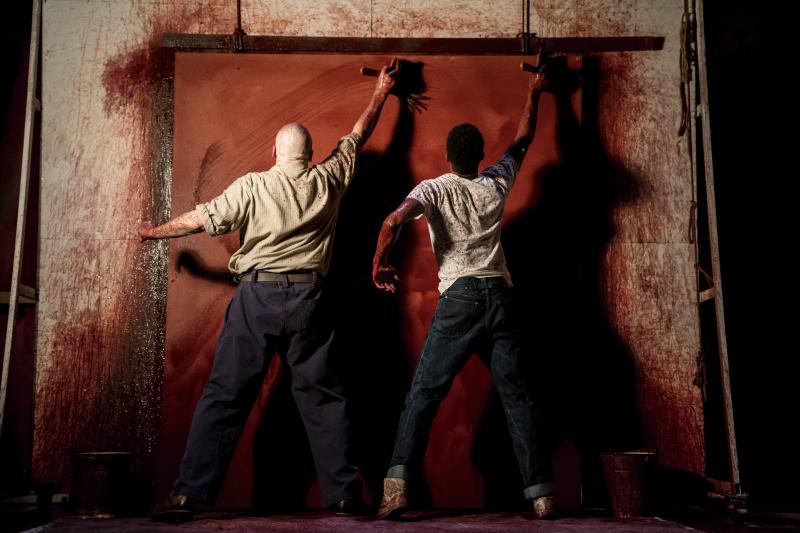 Alfie, going into this was it daunting knowing that you're making your West End debut and your costar is going in really knowing what he's doing?

Molina: You're presuming a lot! (Laughs)
Enoch: Daunting sounds far too negative. I was excited by the opportunity. I was kind of thrilled to get to work with Fred and Michael Grandage and I was just excited. There was a hope, I guess, that I wouldn't feel daunted. I hoped I wouldn't feel constricted for myself, but also I was mindful I was coming into a room where everyone, not just Fred, but Michael too, knew the play very well and obviously wanted to do a good job with it because it was so successful in all the prior incarnations. Any fear I might've had was completely dispelled at every stage... in the audition working with Michael, I thought, "Goodness I'm really enjoying this!" It was one of those auditions where you go in and you feel you're working. You're not being tested or something.
I don't know if you remember this Fred, but you very nicely asked Michael if you could just give me call just to say hi and we had little chat. He was so welcoming and so friendly, and at every point I was made to feel, as Fred has said, like there wasn't a shadow looming over me and I had to do it a certain way or fit into a certain mold. I was given the freedom to work and that's made it so so positive as an experience.
Let's take a moment to chat about Michael Grandage because he's had just an amazing year doing this, Lieutenant of Inishmore, and Frozen on Broadway. What do you think sets him apart as a great director and great collaborator?
Molina: Well for my money, I think it's what you just said, it's his level of collaboration.It's his enthusiasm for collaboration. He's not a martinet in any way. He doesn't regard directing as some benign dictatorship. He believes in people bringing their skills to the table and he trusts they'll work as he does. That trust and that ability to allow people to be creative and make those contributions liberates me and makes everyone want to work as hard as they possibly can and the highest level they can. He doesn't ask you to present him with things. He asks you to come with as many options as you can.
Enoch: Yeah
Molina: And he asks a lot of questions and when he asks you things like, "What does this mean?" or "What's going on here?", it's not a trick question. Some directors ask you those questions because they already have an answer... but he genuinely asks that question. It's not like he'd actually rather you do it like this. It's not just something he'll do to make you feel good until he gets what wants. It's a consistent part of his approach right through the process and that's what makes him brilliant in my mind.
Enoch: That's so right, I couldn't agree with that more. To use that, as you say, it's fundamentally part of the way of the way he works and part of the process. You feel you're not being modified or you're not just being given a little bit of space just to feel good about yourself and then just stretched and anchored into a right choice. These things are really up for grabs, so it really is a collaboration. But also that sort of incredible talent to be able to use that and make things coherent at the same time, the sort of flexibility, the ability to see what's needed for the production, see what's gonna make it work and use these different impulses to fashion something symphonic... something that's rich, but something that still coheres.
Molina: He's brilliant. There are some directors who basically don't trust you. There are directors who approach their work as if they don't quite trust your intelligence or your instincts or your taste and there are directors who don't really care what you think, you're there to be manipulated into some kind of vision that they have. That approach may be just as valid. For me, I don't like it. Michael is always curious about why you're doing something. He's watching you work, he enjoys seeing you embolden your idea. He gives you the room to do that, and that's the best in my book.
He seems like a real actor's director...
Molina: Yeah, I think that has to do with the fact that he was an actor himself at one point. Although, he made us laugh one day when we both asked him in a different way if he enjoyed being an actor and he answered with such a resounding no and it came so fast we barely finished the question. [Laughs] He may not have enjoyed being an actor, but he certainly he gives actors a great deal of respect.
This cinema release is such a cool thing because so many people that didn't get a chance to see this are going to get to see this play and it makes theatre so much more accessible to people outside of London...
Enoch: Yeah, the thing that gets me is that more people get to see it. I think it's such a great play and it's something I'm hugely hugely proud of having been part of, so that's incredibly exciting. But on a personal level, I have friends in the States who haven't seen it who all get to see it, so it's a lovely thing! The sort of posterity notion is a bit of a stranger one because now I have the option of seeing it.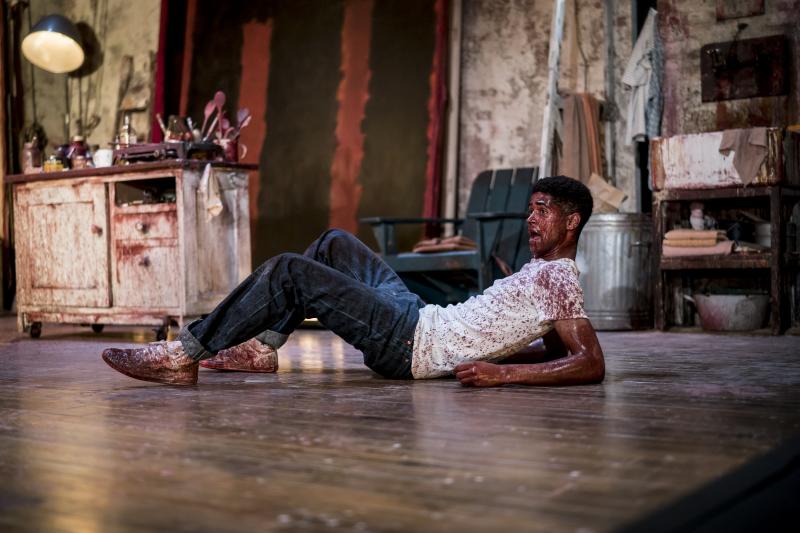 It's true!
Enoch: I think it's been too wonderful an experience for me to pass up the strange opportunity to see yourself on stage. It's not obviously anything you really expect.
Molina: What's really exciting is also the fact that the cinema audience are going to see something which is exactly what the theatre audience would've experienced. We're not making a movie of the play, we are presenting the play. We're not adjusting it in any way to fit the different medium, we're not making it into something else. Hopefully the cinema audience are going because they want to get a certain taste of what the theatre audience would've experienced, and that's what makes this whole thing so interesting and it's such a fantastic innovation over the last few years, where plays have been able to be seen.
Was it filmed over the course of several performances?
Enoch: Yeah, over three performances and plus a little session of picking up odd bits here and there where the vocal wasn't quite as clear or something like that.
Why do you think people in 2018 need to see this play now?
Molina: Because the world has changed. The world has changed in the last nine years and we now have a different world. The most obvious thing is of course that fifty percent of the cast is black. That has an impact on the play. The dynamic is different, the world has changed. I think this iteration of the play will speak to a contemporary audience in a way the play didn't nine years ago. I know it sounds like a small point, but there's a resonance now in the play when Rothko starts to break. It's a different energy because this young black man says "Consider the last gasp of a dying race." That has an echo that goes beyond the play. When Rothko at the end of the play says, "Make something new," handing it over to, not just in a younger generation, but a whole new view of the world. A whole new perspective of the world. Those things have echoes. They may not be obvious, but they're simmering in the consciousness as an audience is watching.
Alfie would you consider starring in a Broadway show and Alfred would you consider coming back to Broadway someday?
Molina: Only with Alfred Enoch. (laughter)
Enoch: My chances of employment on Broadway have now gone through the roof, fantastic. There's hope for me yet!
Molina: We're gonna come back in a revival of the Neil Simon play, we're gonna call it The Very Odd Couple. [Laughs]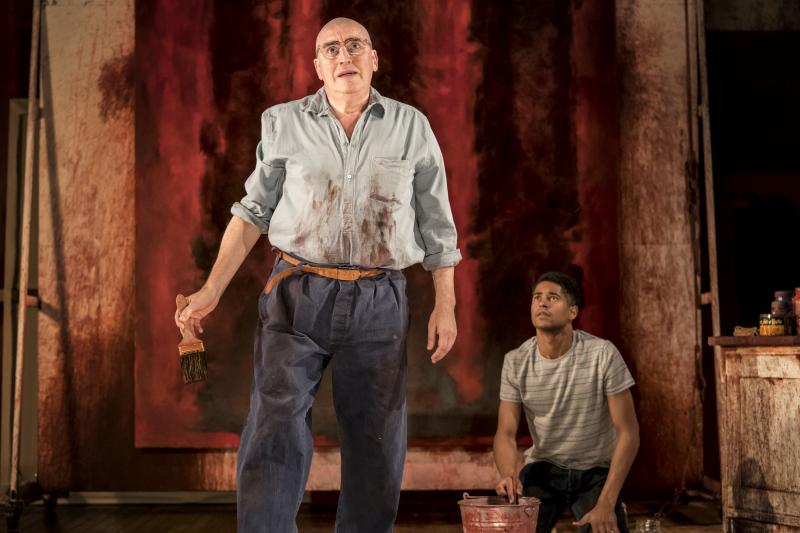 ---
For more information or to find a cinema screening Red please visit: www.redincinemas.com.
Enoch's theatre his work includes King Lear (Royal Exchange Manchester), Coriolanus (Donmar Warehouse), Timon of Athens, Antigone (National Theatre). For television, his credits include Troy, How To Get Away with Murder, Sherlock and Broadchurch; and for film, Enoch played Dean Thomas across seven of the eight Harry Potter films.
Molina's most recent theatre work includes A Long Day's Journey into Night (Geffen Playhouse) and No More Shall We Part (Williamstown Theatre Festival). He first starred in Red at The Donmar Warehouse in 2009, which later transferred to Broadway and for which he received a Tony Award nomination for Best Leading Actor in a Play. His other theatre work includes Fiddler on The Roof (Minskoff Theatre - Tony Award nomination), Art (Royale Theatre - Tony Award nomination), Molly Sweeney (Roundabout Theater - Outer Circle Critics' Award for Most Outstanding Debut Performance), The Cherry Orchard (Mark Taper Forum), The Night of Iguana, Speed the Plow (National Theatre), Serious Money (Royal Court Theatre), Can't Pay? Won't Pay! (Criterion Theatre), Oklahoma! (Palace Theatre) and The Taming of the Shrew (RSC). For television, his work includes I'm Dying Up Here, Angie Tribeca, Bette and Joan (Emmy nomination for Outstanding Supporting Actor), Close to the Enemy, Sister Cities, Whiskey Tango Foxtrot, The Normal Heart (Emmy nominated for Outstanding Supporting Actor), Show Me a Hero, Monday Mornings, Roger and Val Have Just Got In, Law and Order: LA and The Life and Times of Tim; and for film, Love is Strange, The Pink Panther 2, An Education, The Lodger, Spider-Man 2, The Da Vinci Code, Silk, Frida, Chocolat, Magnolia, As You Like It, The Hoax, Anna Karenina, Boogie Nights, Species, Maverick, The Perez Family, Hideaway and Raiders of the Lost Ark.
Photo Credit: Johan Persson