Click Here for More Articles on National Theater Institute
BWW Exclusive: In Class with NTI - Droznin
Today, Risk Again! takes you into the classroom with an introduction to Droznin. This technique, which provides the actor with strength, flexibility, and courage, has been a cornerstone of the National Theater Institute's movement training for the last 15 years. Scroll down for photos!
Theater director Andrei Droznin, the premier movement coach in Russia for more than two decades and his eponymous system of training -- which blends V.E. Meyerhold's biomechanics, Stanislavsky's Method, and the achievements of many other great Russian directors -- forms the foundation of Russian stage movement. The technique incorporates a large amount of movements and exercises with the goal of making a "connection between body and mind, body and soul." Droznin has also described his method as "living movement" which is "stage movement that blurs the boundaries between dance, mime, and vernacular gesture."
NTI's Artistic Director Rachel Jett was the first American aspirant to Andrei Droznin. She recounts: "In 1996 I was one of three students studying in the halls of the famed Moscow Art Theatre with the National Theater Institute's MATS program. We studied plastic or stage movement three days a week with three different teachers, the master teacher was Andrei Droznin. Droznin had innovated and refined a system of movement that encompassed many disciplines. His system of stage movement stretched and strengthened us in a seemingly endless series of exercises (thousands of them). His system by made us stronger, more flexible. It also made us braver. Therefore we were much more apt to make split decisions for our characters -- both physically and emotionally -- during rehearsals and performances. Droznin's system of movement and his teaching was so inspiring and effective that it prompted me to return to Moscow a few months after that seminal semester, simply to follow Droznin and be in the room wherever he was teaching." Droznin's system, an integral part of the Moscow semester, began influencing the two-time Tony Award-winning Eugene O'Neill Theater Center in Waterford, CT, where Droznin continues to be a foundational system of movement for the young artists for the National Theater Institute's semesters, including the new National Music Theater Institute semester.
"The only way I can describe the efficacy and sometimes magic of Droznin is that the technique lives in our bones" Jett continues. "It teaches the actor to do things that they never thought possible. Droznin's system of movement builds fearless, exhilarating actors full of confidence and surprise. After studying the movement technique, the distance between impulse and action collapse, and the actor finds true freedom on the stage. I think that is what is at the heart of Droznin's mission. He wants to free the actor's body and make the possibilities of the body as limitless as the possibilities of the actor's imagination. It is an honor to have been taught by him, his generosity and teachings changed the course of my life. It is an honor and a joy to introduce his method to the exciting young artists of NTI who make immediate use of his work."
Rachel has been a faculty member at NTI since 1998 and is an alum of the NTI, NTI-Advanced Directing, and Moscow Art Theatre Semesters. A 2006 Baryshnikov Fellow, she holds an MFA from NYU Tisch School of the Arts Musical Theater Writing Program and is the first American aspirant to Andrei Droznin, master teacher of movement at the Vakhtangov Theatre in Moscow, Russia. She is one of the few practitioners teaching his method of Russian movement in the U.S. Named "One of 50 to Watch" by Dramatist Magazine, she is a lyricist/librettist and a former company member of the award-winning Stanislavsky Theater Studio and SYNETIC Theater in Washington, D.C. In 2014, she appeared in a short film written by Donna Di Novelli.
In addition to the five theater intensives at the O'Neill lead by Rachel Jett (NTI Semester, NTI-Advanced Directing, NTI-Advanced Playwriting, National Music Theater Institute, and the Theatermakers Summer Intensive), the National Theater Institute offers the only opportunity for American undergraduates to train at the famed Moscow Art Theatre School.
Next week: Risk Again! Notes from the National Theater Institute will showcase a student's perspective and learn about what it means to spend 14 weeks "studying away" with NTI.
To learn more and apply, visit www.NationalTheaterInstitute.org and on Facebook, Twitter, and Instagram (@NTIRiskFailRisk). The application deadline for summer and fall programs is March 20. Early applications are encouraged!


Actor Michael Douglas and CBS Sunday Morning visited Rachel Jett's Droznin class in the spring of 2014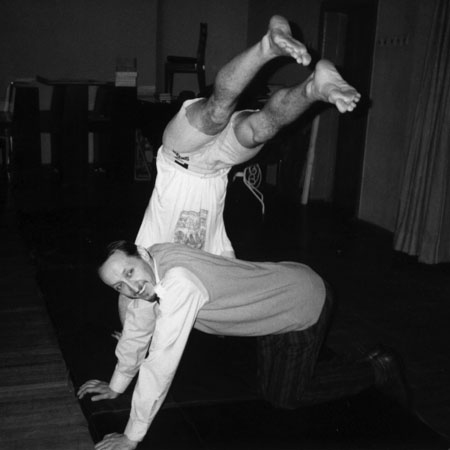 Andrei Droznin teaches students his eponymous system of training at NTI's Moscow Art Theatre Semester.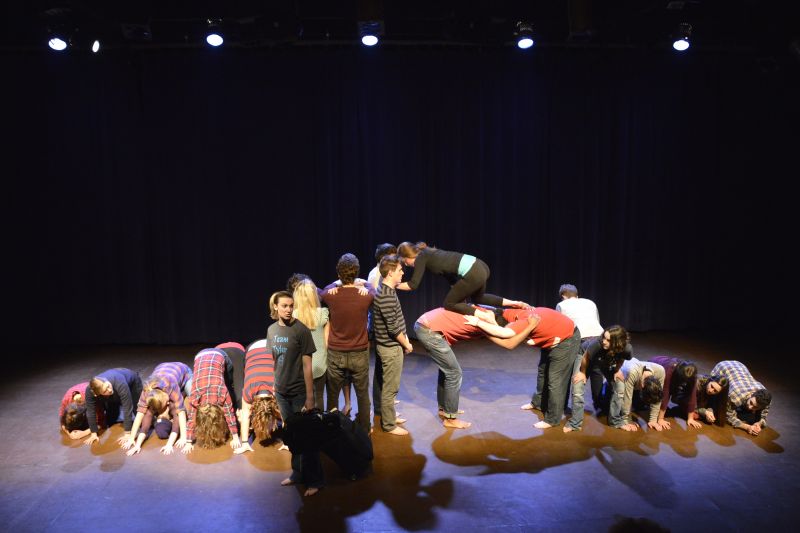 Droznin has been a cornerstone of the National Theater Institute's movement training for the last 15 years.

Droznin pose performed by O'Neill Executive Director Preston Whiteway and NTI Artistic Director Rachel Jett.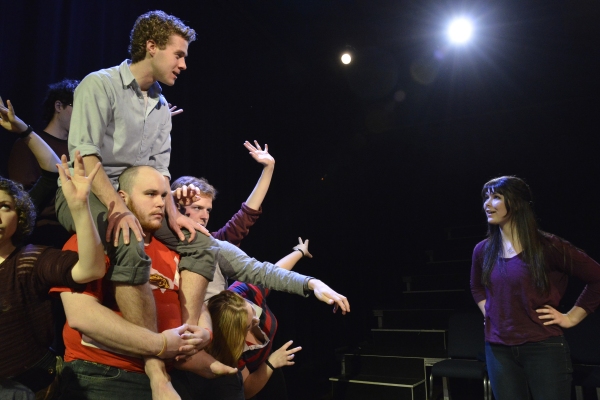 Fall 2013 students incorporate Droznin movements into their scene work.

National Theater Institute actors are given Droznin, a methodical key to unlock their impulses.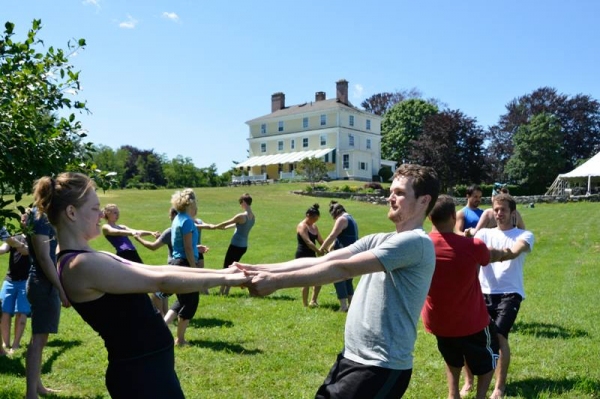 NTI alums returned to take a Droznin class on the lawn of the O'Neill's Hammond Mansion during 2014 renuion weekend.

NTI Fall 2009 ensemble shows off Droznin skills in performance.

NTI students are introduced to partner acrobatics and learn to connect with their scene partners on physical level.

Rachel Jett and student at the O'Neill in the Spring 2004.

Students are guided in exercises and partner work designed by Rachel Jett, one of the few Droznin instructors in the US.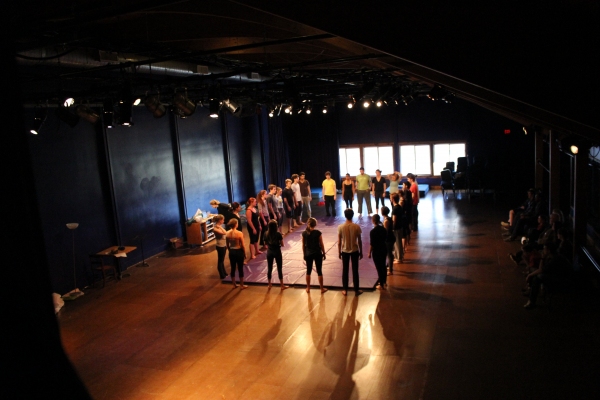 Students prepare for Droznin class with NTI Artistic Director Rachel Jett at the Eugene O'Neill Theater Center.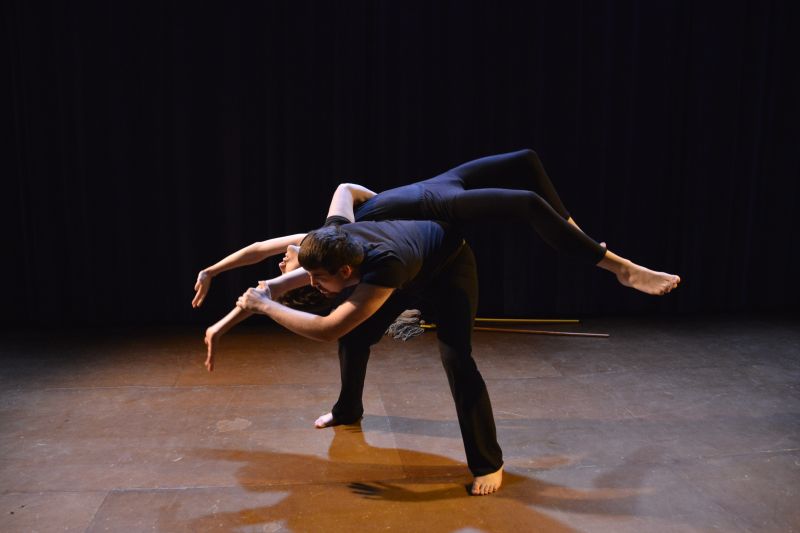 The technique's aim is to provide a methodical key to the actor's body, increasing physical spontaneity and grace on the stage.
Related Articles
With a singular schedule and an unmatched breadth of training, the National Theater Institute's six semester-long programs offer students a springboard to the professional world (read more...)