Click Here for More Articles on National Theater Institute
BWW Exclusive: Behind-the-Scenes of FOLLIES with National Theater Institute Alum Ted Chapin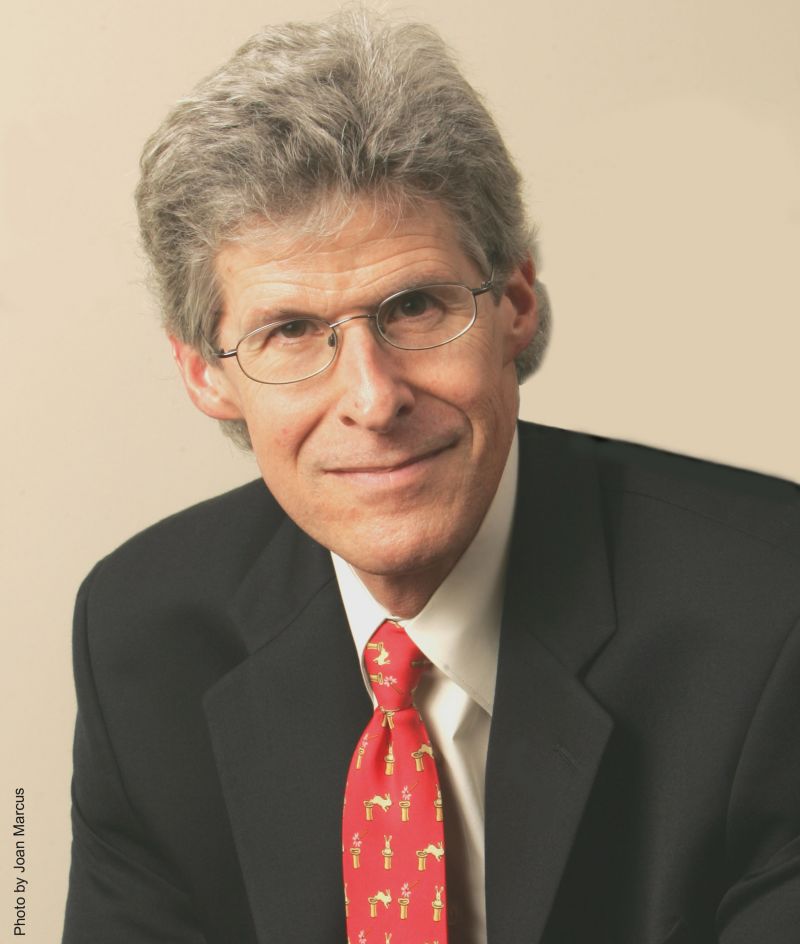 The National Theater Institute includes a vibrant community of over 3,500 alumni. The many talents of these actors, writers, directors, and designers can be seen on Broadway, Off-Broadway, in films, television, London's West End, and at every major regional theater in the U.S.
Today, in an excerpt from EVERYTHING WAS POSSIBLE: THE BIRTH OF THE MUSICAL FOLLIES, we hear from Ted Chapin (NTI Fall '70) who called his semester-away at NTI an "extraordinary" "experimental off-campus theater program."
"It is fall 2001. I am standing on the stage of the Colonial Theatre in Boston. A total renovation has recently been completed, timed to coincide with the theater's one hundredth birthday, and the owners are throwing a party to celebrate. As president of the Rogers & Hammerstein Organization, I have been invited to represent the contributions of Richard Rodgers and Oscar Hammerstein II, many of whose shows played at the Colonial on their way to Broadway. [...]

I walk to the footlights, peering out at the empty auditorium. The cherubs adorning the front of the balconies, the frescoes on the ceiling, and the chandeliers are now gleaming. There is a gentle, elegant sweep to the rows and rows of newly upholstered seats, and over to the sides are the boxes, one on top of another, grand and ornate. Looking down to the orchestra pit, now covered, I think of the songs that were first played there, songs that have become famous.

My mind is on someone specific. A young man, who stood on this stage long before tonight. I can almost see him, that twenty-year-old, who found a way to observe rehearsals and the out-of-town period of a show he hoped-he knew-would be thrilling. Focused enough to keep a diary, he was enthusiastic and green; he kept his eyes and ears open to everything that was going on around him. Naive, but eager to please, he adored every minute.

I am thinking of myself, age twenty, the gofer on FOLLIES.

It's been thirty years since I was in this theater, but in many ways it feels like yesterday. [...] It's all just as I remembered it. Nothing seems to have changed. [...]

When introduced, I thank the hosts of the party for the meticulous restoration job they have done. I reiterate how important the Colonial Theatre was to the careers of Richard Rogers and Oscar Hammerstein II, and to the history of American musical theater. I mention FOLLIES, the Stephen Sondheim, James Goldman, Harold Prince, and Michael Bennett musical that played in the theater for four intense weeks during the winter of 1971. Acknowledging that I played a small role in that show's Colonial Theatre life, I tell the guests that the spot on which I am standing is where a song was first introduced to the world, an out-of-town replacement that soon become one of the staples of the Stephen Sondheim repertoire: "I'm Still Here." There's is a bit of an "ooh" from the crowd. I conclude my remarks and go back to mingling. One stagehand, now in an uncharacteristic suit and tie, tells me had fond memories of FOLLIES. [...]

FOLLIES is about the past, revisited, embraced, rejected, relived, denied. It is really about the effects the past has on the present and the future. Here I am, standing on this stage, thinking about that young man from the past and welcoming him into the present. I am back in 1971, with all those talented artists struggling to get their show right, with all those acts hoping this would be the one show that would do it for them. In the course of research for this book, I found that twenty-year-old in photographs, many of which I had no knowledge existed. He looks very young, he has too much hair, and his clothes have a decidedly collegiate look. I found him in one shot, seated among the entire creative staff, legal pad in hand, taking notes for Hal Prince. What was he thinking at that precise moment? What was he staring at so intently? Dammed if I can remember. There's another shot in which everyone is laughing. At what? I realize he knew then, as I know now, that FOLLIES would have happened without him. Its fate would have been the same. But his being there, at the beginning has given me this gift today: the opportunity to get this all down on paper.


In the credits at the back of the Playbill for the original Broadway production of FOLLIES, I am listed as "Production Assistant." That means "gofer"-the low man on the theatrical totem pole who runs all the errands and does whatever the management asks him to do: go for this, go for that....Hence the name. At the time, I was a junior at Connecticut College, which had recently gone coed. I had spent the fall on an experimental off-campus theater program and wasn't anxious to go straight back to school. The FOLLIES rehearsal period neatly paralleled the second semester, and I felt I could probably sell the college on allowing me to make a credit-worthy independent study of observing the creation of an intriguing new American musical. In order to graduate on time, I would need to get two course's worth of credit, so I agreed to keep a journal that I would fashion into a report. It was 1970; colleges then were somewhat in turmoil anyway, and they tended to welcome creative independent studies initiated by students. Thanks to one particularly sympathetic registrar, a holdover from the days of Connecticut College for Women with a twinkle in her eye for show business, my request was accepted. I hadn't yet quite gotten Harold Prince to agree to let me observe rehearsals.

My fall semester's experience had been extraordinary. I was part of a group, and a motley group we were, of thirty undergraduates from all over the country participating in the inaugural semester of the National Theater Institute at the Eugene O'Neill Theater Center in Waterford, Connecticut. It was designed as an intensive program in which students would have nothing but theater thrown at them all day long, seven days a week. Course taught by professional theater practitioners in all kinds of disciplines; we had to take every now, regardless of what we thought our ultimate career goal might be. We designed sets, we studied acting. We put on kimonos and practiced Japanese theater techniques. Someone from Joseph Chaikin's innovative Open Theater had us twist into athletic clumps. The two design teachers, David Hays and Fred Voelpel, were working on a new Broadway-bound musical entitled TWO BY TWO, so we piled into a bus and went to see a dress rehearsal at the Shubert Theater in New Haven. We came to New York for a week to see shows and meet with actors, directors, and producers-including Hal Prince and Michael Bennett. Friday afternoons were set aside for puppetry, since Margo and Rufus Rose, the originators of HOWDY DOODY, lived nearby. For them we suffered through a series of visiting puppeteers who attempted to teach us what one referred to as "the most basic of all art forms because there is nothing between the creator and his art." We were, however, won over the day a gangly, soft-spoken Jim Henson arrived with a duffle bag full of his creations for a new children's television show that had just gone on the air. They were the Muppets from SESAME STREET and he simply told us: "These are my friends." We were enthralled. Somehow going straight back to an undergraduate collegiate program of directing and acting in one-act plays at a college that didn't have a theater department and only a 2,000-seat proscenium auditorium known mostly for the American Dance Festival felt like an inevitable letdown. Working on FOLLIES, I imagined, would provide a great decompression chamber. And I promised the college that I would great up for a senior year in which I would stay on campus and do all the right things.

I had become a big fan of three of the creative artists who were collaborating on FOLLIES: composer-lyricist Stephen Sondheim, producer-director Harold Prince, and choreographer-director Michael Bennett. I was staggered by their work on COMPANY.[...] I was just hell-bent determined to be part of their world. [...]

Once I knew the team would be doing another show, I wanted to be there, so I wrote Hal Prince a formal letter asking if I could observe the rehearsal period of FOLLIES. I had met him through my parents as well as having seen him during the week when the National Theater Institute had come to New York City. One of the shows we saw was COMPANY, and afterward we all went back to [O'Neill founder] George White's apartment to meet with both Hal and Michael Bennett. Hal wrote back. [...] I was given the green light. [...] And so I became a part of the FOLLIES family."
Read more about the development of FOLLIES including the uncertainties of casting, drama-filled rehearsals, and the pressures of a Boston tryout in EVERYTHING WAS POSSIBLE: THE BIRTH OF THE MUSICAL FOLLIES by Ted Chapin, forward by Frank Rich published by Alfred A. Knopf, 2003.
AMERICAN THEATRE has said "anyone considering a career in the theater would do well to read this book. Praise echoed by theatrical greats Harold Prince, Stephen Sondheim, Stephen Schwartz, David Henry Hwang, James Lapine, Cameron Mackintosh, Jeffery Seller, Gregory Mosher, Michael Feinstein, Howard McGillin, Todd Haimes, Paul Gemignani, Joanna Merlin, and Shirley Hazzard.
As President and Executive Director of Rodgers & Hammerstein: An Imagem Company, Ted Chapin has spearheaded over twenty award-winning Broadway and London revivals, as well as several film and TV movie remakes and numerous recordings. Chapin is past Chairman of the Board of Trustees of the American Theater Wing, and was chairman of the Advisory Committee for New York City Center's Encores! series from its inception. In addition, he serves on the boards of New York City Center, Goodspeed Musicals and New Music USA. He has been a guest lecturer at NYU, Yale, Columbia, Lawrence University, and St. Catherine's College at Oxford. He was a Tony Awards nominator for two seasons, and is currently a member of the Tony Administration Committee.
Top left photo by Joan Marcus
Related Articles
With a singular schedule and an unmatched breadth of training, the National Theater Institute's six semester-long programs offer students a springboard to the professional world (read more...)