Click Here for More Articles on BARBRA STREISAND
BWW Exclusive: Barbra Streisand European Tour 2007 Scrapbook
BroadwayWorld is proud to present (as promised) an update from Barbra Streisand's Broadway guys. They have indeed "phoned home," and we've got the pictures to prove it, in an exclusive SCRAPBOOK commemorating stage, screen and music legend Barbra Streisand's historic European tour, which marks her first time ever touring the Continent! This tour has shattered house records everywhere it has played and has also made history by playing three extraordinary outdoor venues (The Schonbrun Palace in Vienna, The Waldbuhne in Berlin and Castletown House in Dublin).
They have now played Zurich, Vienna, Paris, Berlin, Manchester, Dublin and just had their second performance in London of three sold out shows at the O2 Arena. The guys, as BroadwayWorld.com readers know, are stage veterans Michael Arden (The Times They Are A-Changin', Bare), Hugh Panaro (Lestat, Side Show, The Phantom of the Opera, Les Miserables, The Red Shoes), Peter Lockyer (Miss Saigon, The Phantom of the Opera) and Sean McDermott (Grease, Falsettos, Miss Saigon). This tour has found them in cities where they were able to reconnect with relatives, family, friends and fellow actors and singers. Richard Jay-Alexander directs the tour, with Streisand. Our very own Walter McBride will be reporting from the third row for the London closer on July 25th.
Barbra Streisand, first shot to fame in the Broadway and film versions of Funny Girl and according to the RIAA (Record Industry Association of America) is the music world's most successful female recording artist. She also holds the distinction of being the only female singer in the top 10, which includes The Beatles, Elvis Presley, Garth Brooks, Led Zepplin, and Elton John. Streisand remains the only artist to receive the Oscar, Tony, Emmy, Grammy, Golden Globe, Cable Ace, and Peabody Award, and the American Film Institute's Life Achievement Award.
We asked what they had to say about working with the legendary star.
Michael Arden: "It's an unusual thing to be introduced to someone so deep into their career. This is how I felt coming to this experience. Having only really seen Barbra in Meet the Fockers, I envisioned a sex therapist who loved wearing long skirts and climbing on top of her co-stars. A remarkable thing happened in Berlin at the concert. The company surprised her with a gift of a beautiful piece of music played at her wedding, as a anniversary present to her and Jim. She was truly moved and surprised by this. I was struck by not only her love for fine music, but for her husband. She then went on to sing 'You Don't Bring Me Flowers,' a song which has become my favorite of the concert. She seemed to be catapulted, during the show in Berlin, into every nuance of terror, pain, memory of joy and of sorrow the song spoke of. The song became dangerous. It became for that one moment a confession of something so close to the bone, that it felt like we perhaps shouldn't be allowed to watch someone say it. Her connection to the material as an actress had me dumbfounded, and more importantly, had HER dumbfounded. I saw a star like none before ignite again, some fifty plus years later and I completely understood who I was working with and what an opportunity it was to be doing this concert tour. Singing with a weapon of such grace on a stage in Berlin originally built by HITLER and sending a message of peace, tolerance and love, three things that resonate through everything she does, through incredible music. I said a silent 'thank you' for being so lucky and so truly blessed."
Hugh Panaro: "In Dreamgirls, Curtis sings to Dina, 'When I first saw you... I said Oh my that's a dream.' Well, when I first saw Barbra on the first day of rehearsal in Zurich I said ( I think it was to Peter Lockyer) 'Wow, she's beautiful!' Then of course I realized it was BARBRA F*** ing STREISAND!!!! And she's cute. I know it's not a word that you would ever think of using in describing her but she IS cute. I loved that she had her glasses on and very little makeup and was there not to be 'Barbra Streisand' but to work. She said hi to all the musicians that had done the last tour, hugged Bill Ross, the incredible conductor and greeted her new 'boys' warmly. And then she sang---with us! WOW. I was and am still blown away by her 'ear,' incredible pitch and her musicality. There is no need to 'tweak' Barbra in a studio, she is the real deal. But what really blew me away is how giving she is onstage, a great scene partner if you will. And of course without even trying , she is a funny girl. In Vienna, during our 'sound check,' a huge dark cloud loomed toward the stage as we were singing (appropriately enough) 'Something's Coming' from West Side Story. Then came a wind that blew every chair over (that had been set up for the outdoor venue) like a child's set of dominos. Rain, thunder and lightning soon followed. Dust and grit flew into our eyes and mouths, sheet music blew away, instruments were soaked, electric 'rigging' and huge LED screens swayed overhead as everyone was evacuated to safety inside the Palace. As I was drying off outside my dressing room, I saw Barbra and told her everything that had just happened, and without missing a beat she asked, 'But was the sound good?'"
Sean McDermott: "When I walked downstage to sing with her, at the first rehearsal in Zurich, I couldn't believe I was actually on stage with Barbra Streisand. When I took her hand and looked in to those blue eyes, I swear my heart skipped a beat. Later that week at a performance with the crowd cheering each and every song, I realized that she is one of the greatest stars our lifetime has ever seen. I've learned so much working with her and watching her on stage. Every city is so different, but every audience has been great, even those poor people caught in the storm in Vienna - they came back just as strong the next night. You can't ever imagine what it's like to be in front of thousands of people and you're singing with Barbra Streisand. You don't get that kind of response, even on Broadway. The people are great and very appreciative of us (the guys), as well. We've had enthusiastic applause for our section of the show, even our own ovations, and in Paris, I even got recognized in a restaurant after the show, having dinner with my family. What else can I say? This really is a dream come true."
Peter Lockyer: "First of all, the quality of the shows is something that I never dreamed I would be a part of. The sound design, stage design, orchestrations never mind the actual, amazing orchestra, musical direction and the direction, all combine to form a truly complete concert experience. That sounds like a soundbite, but it really is true. As far as actually performing with Barbra, she is incredible and sounds fantastic. Also, it is amazing to feel the energy of how much her fans love her. When we see and hear the reaction of the audience after 'Somewhere,' it is downright deafening. Barbra allows herself to be amazingly vulnerable onstage and I think that is one of the things that make her performances so immediate. When she sings, we all feel what she feels because of that vulnerability. So, it is truly fascinating to come downstage singing my line in 'Evergreen' (our first song with her) and connect with her famous eyes only to see the girl inside. Does that make sense? I guess what surprises me is that she has been able to keep her ability to be affected by the people and circumstances that surround her at a given moment. Because of this, she responds organically and creates an artistic experience that is unique to every situation. I think that even after our first rehearsal with Barbra my first thought was, 'Okay, I know that I have always appreciated Barbra Streisand's talent but after meeting her and watching her rehearse, my appreciation has only deepened.' I love the way she will sing a song differently every time and change notes and rhythms depending upon how she feels that day and what is affecting her: Truly, I am a fan."
Collectibles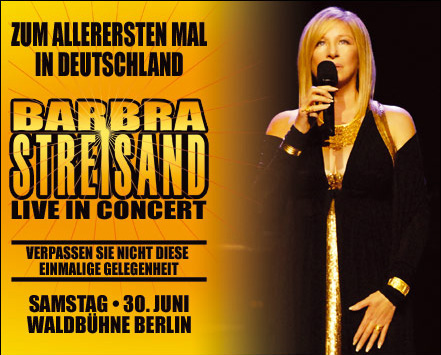 Berlin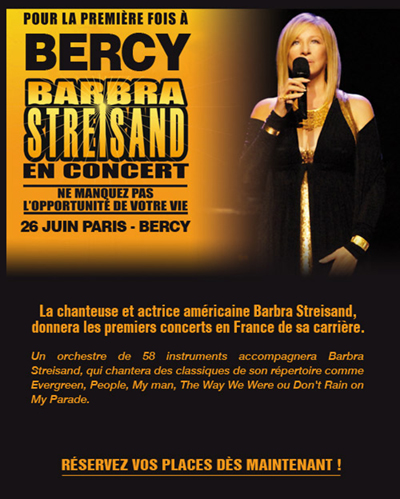 Paris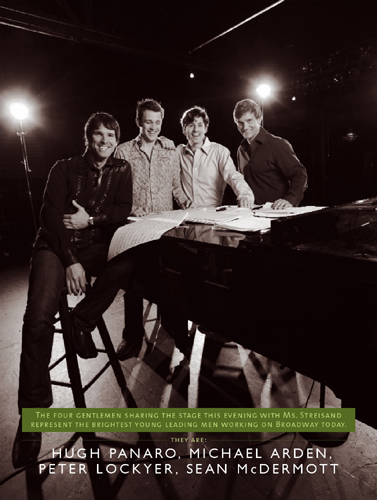 From the souvenir book

From the souvenir book
Snapshots from Abroad (From the digital cameras of Michael Arden,
Hugh Panaro, Sean McDermott, Peter Lockyer, Richard Jay-Alexander and Melanie Tojio...Mrs. Lockyer)

Michael Arden, Sean McDermott, longtime Streisand manager Marty Erlichman,
Hugh Panaro and Peter Lockyer on Opening Night in Zurich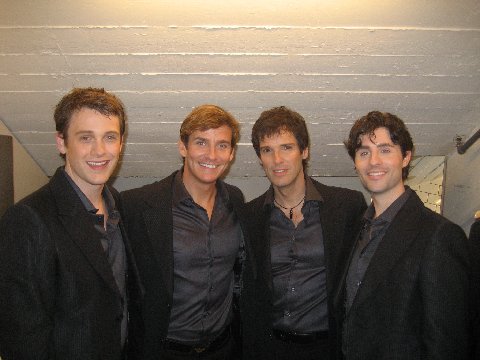 Michael Arden, Sean McDermott, Hugh Panaro and Peter Lockyer
Opening Night in Zurich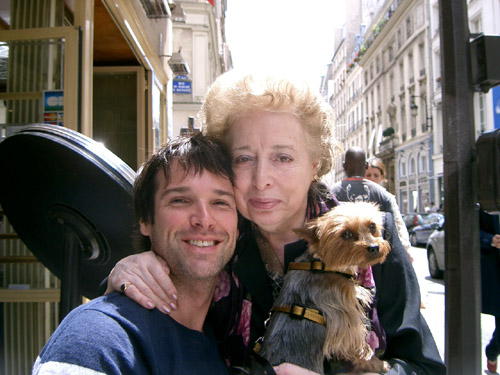 Hugh Panaro saved this woman's little dog in the streets of Paris (no lie!)

Barbra Streisand in Berlin

The guys in Vienna

Michael Arden phones home / London

Michael Arden and Russell Tovey (The History Boys) / London

Steven Webb (The History Boys) and Jenna Leigh Green / London

Michael Arden, Hugh Panaro, Andrew Lloyd Webber and Peter Lockyer / London Opening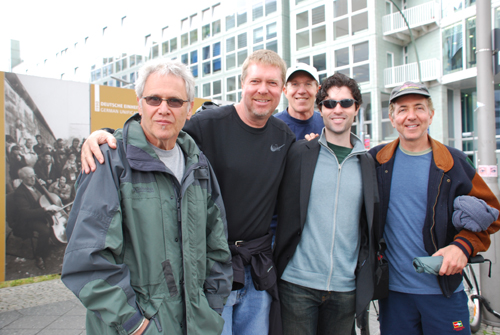 Peter Morse (Lighting Designer), John JR Robinson (drummer), Bill Ross (conductor), Peter Lockyer and Randy Waldman (piano) / Berlin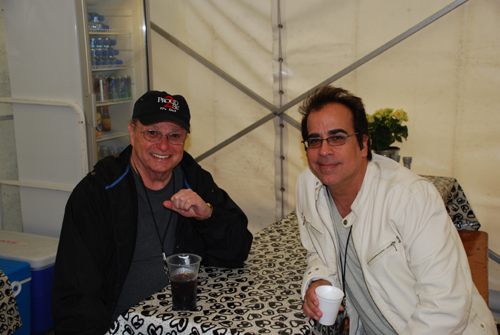 Marty Erlichman and Richard Jay-Alexander in the mess hall / Vienna

The guys soundcheck / Berlin

Richard Jay-Alexander and Musical Director William Ross / Vienna

Barbra Streisand / Berlin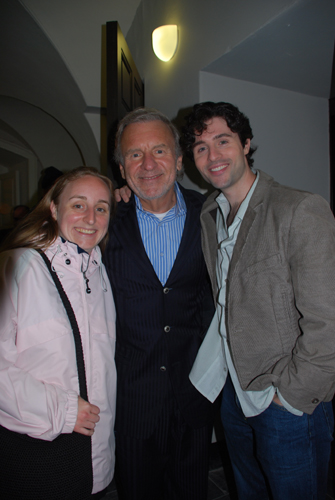 Colm Wilkinson, his niece Daisy and Peter Lockyer / Dublin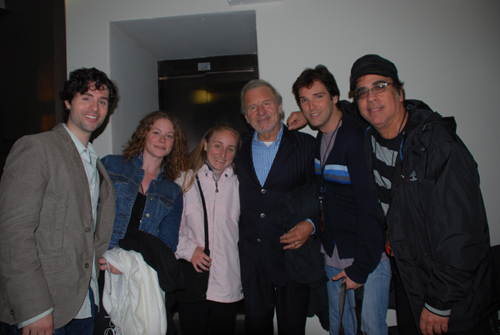 Peter Lockyer, Laura Nordai (Tour Accountant), Daisy, Colm Wilkinson,
Hugh Panaro and Richard Jay-Alexander / Dublin

Colm Wilkinson and Fionnula Sherry (Secret Garden) / Dublin

Sean McDermott / Berlin

Colm Wilkinson / Dublin

Peter Lockyer, Liam Clancy (of the famous Clancy brothers), Mrs. Clancy and friend / Dublin

The Clancys and Marty Erlichman / Dublin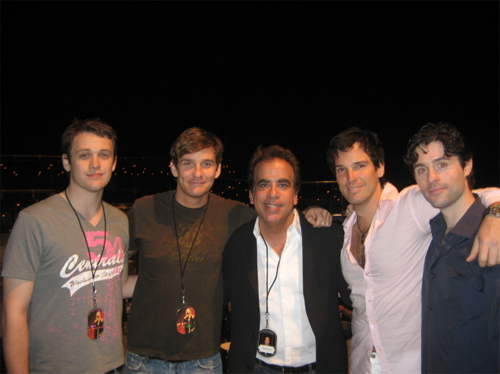 Michael Arden, Sean McDermott, Richard Jay-Alexander, Hugh Panaro and Peter Lockyer / Zurich

Richard Jay-Alexander and Jay Landers (Barbra's longtime A&R Guy and Record Executive) / Vienna

Music store window in Vienna

Sean McDermott, Michael Arden, Hugh Panaro and Peter Lockyer / Manchester Dressing Room

Peter Lockyer and his wife Melanie Tojio / Berlin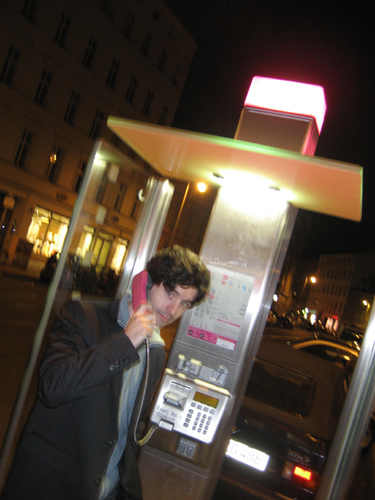 Peter Lockyer / Berlin

Hugh Panaro / Berlin

Sean McDermott / Berlin

Richard and Hugh / Vienna

Hugh Panaro (Censored) / Berlin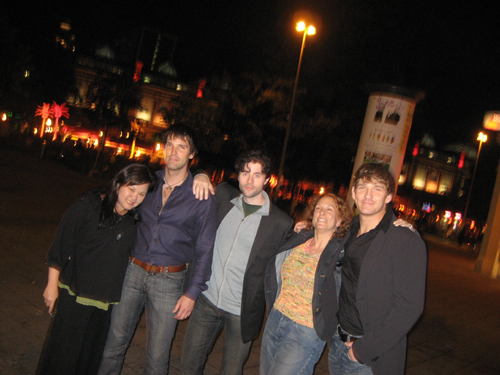 Melanie, Hugh, Peter, Marci Shapiro (Script Supervisor) and Sean / Berlin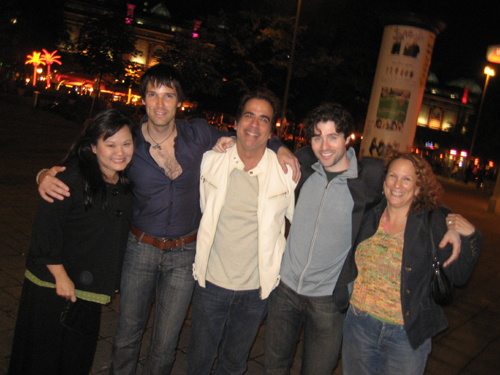 Melanie, Hugh, Richard, Peter and Marci / Berlin

Vienna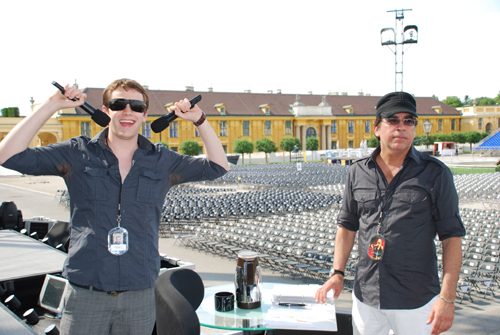 Michael Arden and Richard Jay-Alexander / Vienna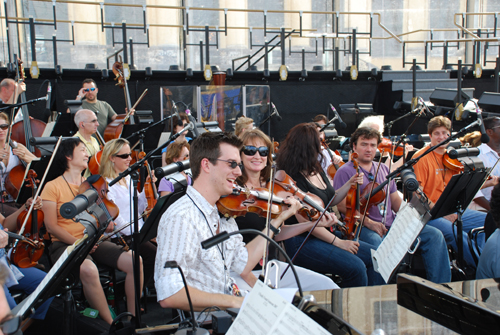 Orchestra / Vienna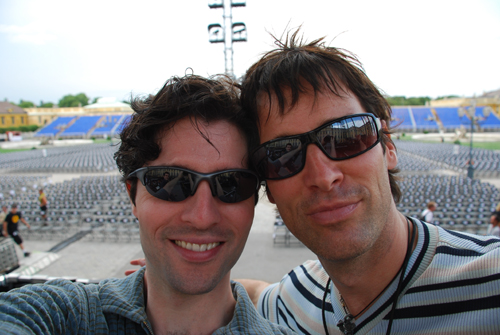 Peter and Hugh / Vienna

Peter, Hugh, Barbra, Sean and Michael / Outdoors in Vienna

The weather-ready crowd / Vienna

An airport somewhere...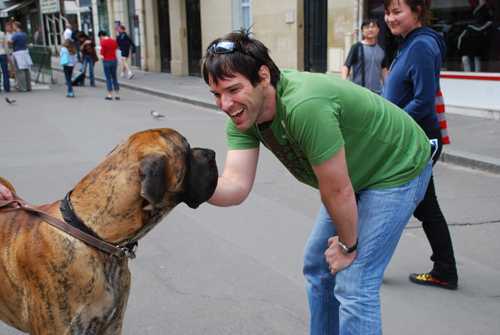 Hugh Panaro (The Dog Whisperer) / Paris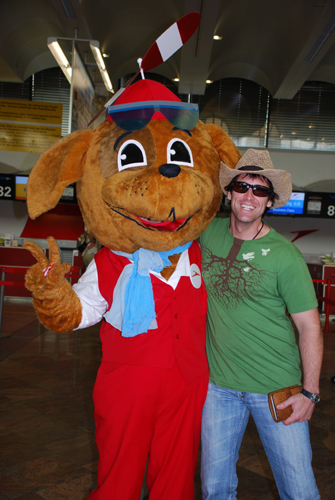 Hugh at Zurich Airport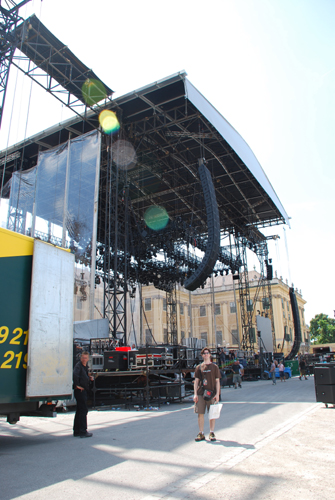 Peter / Vienna

Peter and Melanie / Vienna

Peter / Vienna

Michael Arden and Richard Jay-Alexander / Vienna

Richard / Vienna Second Day

In Paris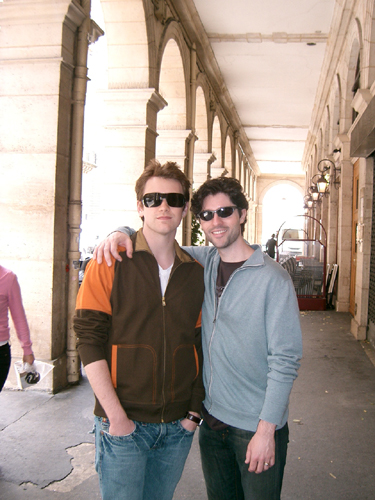 Michael and Peter / Paris

Michael / Paris

Richard and Hugh / Berlin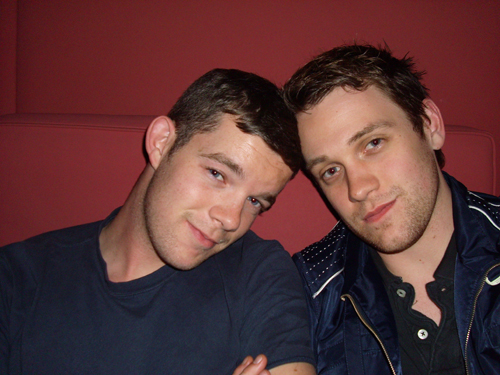 Russell Tovey and Michael Arden / London

Michael Arden and Jenna Leigh Green (Wicked, Bare) / London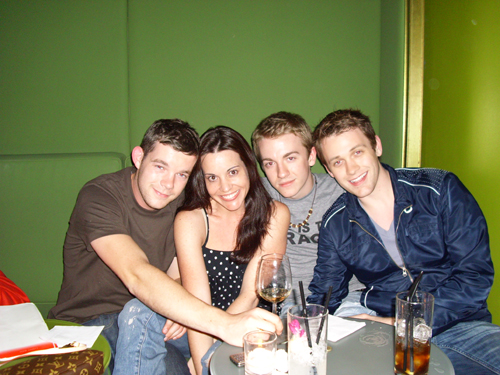 Russell Tovey, Jenna Leigh Green, Steven Webb and Michael Arden

Hugh with yet another dog / Paris

Peter

Michael Arden seduces the stewardesses in 3-D

Michael and Horse / Berlin

The band swings inside the palace during the storm / Vienna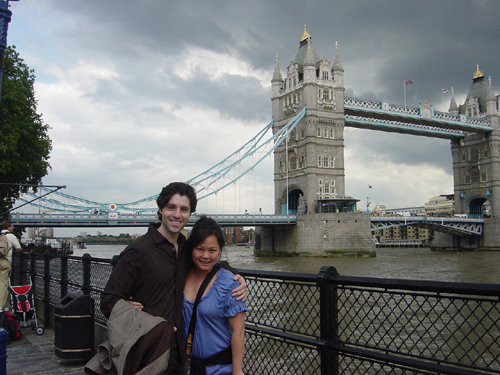 Peter and Melanie / London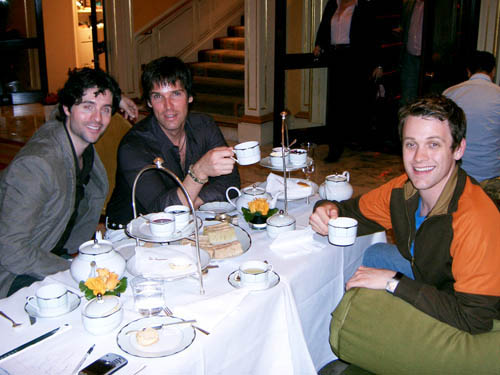 Peter, Hugh and Michael - Tea at The Dorchester / London
Hugh and
Gavin Creel
(
MARY POPPINS
) / London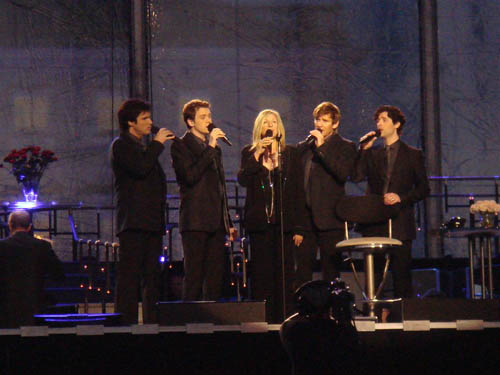 Barbra and the Guys / Dublin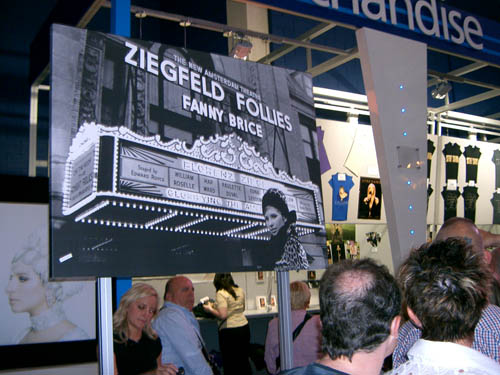 The merchandise stand at the O2 Arena / London
Merch
Jay Landers at the merch stand / London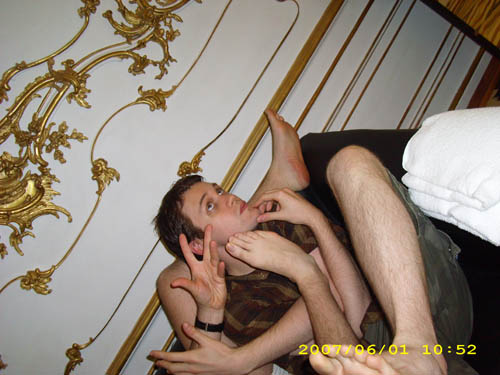 Michael Arden
gets spiritual / Vienna
Bill Ross
out of the mud / Dublin
Vienna disclaimer for visitors to the palace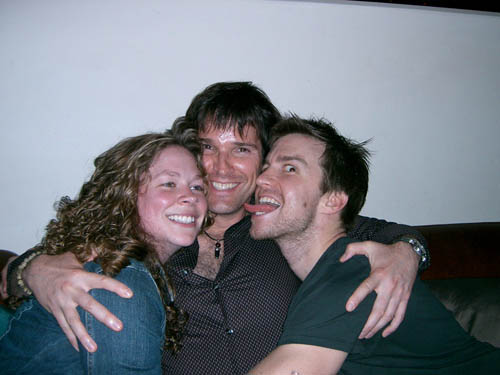 Laura, Hugh and Gavin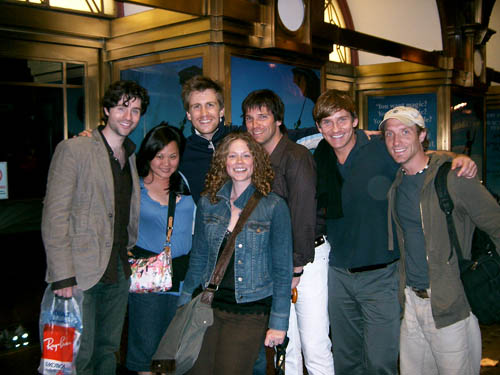 The gang in front of the
Prince Edward
Theatre (
Mary Poppins
) / London
Roses on the set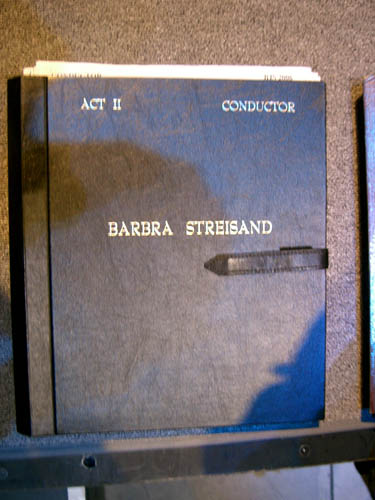 Conductor Book / Act II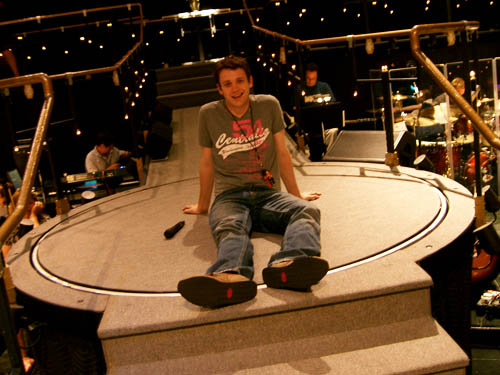 Michael at soundcheck
Bye Bye for now...
For ticket information see local outlets. For Official Fan Club, Tour and Ticket information visit: www.BarbraStreisand.com. For special VIP Packages, visit: www.cpitour.com. Visit http://barbratour.blogspot.com for more information.

Related Articles