Click Here for More Articles on IT SHOULDA BEEN YOU
BWW Exclusive: A Final Toast- IT SHOULDA BEEN YOU Company Reflects on Broadway Journey
As BroadwayWorld previously reported, It Shoulda Been You will play its final performance on Broadway, Sunday, August 9, 2015 at the Brooks Atkinson Theatre (256 W 47th Street). It Shoulda Been You began preview performances Tuesday, March 17, 2015 with an official opening (read the Review Roundup) on Tuesday, April 14, 2015. Directed by Emmy and Tony Award-winner, David Hyde Pierce, It Shoulda Been You will have played 31 preview performances and 135 regular performances.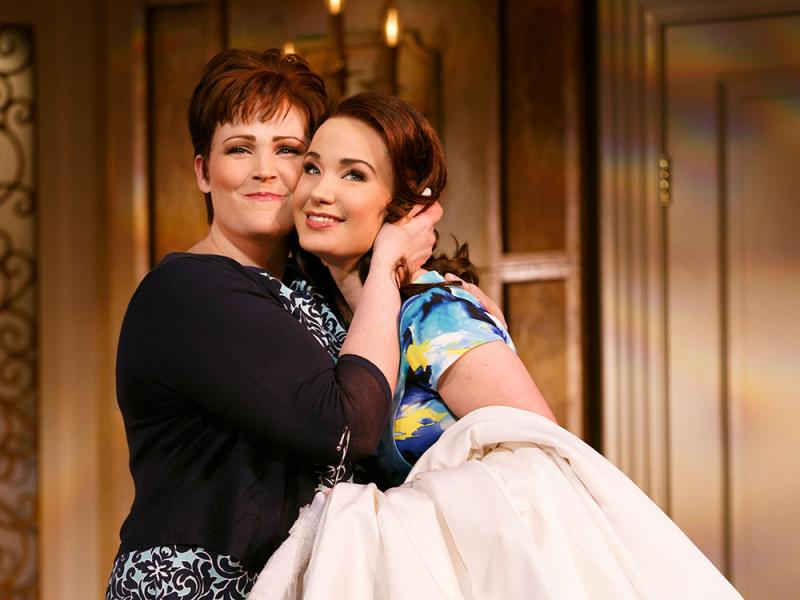 With just days left before the company takes their final bows, BroadwayWorld has asked them to reflect back on their Broadway journeys. Check out what they'll take from their experience below:
---
Lisa Howard (Jenny)
I will surely miss this silly, wonderful, loving, crazy group of people. It has been an amazing journey and I know I've been a part of something truly special. Not just because it was a fantastic, new, original musical on Broadway, which is special in itself, but because of the message of equality and self love that we get to share every night. It's been thrilling to be a part of this cast during this momentous time in gay rights history. By sharing this story of the Steinbergs and the Howards we are hopefully opening people's hearts and giving voice to others struggling to be who they are meant to be. Countless audience members have told me through tear filled eyes just how much this show has meant to them. They can relate to these characters and this story has empowered them. Isn't that what art is all about? I'm so happy to have been a part of that.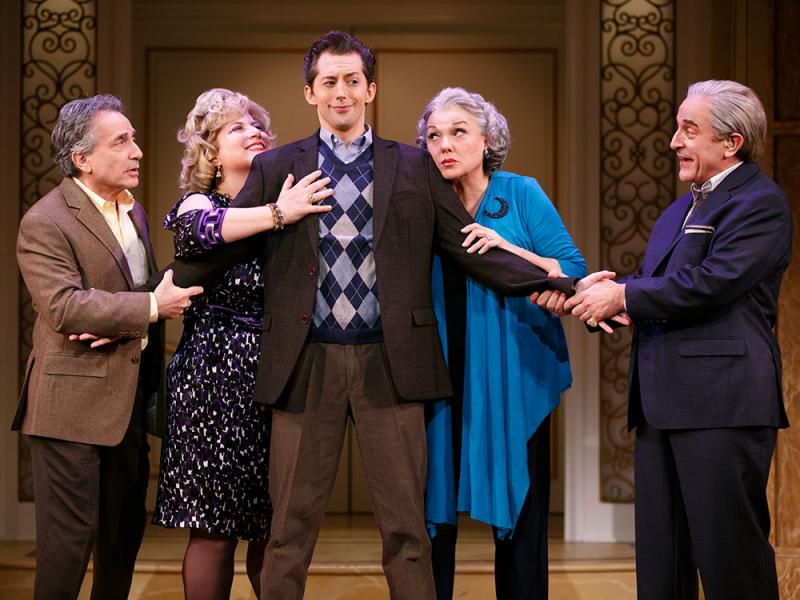 Josh Grisetti (Marty)
It Shoulda Been You was my long-awaited Broadway debut. I was given the best entrance in Broadway history -- both literally and figuratively. I was given a delightful, misfit cast-family that thrilled me to no end. I was given the beautiful auras of director David Hyde Pierce and producer Daryl Roth, who guided this process with grace and love and genuine positivity from the first day of rehearsal to the closing night party. Plus, I've siphoned off about 2.5% of Sierra Boggess' social media fans, which feels like a huge victory for me. This Broadway debut was worth the wait! I will never forget the love, nor the laughs. Viva la ISBY!
Anne L. Nathan (Aunt Sheila)
My time at ISBY has been like one big cocktail party without the booze. That's a quote from Chip. But it's the truth. Such big laughs with deeply funny people that are also blessed with huge hearts.
1) I get to partner with my of my best friends, Mr.
Adam Heller
. He always has by back and as good a partner as one could hope for- great actor, funny human, best person.
2) I get to work with Harriet Harris AGAIN.
3) I love every single actor in this company- some I have known for many years and some are new- all are magnificent humans.
4) I share a dressing room with the divine Montego. Huge laughs and solving world problems on a daily basis.
5) Hanging in Edward and Chips Dressing Room and hearing stories.
6) Hanging in Sierra and Lisa's Dressing Room and sharing stories.
7) Best Stage Managers/Company Managers/Crew and Band EVER.
8) Working with DHP. Every great thing you hear people say about him...all true.
9) Sharing a taxi with Chip at the end of the night. And trying to get him to move through the signing line at a peppy pace.
10) Getting to be a part of birthing this beautiful, funny show written by Brian and Barbara who are so dear. I feel very lucky.
Montego Glover (Annie)
Starburst jelly beans at places call.
My amazing wig! Annie Shepard has tresses for your nerves honey!!
The wedding party dance the full company does after bows as the curtain comes down.
Watching Lisa Howard take a bow every single night.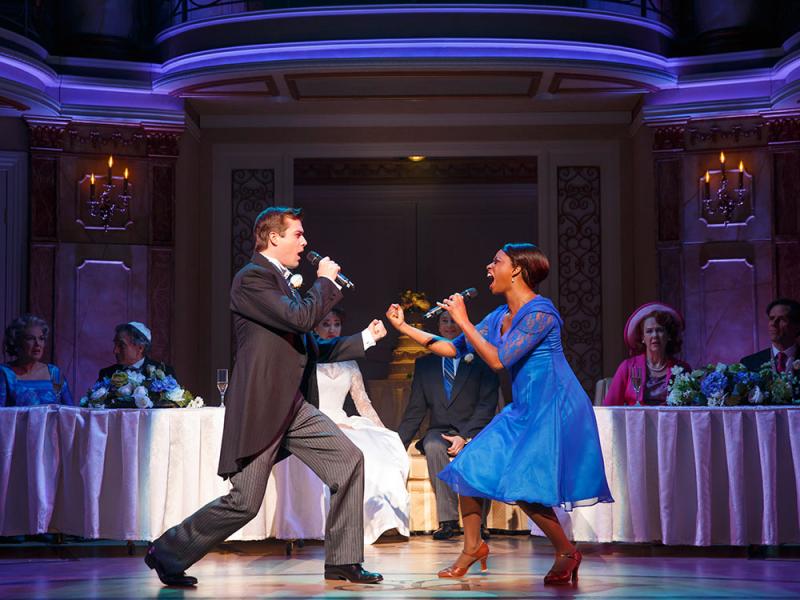 Tyne Daly. All things Tyne Daly.
Harriet Harris. All things Harriet Harris.
Edward Hibbert's mustard color pants. Ask Edward.
Chip Zien never being at places when places is called.
Mike X. Martin's glorious ISBY cartoons.
Bunking with Anne L. Nathan. Straight up comedy.
Room Sheep. Ask Sierra and Lisa.
Cast Volleyball.
Singing with the yummy Nick Spangler every night during our duet. #NickandMontegoforever
The screams of laughter.
The tears I notice audience members wiping away during our show.
The tears I've wiped away during our show. All happy tears.
#SCOTUS #LoveWins #Pride #Love
I love my job.
I'll Love It Till The Day I Die.
Edward HIbbert (Albert)
As our days of It Shoulda Been You wind down, I marvel that we've played, without exception, to audiences who have roared with laughter, hooted, hollered and cheered on a nightly basis. Gratifying, to put it mildly.
Working with a glorious ensemble of performers, under the impeccable guidance of David (Hyde-Pierce), Barbara Anselmi's eclectic score and Brian Hargrove's smart and funny book/lyrics has been joyous and memorable.
Lipsynching to a Barbra Streisand number from Funny Lady with Sierra (Boggess)for a vlog, sharing a dressing room with Chip Zien which has all the makings of a reality show (and makes The Odd Couple look like an Ibsen play!) a delicious reunion with my old "Curtains" colleague, Michael X Martin and my beloved Harriet Harris,the thrill of performing on the night that the Supreme Court legitimized same-sex marriage and the incomparable Tyne Daly's overwhelmingly affecting speech.....well, these are a few of my favorite things.
Jillian Louis (Standby Rebecca/Annie)
It Shoulda Been You has marked my first time working on Broadway, so it will always hold an incredibly special and singular place in my heart. From the audition (OMG IT'S NILES CRANE), to the first meet-and-greet (big shoutout to the truly wonderful John Fahey for first striking up a conversation with this nervous lady - I promise to pay it forward!) to our wonderful rehearsals-- watching heros of mine shape and create and grow our beautiful story (such a bonus to find out that those whose work you've always loved and admired are also lovely and admirable human beings), to Chip running around during tech handing everyone handfuls of jelly beans from a huge milk jug (I lol-ed hours later when I realized that...The Baker... was handing out BEANS) to previews, opening, the parties, the Tonys, a million giggles and tears watching my co-workers facilitate and live through the journey of this story every day, finally to having hundreds of my loved ones in the audience to share the first time I performed on a Broadway stage - ISBY has been a fantastic, inspiring, humbling, beautiful, intricate, comprehensive and life-changing experience for which I'll be grateful for the rest of my life.
Photo Credit: Joan Marcus
Related Articles