It Shoulda Been You - 2015 - Broadway
It Shoulda Been You, is a musical comedy for anyone with parents. The bride is Jewish. The groom is Catholic. Her mother is a force of nature, his mother is a tempest in a cocktail shaker. And when the bride's ex-boyfriend shows up, the perfect wedding starts to unravel faster than you can whistle "Here Comes the Bride!"
The cast of It Shoulda Been You includes Tony Award-winner Tyne Daly, Tony Award-winner Harriet Harris, Sierra Boggess, Lisa Howard, David Burtka, Tony Award nominee Montego Glover, Chip Zien, Josh Grisetti, Adam Heller, Michael X. Martin, Anne L. Nathan, Nick Spangler, and Edward Hibbert, along with Farah Alvin, Gina Farrell, Aaron Finley, Mitch Greenberg, and Jillian Louis.
Video preview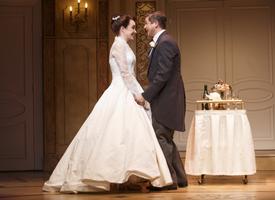 Photo preview
Featured Reviews For It Shoulda Been You
'It Shoulda Been You' is fresh and funny - USA Today
Yet this new musical, this Broadway season's freshest and funniest to date, defies skepticism, both in its wacky humor and its big, buoyant heart. Book writer and lyricist Brian Hargrove and composer Barbara Anselmi have taken a familiar premise -- that of lovers from different backgrounds uniting -- and crafted something that is both endearingly old-fashioned in spirit and decidedly contemporary in execution. Under the whip-smart direction of David Hyde Piece (Hargrove's husband), the 100-minute Shoulda Been can feel like a revival of some lost screwball classic. But Hargrove's hilarious lines, in song and dialogue, take liberties that wouldn't have flown back in the day...The message underlying this madness has to do with the importance of viewing others -- as individuals, in families and relationships -- with eyes wide open. And Pierce and his superb cast serve it with a delicacy befitting a fine soufflé.
'It Shoulda Been You': Theater Review - Hollywood Reporter
...It Shoulda Been You, which plays like vintage dinner theater infused with a Borscht Belt sensibility. That it nonetheless manages to be truly amusing is a testament to the talent both on and offstage: such comic pros as Tyne Daly, Harriet Harris and Edward Hibbert manage to make the hoariest of jokes uproarious, while director David Hyde Pierce has staged the proceedings with a brisk expertise that makes the 100 intermissionless minutes fly by. It's the sort of show that practically redefines the term "guilty pleasure"...The score by composer Barbara Anselmi...and book writer-lyricist Brian Hargrove (Hyde Pierce's real-life husband) is utterly negligible, and the show would probably have worked just fine without it...The characters and situations are hopelessly contrived and formulaic...and the plot twist late in the show will only seem shocking to Middle Americans...But for all its obvious deficiencies, It Shoulda Been You...is the sort of shamelessly lowbrow comedy too often missing from Broadway these days, Larry David's Fish in the Dark notwithstanding.
It Shoulda Been You Broadway Cast