It Shoulda Been You Broadway
It Shoulda Been You, is a musical comedy for anyone with parents. The bride is Jewish. The groom is Catholic. Her mother is a force of nature, his mother is a tempest in a cocktail shaker. And when the bride's ex-boyfriend shows up, the perfect wedding starts to unravel faster than you can whistle "Here Comes the Bride!"
The cast of It Shoulda Been You includes Tony Award-winner Tyne Daly, Tony Award-winner Harriet Harris, Sierra Boggess, Lisa Howard, David Burtka, Tony Award nominee Montego Glover, Chip Zien, Josh Grisetti, Adam Heller, Michael X. Martin, Anne L. Nathan, Nick Spangler, and Edward Hibbert, along with Farah Alvin, Gina Farrell, Aaron Finley, Mitch Greenberg, and Jillian Louis.
Video preview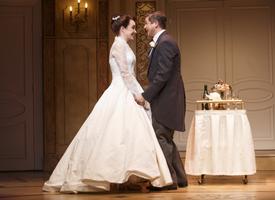 Photo preview