It Shoulda Been You - 2015 - Broadway
It Shoulda Been You, is a musical comedy for anyone with parents. The bride is Jewish. The groom is Catholic. Her mother is a force of nature, his mother is a tempest in a cocktail shaker. And when the bride's ex-boyfriend shows up, the perfect wedding starts to unravel faster than you can whistle "Here Comes the Bride!"
The cast of It Shoulda Been You includes Tony Award-winner Tyne Daly, Tony Award-winner Harriet Harris, Sierra Boggess, Lisa Howard, David Burtka, Tony Award nominee Montego Glover, Chip Zien, Josh Grisetti, Adam Heller, Michael X. Martin, Anne L. Nathan, Nick Spangler, and Edward Hibbert, along with Farah Alvin, Gina Farrell, Aaron Finley, Mitch Greenberg, and Jillian Louis.
Video preview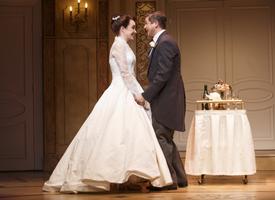 Photo preview
Featured Reviews For It Shoulda Been You
Review: 'It Shoulda Been You,' a Wedding on Broadway - New York Times
"It Shoulda Been You"...confirms the sad truth that weddings...bring out the worst in some people. That includes cynics, show-offs, heavy drinkers, envious have-nots and, it would seem, the creators of American musicals..."Shoulda"...occupies that treacherous comic ground between smirky and perky. Mining an illusion of charm from such terrain is hard, if not impossible, work for any contemporary performer. Not that the eminently talented ensemble members here don't do their best to fill out the paper-doll stereotypes they have been asked to embody...For the most part, the score sticks so relentlessly to the same up-tempo jauntiness that you expect a bouncing ball to materialize...There's not an element in "It Shoulda Been You" that hasn't been used, and wrung dry, before. Adding latter-day twists to this cocktail of clichés somehow makes it taste all the flatter.
David Hyde Pierce Directs a Campy, but Cobwebby Wedding Comedy - NBC New York
Broadway's so-far stuffy spring season needed to loosen up, and relief arrives with the campy ensemble comedy "It Shoulda Been You"...Jenny is the emotional heart of the comedy, a hodgepodge of capers and confessions that would probably fall flat in the hands of less experienced performers. As it is, this cast is probably as close to a dream team for a wedding comedy as you can get...A big twist at roughly the halfway point sends "Shoulda" off in a more serious direction. It feels dated, and it certainly caught me by surprise. "Shoulda" has a book and lyrics by Brian Hargrove (he's Pierce's husband), and pleasant, if run-of-the-mill, music by Barbara Anselmi. Overall, this is fair-to-middling material that's elevated by a superior cast. It's a good show, but you can't help thinking it shoulda been better.
It Shoulda Been You Broadway Cast