BWW Album Review: RAINBOWS THE LORNA DALLAS ALBUM Makes a Welcome Return To The Music Catalogue Of The World
A re-release with extra tracks is a treat for fans of Lorna Dallas and Broadway.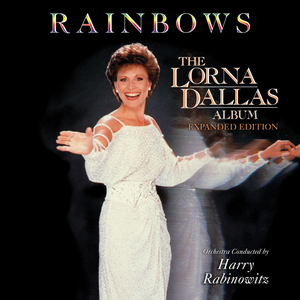 There are those who say that what's in the past should stay there, that it isn't worth our attention, and that the present is what is important. That may be true in certain circumstances but in the case of the Lorna Dallas album RAINBOWS, the past is perfectly wonderful, and bringing it into the present is absolutely essential. Originally recorded in 1987 on LP and cassette, the album is newly released on CD and streaming platforms, and it is a lovely look at the early Dallas aesthetic and at the musical tastes of the time (not a bad thing, in the opinion of this writer). Ms. Dallas, who is still a solid ticket in the club and concert industry in 2022 and a Mistress of Musical Interpretation, was at a special place in her life and career when this album was first crafted, and the magic of that time in her life and career holds strong, some three decades later, as the listener revels in the glory of her voice, and some stunning arrangements performed by a forty-seven-piece orchestra.
Rainbows is an album of (mostly) Broadway compositions, with one or two songs from Hollywood, but whether from the theatrical musical or the movie musical, Ms. Dallas does not scrimp when it comes to layering in honest-to-goodness acting with her splendid vocals. It would be so easy to just fall back on the training and the beauty of the voice, but that just wouldn't do for Lorna Dallas - a fact patently clear during blissfully sublime performances of "I've Grown Accustomed to His Face" and "Unusual Way" or a surprising comedic turn on "The Boy From..." and a lovely, playful tune from a (regrettably) almost forgotten musical titled I Love My Wife that is a surprising highlight on an album that is practically completely beyond reproach. Dallas is in remarkable voice, sounding simply gorgeous on every track, sometimes leaning into the more musical theater sound and, others, going full-opera for the benefit of The Kissing Bandit and Porgy and Bess, and whether a listener is more interested in Broadway or The Met won't matter because every track is thoroughly enjoyable, absolutely impressive.
Musical Director Harry Rabinowitz and a team of arrangers created interesting explorations into a variety of compositions by mashing-up two rainbow-themed songs and making a medley out of tunes from West Side Story into which Dallas could throw herself, heart and soul, as a singing actress. The West Side Story medley does not stand alone, though: Lorna Dallas uses everything in her acting arsenal to bring every single acting moment to the listener, particularly on a specially-arranged "I Dreamed a Dream" and a straightforward (and thereby) effective "You And I" from the beloved flop film musical Goodbye Mr. Chips. One by one, the listener will be swept up in exceptional music and discernible acting choices until, finally, they (the listener) are delivered unto the treat of the album - four previously unreleased tracks.
One of the beautiful things about Rainbows is that Lorna Dallas opted to record songs that might not have been obvious choices but that were extremely relevant at the time. "Dance a Little Closer" actually did make it onto the album in 1987 but "Moonfall" from the Edwin Drood musical and "Simple" from Nine were expurgated for album space, and having them released today is a blessing not-so-in-disguise. These gorgeous compositions receive gorgeous arrangements and gorgeous vocals, and it is a shame they have been hidden, lo, these many years - but what a gift to, finally, have them out in the world. It would be nice to say that they, alone, are worth the acquiring of the album, but that would diminish the other recordings on the twenty-track release and that cannot be, for all of Rainbows is beautiful music, beatific acting, and a blessing for the lovers of great Broadway storytelling. Tim Hutton of Stage Door Records deserves a blue ribbon and a gold star for bringing the album back into circulation for the OG fans and for a new generation of listeners who deserve quality musical storytelling and who deserve Lorna Dallas.
RAINBOWS THE Lorna Dallas ALBUM is a 2022 release on Stage Door Records and is available on all platforms.
Lorna Dallas has a website HERE.
Stage Door Records can be found HERE.