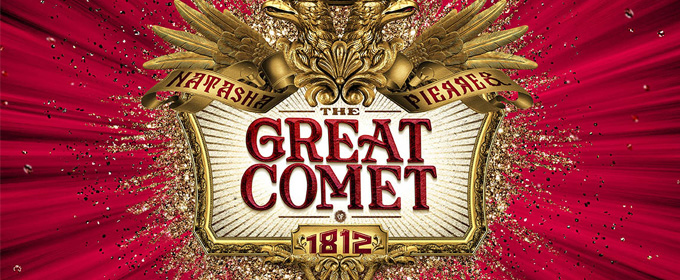 Click Here for More Articles on NATASHA, PIERRE AND THE GREAT COMET OF 1812
BREAKING: Josh Groban Extends Run in GREAT COMET, Announces New Block of Tickets!
It's exciting news for Josh Groban and Great Comet fans alike: audiences will now be able to see the world-renowned performer in the title role of Pierre through July 2nd, 2017. What's more, a new block of tickets have opened up! Groban revealed his extension via Twitter tonight, along with a direct link to the new tickets waiting to be snatched up by fans. Check out the tweet below, and grab a ticket while you can!
Natasha, Pierre & THE GREAT COMET of 1812 stars multi-platinum recording artist Josh Groban in his Broadway debut. Inspired by a 70-page slice of War and Peace, this "vibrant, thrillingly imagined new musical" (The New York Times) is "stunning and blazingly original" (Entertainment Weekly) and brings us just inches from Tolstoy's brash young lovers as they light up Moscow in a "heaven-sent fireball" (The New York Times) of romance and passion.
NATASHA IS YOUNG, ANATOLE IS HOT, AND ANDREY ISN'T HERE... BUT WHAT ABOUT PIERRE? Natasha is a beautiful ingenue visiting Moscow while she waits for her beloved fiance Andrey to return from the war. In a moment of indiscretion, she is seduced by the dashing (but already married) Anatole and her position in society is ruined. Her only hope lies with Pierre (Groban), the lonely outsider whose love and compassion for Natasha may be the key to her redemption... and to the renewal of his own soul. "One of the decade's best musicals" (Time Out New York), THE GREAT COMET has "rousing music and ravishing performances" (Daily News) with a groundbreaking score that mixes rock, pop, soul, folk and electronic dance music with classic Broadway. THE GREAT COMET arrives fresh off its sold-out run in Boston and its critically acclaimed Off-Broadway premiere. Its renowned creative team has reimagined the Imperial Theatre as an opulent Russian salon, where every seat provides a unique perspective and an unforgettable experience which is "thrilling, a feast for the senses" (Associated Press) and "inventive, ravishing and full-on romantic" (New York Post).
Photo Credit: Walter McBride / WM Photos