Anne Hathaway Offered Role in SESAME STREET Movie Musical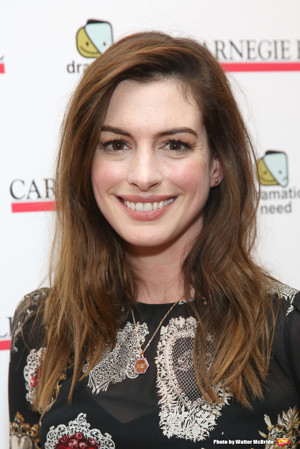 Anne Hathaway has been offered a starring role in the movie musical "Sesame Street" at Warner Bros, according to Variety.
Sources say that Hathaway has not made a decision on the film, yet, as she is also fielding an offer for Robert Zemeckis' 'The Witches."
"Portlandia" director and co-creator Jonathan Krisel, the director and co-creator of "Portlandia," will direct the live-action "Sesame Street" movie.
"Sesame Street" will be produced by Shawn Levy with Michael Aguilar. Mike Rosolio wrote the first draft, and Chris Galletta wrote the most recent version. Warner Bros. Sesame Workshop holds the rights to the show and will also be involved in the development of the project, with Jesse Ehrman at the head.
"Sesame Street" is an educational series, which premiered in 1969. It features a combination of live-action and puppetry, as well as animation. It is best known as the home of the Jim Henson creations Big Bird, Bert, Ernie, Grover, Oscar the Grouch, Cookie Monster, and Elmo.
Sesame Workshop signed a five-season deal in 2015 with HBO, after spending years on PBS, and the show continues to air in 2018.
Hathaway could be last seen in "Ocean's 8," a spinoff of the "Ocean's Eleven" movies. Her upcoming films include "Serenity" and the comedy "The Hustle." She recently wrapped production on the Netflix drama "The Last Thing He Wanted."
Read the original article on Variety.
Related Articles