Ann Harada to Play Title Role in THE NEW PEGGY Reading at Green Room 42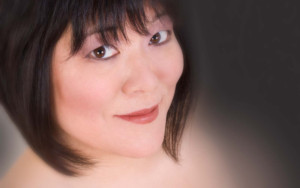 THE NEW PEGGY, the new musical by Drew Larimore (Book & Lyrics) and Jonathan Larson Award Winner J. Oconer Navarro (Music & Lyrics) will be performed at Manhattan's Green Room 42 during a July 16 concert reading.
Ann Harada, (AVENUE Q, CINDERELLA, PACIFIC OVERTURES) takes on the title role and leads the cast which also includes Daniel Marcus (URINETOWN, ADDING MACHINE), Devin Ilaw (MISS SAIGON, LES MISERABLES), Deb Radloff and Rachel Hardin.
Based on the original play by Larimore, THE NEW PEGGY chronicles Peggy, a very ordinary secretary, who has been stuck at her desk for the past 25 years, pining after her very ordinary boss, Harry. This particular Monday starts as any other ... but something is wrong: Harry is running away with Velna, the gold-digging Latvian vamp from Accounting. With the assistance of her best friends -- Rita, a manila envelope, and Eugene, a rusty stapler -- and armed with her daily, frozen baked potato, Peggy decides to take matters into her own hands. But at what cost?
The evening is directed by Helen Hayes Award Winner Jessica Beth Redish. Composer/Lyricist Navarro, well known for his music direction (FIRST DAUGHTER SUITE, IOWA), will be behind the piano leading the cast and small ensemble which includes instrumentalists E. Zoe Hassman (Cello) and Justin Vance (Reeds).
Tickets, priced at $15, are available here. The Green Room 42 is located on the fourth floor of the Yotel Hotel (570 10th Avenue). More information on THE NEW PEGGY can be found at thenewpeggy.com.