Click Here for More Articles on Andrew Lloyd Webber's Cinderella
Andrew Lloyd Webber Sticks to CINDERELLA Timeline: 'I Remain Optimistic'
He also shared that he hopes to open the show at 75% capacity, moving to 100% "as soon as possible."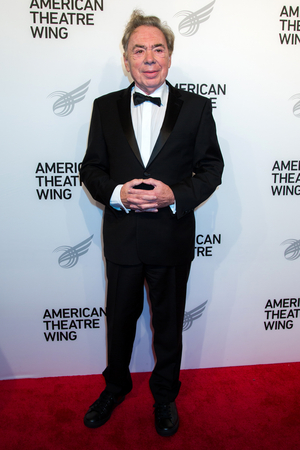 As West End productions continue to make schedule adjustments due to the nation-wide lockdown, Andrew Lloyd Webber is sticking to the plan for his new adaptation of Cinderella. He told The Stage that plans remain in place for the new musical to open at the Gillian Lynne Theatre on Wednesday, May 19, 2021, with previews from Friday, April 30, 2021.
"I have taken the view, as far as Cinderella is concerned, that I am not going to change any plans at the moment... They really felt what would happen would be that January and February would be very bad, but that the combination of much better hospital treatment and the vaccine being rolled out would make things get dramatically better come the middle/end of March and that things would improve very fast," he told The Stage.
He also shared that he hopes to open the show at 75% capacity, moving to 100% "as soon as possible."
Carrie Hope Fletcher will play Cinderella in the highly anticipated new production. She has starred in Heathers (Theatre Royal Haymarket), The Addams Family (UK Tour), Chitty Chitty Bang Bang (UK Tour), Mary Poppins (Prince Edward Theatre), and most recently played Fantine in Les Miserables at the Sondheim Theatre. She is also a bestselling author and social media personality.
The production, a complete reinvention of the classic fairy tale, is based on an original idea by Emerald Fennell, the Emmy Award®-nominated lead scriptwriter of the second season of international smash hit "Killing Eve," with a brand-new score from the Tony Award®-winning legendary composer and lyrics by David Zippel.
Cinderella will reunite Andrew Lloyd Webber with director Laurence Connor and choreographer JoAnn M Hunter, who previously worked on the Olivier Award® winning international hit School of Rock and the recent, sold-out production of Joseph & the Amazing Technicolor Dreamcoat at the London Palladium, which returns to the venue in Summer 2021.
The show's lyrics are by David Zippel, a multi-award winner for Broadway productions including City of Angels, The Goodbye Girl, The Woman in White, and Liza at the Palace, as well as for work on film including Disney's Hercules and Mulan, both of which received Academy Award® nominations.
Ahead of Cinderella's arrival at the Gillian Lynne Theatre, LW Theatres are carrying out internal upgrade work to the building including the addition of more toilets and refurbishment to areas of the auditorium and Front of House, as well as adopting measures to welcome back audiences safely as soon as restrictions allow. These measures are currently being trialled at the London Palladium and will be rolled out across LW Theatres.
Featured at the Theatre Shop
T-Shirts, Mugs, Phone Cases & More
Related Articles
More Hot Stories For You
NYTW Gala To Celebrate 25th Anniversary Of RENT Featuring Original Cast Members Anthony Rapp, Adam Pascal, Idina Menzel, and More!
Today marks the 25th Anniversary of RENT's first performance at New York Theatre Workshop. The NYTW has announced that its 2021 Annual Gala will celeb...

Final Lineup Announced For SAVE BIRDLAND: A Celebration Of Music, History, And Community
The fundraising campaign for Birdland Jazz Club will conclude on January 24th with a free streaming concert titled Save Birdland: A Celebration of Mus...

VIDEO: Broadway Jumps on the BRIDGERTON Musical Bandwagon
The new Netflix series Bridgerton has been gaining popularity since its premiere in December of 2020. Part of that popularity comes from the clever mi...

VIDEO: Chita Rivera, Bebe Neuwirth, and More Perform 'All That Jazz' During SAVE BIRDLAND Fundraiser
Notables from President Bill Clinton and Whoopi Goldberg to musicians Wynton Marsalis and Sting joined together on Sunday, Jan 24th to "Save Birdland"...

VIDEO: On This Day, January 24- Happy Birthday, Daveed Diggs!
For his performance in Hamilton, Daveed won the 2016 Tony Award for Best Featured Actor in a Musical, as well as a 2016 Grammy Award for the cast albu...

RENT Original Cast and Crew Members Reflect on the Show's Premiere and Losing Jonathan Larson, 25 Years Ago Today
On January 25, 1996, Rent premiered at the New York Theatre Workshop. Earlier that morning, the show's writer and creator, Jonathan Larson, died of an...