Adam Shapiro and Scandal's Katie Lowes Will Join the Cast of WAITRESS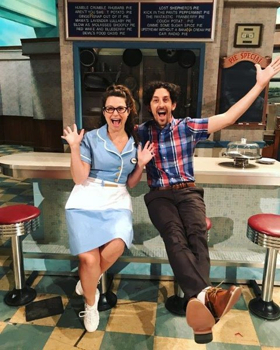 We're getting some fresh faces in the diner!
Katie Lowes ("Scandal") and actor/director Adam Shapiro (Steve Jobs) will join the company of Waitress on July 17 in the roles of Dawn and Ogie, respectively. This real-life married couple will both make their Broadway debuts in the show, and will get to fall in love with each other again eight times a week on stage. Waitress currently stars Katharine McPhee as Jenna, and Erich Bergen as Dr. Pomatter.
Katie Lowes is best known for TV's "Scandal" on which she played Quinn. She is the co-artistic director of IAMA Theatre Company in Los Angeles where her credits include Accidental Blonde, Assistance, A Dog's House. Her film credits include Transformers 2, Super 8, Wreck-It Ralph, Frozen, Big Hero 6, and Zootopia. In addition to "Scandal," her TV credits include "The Sopranos," "Private Practice," and "Grey's Anatomy." She received an MFA from NYU"s Tisch School. She and Adam are the proud parents of Albee.
Adam Shapiro is the co-founder of IAMA Theatre Company in Los Angeles where his credits include: The Recommendation; Hey, Morgan!; Rent; Bachelorette; and Assistance. His film credits include Steve Jobs, A Single Man, The House Bunny, and Now You See Me. TV credits include "The Affair," "Sense8," "Kingdom," "Grace & Frankie," "Betrayal," "Scandal," and "Grey's Anatomy."
Waitress tells the story of Jenna, an expert pie maker in a small town, who dreams of a way out of a loveless marriage with her husband Earl. A baking contest in a nearby county and the town's new doctor may offer her a chance at a new life, while her fellow Waitresses offer their own recipes to happiness. But Jenna must find the courage and strength within herself to rebuild her life. This new American musical celebrates friendship, motherhood, and the magic of a well-made pie.
Waitress opened April 24, 2016 at Broadway's Brooks Atkinson Theatre. Based upon the 2007 motion picture written by Adrienne Shelly, Waitress is the first Broadway musical in history to have four women in the four top creative team spots, with a book by Jessie Nelson, a score by six-time Grammy Award-nominated singer-songwriter Sara Bareilles, choreography by Lorin Latarro and direction by Tony Award-winner Diane Paulus.