Actors' Equity to Rename Gypsy Robe Ceremony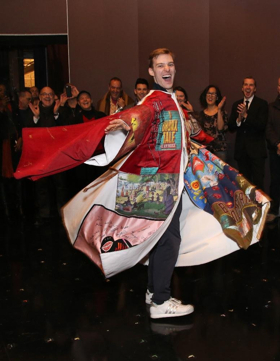 Actors' Equity Association has announced that Equity's National Council has voted to retire the name "Gypsy Robe" -- the name for the ritual that occurs on the stage of every Broadway musical with a chorus on opening night before the audience is admitted. While the name will change, the tradition will continue next season unchanged.
The tradition, which is more than 60 years old, occurs when the chorus member with the most number of Broadway Chorus credits puts on the Robe, and circles the stage three times while cast members reach out and touch the Robe for good luck. The recipient of the Robe then visits each dressing room to "bless" the show. A panel representing their show is then added to the Robe, which is passed on to a recipient in the next chorus musical that opens.
"When I think of the Robe, I think about the intent behind the tradition, which is meant to celebrate our members," said R. Kim Jordan, Chair of Equity's Advisory Committee on Chorus Affairs. "But the words we use have an impact beyond their intent, and we cannot appropriate someone else's identity without their voice attached to it. I'm proud that Council voted to retire the name while we continue the tradition of the Robe next season."
With the current Broadway season nearly at its conclusion, Equity is asking members to go to ActorsEquity.org/poll and suggest what the Robe should be called next season. Among the options: the Baum Bradley Robe, the Legacy Robe, the Chorus Robe, The Robe and the Rose Robe.
The Gypsy Robe ritual began in 1950 when Bill Bradley, in the chorus of Gentlemen Prefer Blondes, persuaded Florence Baum, a fellow chorus member, to let him have her dressing gown. As a lark, he sent it to a friend, Arthur Partington, a Call Me Madam chorus member, on opening night, telling him it had been worn by all the Ziegfeld beauties. Arthur added a rose from star Ethel Merman's gown and sent it to a chorus member on the next opening night of Guys and Dolls.
It was then passed from show to show and was often presented to a friend of the previous recipient or awarded to a chorus member based on popularity. Through the decades, the passing of the Robe became a specific ceremony with official rules stating how it is to be presented, worn and paraded on stage. Three retired Robes are at the Lincoln Center Library of the Performing Arts; there are also Robes at the Smithsonian Institute in Washington, D.C., and at the Museum of the City of New York, all others are with Actors' Equity.
Actors' Equity Association, founded in 1913, is the U.S. labor union that represents more than 51,000 professional actors and stage managers. Equity endeavors to advance the careers of its Members by negotiating wages, improving working conditions and providing a wide range of benefits (health and pension included). Member: AFL-CIO, FIA. www.actorsequity.org #EquityWorks
Pictured: Brendon Stimson Photo Credit: Walter McBride / WM Photos