Click Here for More Articles on FIDDLER ON THE ROOF
BWW Review: FIDDLER ON THE ROOF Brings Tradition and Innovation to Fox Cities P.A.C.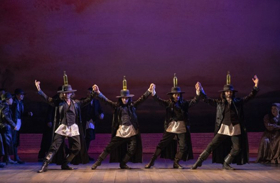 FIDDLER ON THE ROOF opened at the Fox Cities Performing Arts Center in Appleton on November 27 and will continue to run through December 2. The production is a unique combination of a joyous celebration and a moving masterpiece that has undeniable appeal.
Given the popularity of the show, the plot is overwhelmingly familiar. Tevye (played by Yehezkel Lazarov) is the father of five daughters. The family lives in a small Russian town in the early 1900s and prizes its traditional Jewish customs. As such, Tevye plans to choose his daughters' husbands. However, when his children have other hopes and dreams, Tevye is left to choose between the traditions he holds dear and the happiness of his family.
Perhaps even more interesting than the personal journeys of the characters are the deeper underlying events that ultimately shape their lives. Because of the decisions of higher ups, communities that had lived together happily in peace are turned against each other to devastating results, and people who never wanted to be immigrants are left scrambling to find a safe place to live. While FIDDLER ON THE ROOF is set in the early 1900s Russia, the story remains ever pertinent because it keeps repeating itself in real life with a revolving cast of characters.
Not much can be said about FIDDLER ON THE ROOF that hasn't already been said ad infinitum. The book by Joseph Stein is an ideal balance between humorous and poignant. Music by Jerry Bock and lyrics by Sheldon Harnick are undeniable classics that are as enjoyable to listen to as they are musical masterpieces.
However, there are a few notable variations in this production from previous productions. While it is based on original choreography and direction by Jerome Robbins, this production is directed by Barlett Sher with choreography by Hofesh Shechter, and these elements make the work feel more contemporary than previous productions of the show that audiences may be familiar with. The choreography is particularly effervescent and captivating, and lighting design by Donald Holder makes dance numbers all the more stunning.
The cast of the show provides dynamic performances that enmesh audiences in the story.
Yehezkel Lazarov navigates seamlessly between comedy and drama as Tevye. The complicated character is the heart of the show, and Lazarov is the perfect fit for the charismatic and loveable lead role.
Maite Uzal is understandable as Golde. While the character comes across as hard, Uzal's performance allows audiences to understand how she was shaped by her own life circumstances.
The main daughters (played by Mel Weyn, Ruthy Froch, and Natalie Powers) and their suitors (played by Jesse Weil, Ryne Nardecchia, and Joshua Logan Alexander) also play prominently in the show. Each performer establishes a distinct identity for his or her character and provides a compelling performance.
While FIDDLER ON THE ROOF may be familiar to the point of ubiquity, done-to-death it is not, and this production provides a fresh and engaging break from tradition.
FIDDLER ON THE ROOF will continue to play at the Fox Cities P.A.C. through December 2. Limited tickets are still available, and it's worth every kopek.

Photo Credit: Joan Marcus