Selfridges Presents a Christmas Cabaret Show A THOROUGHLY MODERN REVUE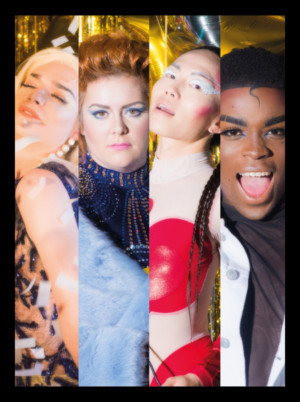 Selfridges proudly reaches another theatrical milestone by inviting Glyn Fussell, the co-founder and Creative Director of East Creative (home of Sink The Pink among many iconic drag collective performance entities), to create a brand new show that leaves the Panto tradition behind to explore another genre: the revue.
This being a Glyn Fussell super production, nothing is squarely straightforward and the said revue format swings gaily between vaudeville, cabaret and revue whilst remaining vigorously camp. A Thoroughly Modern Revue is Glyn Fussell's third Christmas adult-only production especially conceived for Selfridges. Previously for Selfridges Glyn Fussell created Down The Rabbit Hole, a twisted take on Panto in 2016 and The Queen's Head, a distorted look at British pub life and some colourful patrons in 2017 - both productions were presented by Sink The Pink.
2018's show, A Thoroughly Modern Revue, is designed in collaboration with Selfridges, to fit the London store's now well-established special events and happenings venue the Ultralounge, which for this new show will become the Ultralounge Cabaret Club. The 158 seater revamped space will be decked out from floor to ceiling in aluminium silver, the perfect foil for a series of sing and dance numbers, sketches, skits and cameos in turn, hilarious, outrageous, and absurd, sometimes linked, often not, but always dazzling.
To gild the lily, several guests - including drag stars Jonny Woo and Le Gateau Chocolat - have been invited to hold a short residency each, throughout the whole run of A Thoroughly Modern Revue. Those residencies are seamlessly integrated into the main show which features a number leading of actors such as Jayne Adams who will be the club's and show's host, JonBenet Blonde and Le Fil, well known of East Creatives productions fans. All performances are backed by an extraordinary and androgynous house band, The What?, who will be providing an irresistible score to the show, often calling for a disinhibited audience participation. All costumes have been created by costume and custom designer extraordinaire, Gemma Banks, whose work on the queer fashion scene and beyond is legendary.
As no entertainment - least of all a festive theatrical Christmas treat such as this one - would be truly sparkling without some golden bubbles, Selfridges has teamed up with Nyetimber, award-winning producer of the finest English sparkling wines worthy of the most joyous celebrations. Party snacks will be available too, from the Selfridges Food Hall, and to cement the lot, Bistrotheque will bring their inimitable flair to the proceedings and operate a fully seated, table service cabaret bar to the delight of all patrons.