Review Roundup: What Did Critics Say About the National's Starry ANTONY AND CLEOPATRA?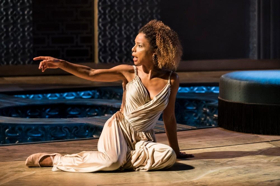 Caesar and his assassins are dead. General Mark Antony now rules alongside his fellow defenders of Rome. But at the fringes of a war-torn empire the Egyptian Queen Cleopatra and Mark Antony have fallen fiercely in love.
In a tragic fight between devotion and duty, obsession becomes a catalyst for war. Politics and passion are violently intertwined in Shakespeare's gripping tale of power.
Ralph Fiennes and Sophie Okonedo play the famous fated couple. Simon Godwin (Twelfth Night) directs.
Cast also includes Fisayo Akinade, Alexander Cobb, Hiba Elchikhe, Henry Everett, Gerald Gyimah, Waleed Hammad, Tunji Kasim, Georgia Landers, Nicholas Le Prevost, Tim McMullan, Hannah Morrish, Shazia Nicholls, Gloria Obianyo, Nick Sampson, Katy Stephens, Alan Turkington, Ben Wiggins, Sam Woolf and Sargon Yelda.
Directed by Simon Godwin, set designs by Hildegard Bechtler, costume design by Evie Gurney, lighting designs by Tim Lutkin, music byMichael Bruce, movement direction by Jonathan Goddard and Shelley Maxwell, sound design by Christopher Shutt, video design by Luke Halls and fight direction by Kev McCurdy.
Let's see what the critics had to say...
---
Debbie Gilpin, BroadwayWorld: Sophie Okonedo outshines everyone as the infamous Egyptian queen. She captures Cleopatra's vanity and pride, whilst also giving her a sense of vulnerability; one gets the feeling that a lot of her actions are simply posturing, as she tries to disguise her true insecurity over Antony's intentions.
Ann Treneman, The Times: The stage at the Olivier is huge but this production of Shakespeare's great tragedy is as big as it and as spectacular. The entire endeavour shines but it is the couple at its heart that makes the play live or die and Ralph Fiennes and Sophie Okonedo are simply terrific as the lovers who tempt fate one too many times. Fiennes is splendid in his soldierly and solid way but it is Okonedo who steals the show every time.
Michael Billington, The Guardian: Above all, Godwin and his two stars remind us that the lovers exist in a state of intoxicated fantasy: their opening exchanges, in their mix of lust and asperity, remind us of the warring Elyot and Amanda in Coward's Private Lives. Fiennes especially, swathed in baggy Oriental pants, looks as if he can't wait to get back into uniform. He goes on to give us every aspect of Antony: the born soldier, the dreaming sensualist, the wry piss-taker in the scene on Pompey's galley. But Fiennes is at his best in charting Antony's tragic decline...Okonedo matches him blow for blow.
Henry Hitchings, The Evening Standard: Ralph Fiennes and Sophie Okonedo achieve a simmering chemistry in the title roles. Their push-pull relationship always has an air of danger, yet it's also a thing of beauty, with moments of quivering delight...Okonedo is magical in the first half, and Fiennes dominates the second.
Paul Taylor, The Independent: Simon Godwin's astute and moving modern-dress production of Antony & Cleopatra succeeds in conveying the cultural differences between Rome and Egypt without ever resorting to the condescension of kitsch. This is a penetrating and considered account of a complex, twisty play. That it comes across with such walloping emotional immediacy is thanks to the blazing star power of Ralph Fiennes and Sophie Okonedo.
Andrzej Lukowski, Time Out: [Godwin] is not a flashy celebrity director, and I doubt a day of national mourning is likely to be declared when he quietly quits Blighty to head up the Shakespeare Theatre Company in Washington DC next year. Nonetheless, it will be our loss: he has a gift for making very old, very long plays feel disarmingly fresh, and he concludes this chapter in his NT career with a thoroughly enjoyable take on Shakespeare's great historical tragedy 'Antony and Cleopatra'.
Sam Marlowe, The Stage: It's a twilight romance wrapped in a bloody fist, and an epic tragedy of avarice, exploitation and thirst for power. Simon Godwin's modern-dress assay on Shakespeare's knotty drama is thrilling, humane and impeccably lucid, set alight by the firepower of two stars - Ralph Fiennes and Sophie Okonedo - in the title roles.
Dominic Cavendish, The Telegraph: In a pungent orange light, the melancholy of Okonedo's bereft queen - finally doing the deed with a real-life milk snake - washes the auditorium. The supporting performances - satisfactory across the board - shift into realms of excellence: Katy Stephens' Agrippa, Tim McMullan's Enobarbus and Gloria Obianyo's Charmian. It's a long evening but an increasingly rewarding one, which needs only fine-tuning from Fiennes to become perhaps a great one.
Photo Credit: Johan Persson
Related Articles View More UK / West End

Stories

Shows