Photo Flash: THE NAVIGATOR Launches at Phoenix Theatre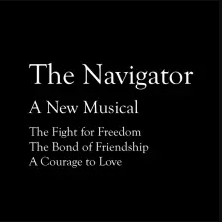 The Navigator, a new musical taken from the stories of Bomber Command veterans - and focussing on the exploits of one Lancaster crew from late 1944 to the spring of 1945 - recently had its launch.
At the Broadway Theatre, Letchworth, a rehearsed presentation of the show - which has book and lyrics by Michael Vivian and Steve Darlow, and music and lyrics by Glenn Tollett - took place before a packed house.
In the audience that night were a number of distinguished guests, including three Bomber Command veterans, representatives from the RAF Benevolent Fund, and many people who had some connection to the RAF - including Sue Holderness, well known for the role of Marlene in Only Fools and Horses, whose father and two uncles all served in the RAF during WW2.
With a cast led by Oliver Savile as Max, a reluctant navigator, and Savannah Stevenson as Annie, a nurse with personal experience of the kind of loss that was so common during the war, the show also featured the talents of Timothy Watson as narrator/officer, Ian McIntosh as Pip, Laura Tyrer as Marion, with Ben Stratton as Jamie, Gerard McGrath as Don, Lucy Ellen Parker as Helen, Alastair Natkiel as Pop/Connor, Michael Rees as Gareth, Katie Hartland as Astraea and Christopher Blackburn as Alec/John.
On 21 November, the show subsequently moved to the Phoenix Theatre in the West End for an industry presentation.
See photographs below by Jamie Scott-Smith