Photos: SIX The Musical Celebrate Their 100th Performance
The cast of SIX on the West End celebrated their 100th performance this weekend. The audience on Saturday evening even got to take away a piece of the celebration cake!
Check out photos below!
SIX writers Lucy Moss and Toby Marlow, in Chicago casting the first US production of SIX, said: "Omigosh!!!!! We can't believe this is our 100th show at The Arts Theatre. We are having the best time at this amazing theatre - we are so grateful to all the incredible people working there who make the show sparkle and, of course, to the amazing audiences for their unbelievably enthusiastic support. And not forgetting our RIDICULOUS cast and crew for smashing it every single show. Here's to us reaching 600 shows!"
SIX is booking at the Arts Theatre to January 2020.
The cast are: Jarneia Richard-Noel (Catherine of Aragon), Millie O'Connell (Anne Boleyn), Natalie Paris (Jane Seymour), Alexia McIntosh (Anna of Cleves), Aimie Atkinson (Katherine Howard), Maiya Quansah-Breed (Catherine Parr),Grace Mouat (alternate Jane Seymour/Katherine Howard and Dance Captain), Vicki Manser (alternate Anne Boleyn & Anna of Cleves), Courtney Stapleton (alternate Catherine of Aragon & Catherine Parr).

SIX - the concert-style show with a phenomenal all-female band: the six wives of Henry VIII take to the mic to tell their tales, remixing 500 years of historical heartbreak into a 75-minute celebration of 21st century girl power. From Tudor Queens to Pop Princesses, these Queens may have green sleeves but their lipstick is rebellious red!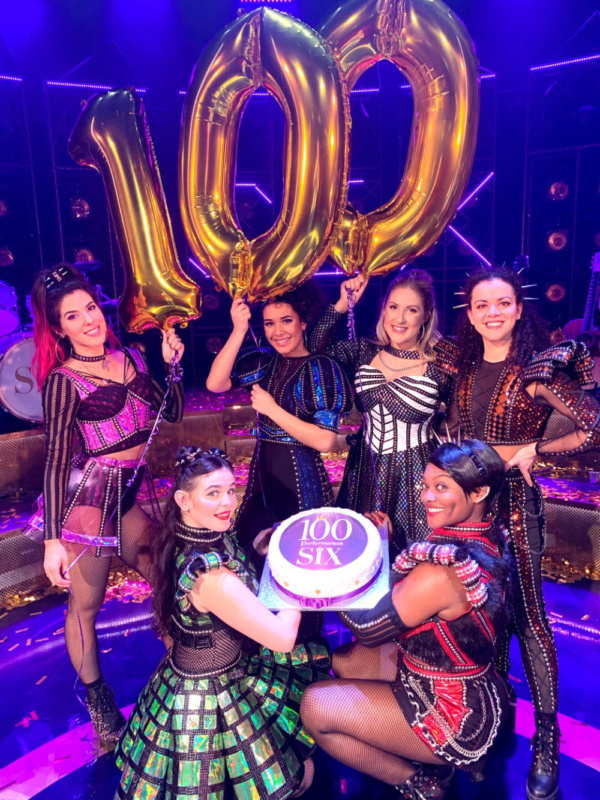 Aimie Atkinson (Katherine Howard), Maiya Quansah-Breed (Catherine Parr), Natalie Paris (Jane Seymour), Courtney Stapleton (Catherine of Aragon Alternate), Millie O'Connell (Anne Boleyn) and Alexia McIntosh (Anna of Cleves)

erri De Marco (Bass), Alice Angliss (Drummer), Aimie Atkinson (Howard), Maiya Quansah-Breed (Parr), Natalie Paris (Seymour), Courtney Stapleton (Aragon Alternate), Amy Shaw (Guitar), Arlene McNaught (Associate Musical Director), Millie O'Connell (Boleyn) and Alexia McIntosh (Cleves)