Photo Flash: JERSEY BOYS Joins BBC London 94.9FM For Children In Need
BBC London 94.9FM's special gala performance of hit musical JERSEY BOYS at the Prince Edward Theatre in London on Wednesday 17 November 2010 raised a staggering £60,150 for BBC Children in Need. This beats the total raised at last year's MAMMA MIA! gala performance, which was already a record for the most ever raised by BBC London for BBC Children in Need, thanks to generous listeners and viewers.
BBC London's 94.9FM Breakfast presenters Gaby Roslin and Paul Ross kicked off the evening's festivities in style, and then at the end of the show there was also a special surprise in store for the audience, with Pudsey himself taking to the stage in his very own JERSEY BOYS red jacket. BBC London's Vanessa Feltz and Mike Ramsden were delighted to present a cheque for £47,895 to Pudsey and BBC Children in Need. All the money raised will go towards helping disadvantaged children and young people right here in the UK.
David Robey, Managing Editor of BBC London said "This year's partnership with JERSEY BOYS for BBC Children in Need was the most successful event we've ever staged. Not only the record amount raised, but the fact that our listeners and viewers had a fabulous night at one of the best shows ever to come to London's West End. Gaby Roslin, Paul Ross and Vanessa Feltz had a great time hosting the night, all the more so because they are huge fans of the show. BBC London 94.9 would like to thank the producers, cast and crew of JERSEY BOYS and the staff of the Prince Edward theatre for putting on a spectacular evening for BBC Children Need."
The face value of all tickets (minus VAT) for the night was donated to the BBC Children In Need Appeal by JERSEY BOYS. The final amount raised included all the money taken in bucket collections during every performance of JERSEY BOYS during week commencing 15 November, as well as donations given by audience members in return for having their photographs taken with Pudsey and the Four Seasons.
Hollywood producer Graham King, who is producing the forthcoming film of JERSEY BOYS, also came on stage to announce a very special auction prize he is offering in conjunction with BBC London in aid of BBC Children in Need: the chance to appear in the new feature film from multi-award winning director Martin Scorsese. The auction took place on BBC London 94.9 on Friday 19 November and the winning bid raised a further £3,250 for BBC Children in Need.
Julian Stoneman, Executive producer of JERSEY BOYS said: "The gala night went better than any of us could have expected. We were thrilled with the audience reaction and delighted that JERSEY BOYS was able to contribute so much to such a worthwhile cause!"
WITH SPECIAL THANKS TO SIR Cameron Mackintosh AND ALL THE STAFF AT DELFONT MACKINTOSH THEATRES.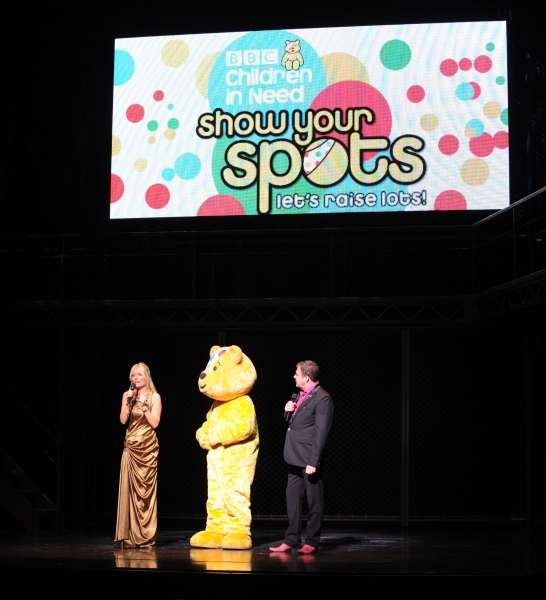 Gaby Roslin, Pudsey Bear, Paul Ross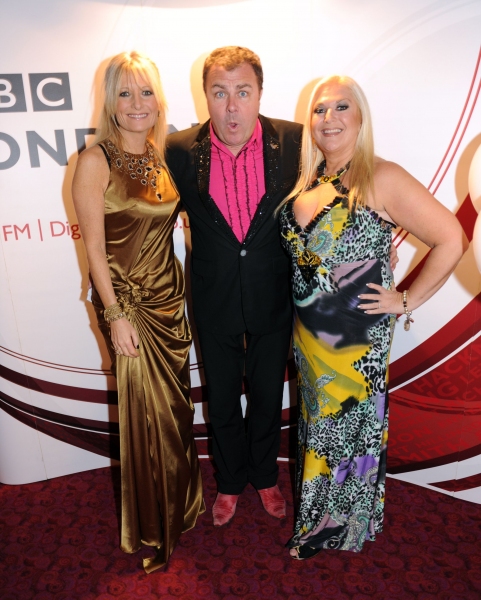 Gaby Roslin, Paul Ross & Vanessa Feltz

Cast

Vanessa Feltz, Mike Ramsden, Pudsey Bear