Photo Flash: In Rehearsals for THE BAND
Tim Firth's new British musical, THE BAND, featuring the music of Take That, begins previews this Friday 8 September at Manchester Opera House before opening officially on 26 September. It will then embark on a major UK tour until July 2018.
Check out photos of the cast in rehearsals below!
THE BAND stars AJ Bentley, Nick Carsberg, Curtis T Johns, Yazdan Qafouri and Sario Solomon, collectively known as Five To Five, winners of BBC's Let It Shine, who will play The Band. It also stars Rachel Lumberg, Alison Fitzjohn, Emily Joyce, Jayne Mckenna, Faye Christall, Katy Clayton, Rachelle Diedericks, Sarah Kate Howarth, Lauren Jacobs, Martin Miller and Andy Williams.

THE BAND is a musical about what it's like to grow up with a boyband. For five 16 year-old friends in 1992, 'the band' is everything. 25 years on, we are reunited with the group of friends, now 40-something women, as they try once more to fulfil their dream of meeting their heroes.
THE BAND is directed by Kim Gavin and Jack Ryder, designed by
Jon Bausor
and choreographed by Kim Gavin. It is produced by
David Pugh
&
Dafydd Rogers
and
Gary Barlow
, Howard Donald,
Mark Owen
, Robbie Williams.
Photo credit: Matt Crockett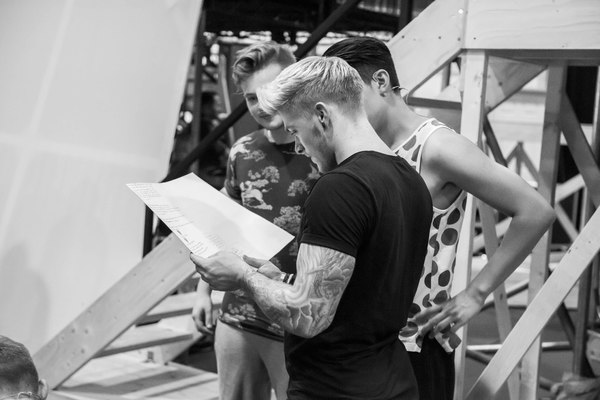 AJ Bentley (front) with Sario Solomon and Nick Carsberg

Curtis T Johns

Emily Joyce, Alison Fitzjohn, and Jayne Mckenna

Faye Christall (centre) with Five To Five

Five to Five

AJ Bentley, Curtis T Johns, Yazdan Qafouri, Nick Carsberg, and Sario Solomon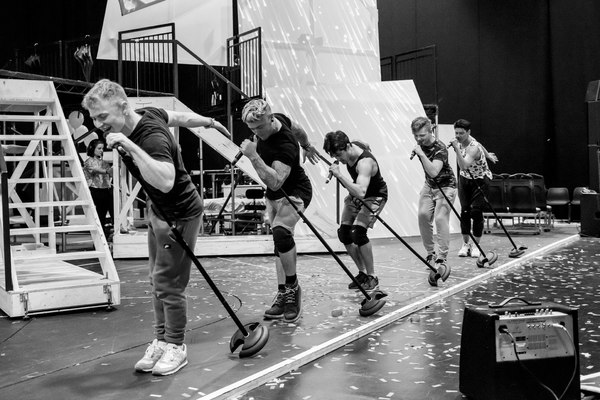 Curtis T Johns, AJ Bentley, Yazdan Qafouri, Nick Carsberg, and Sario Solomon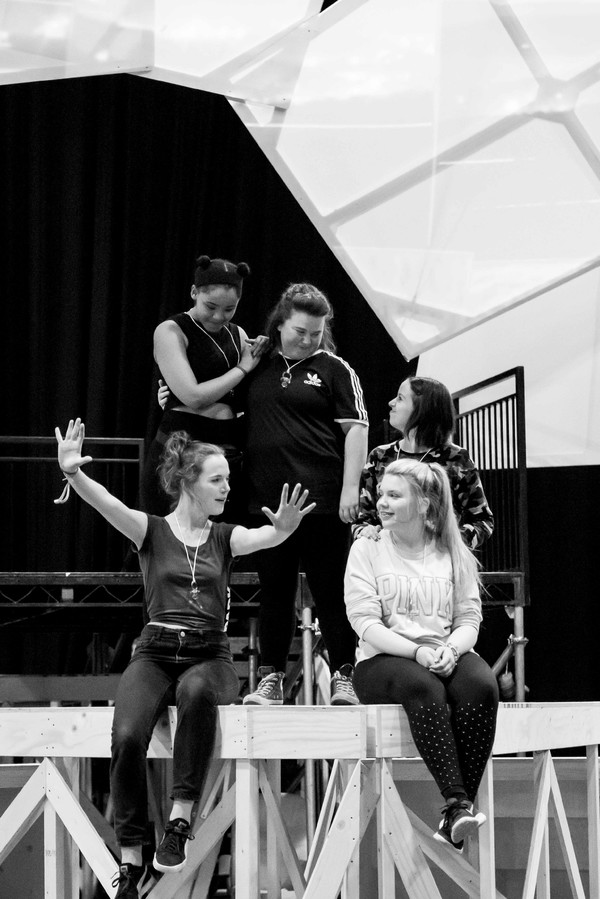 Sarah Kate Howarth, Rachelle Diedericks, Faye Christall, Katy Clayton, and Lauren Jacobs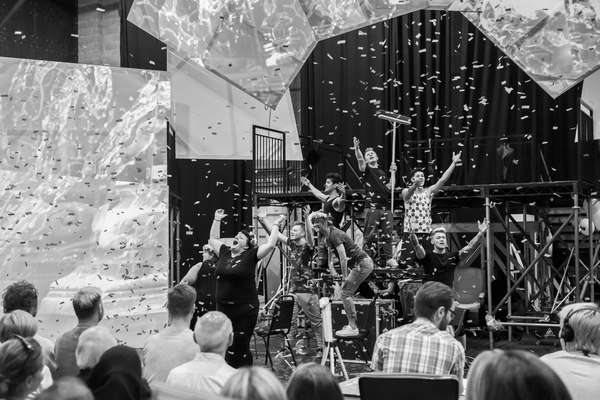 Rachel Lumberg (centre) with the cast

Rachel Lumberg with Five to Five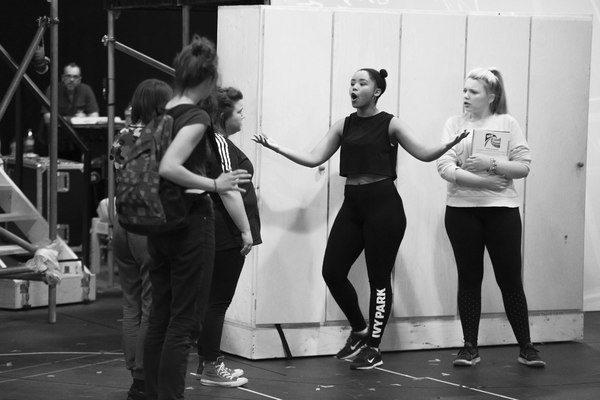 Rachelle Diedericks and Katy Clayton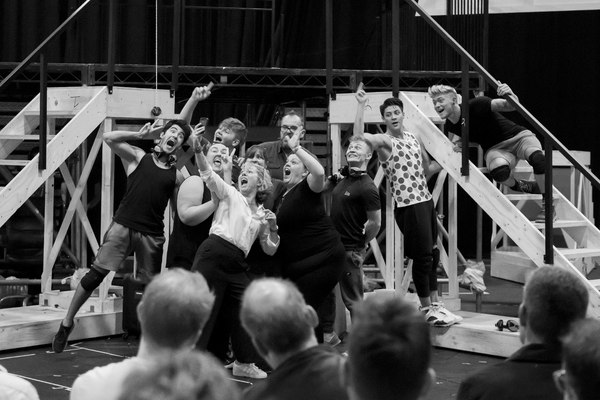 The cast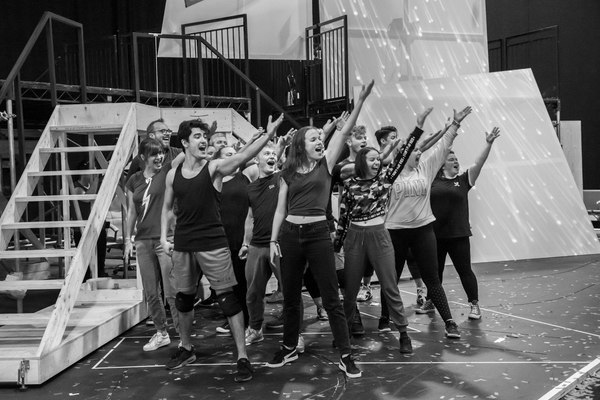 The cast

Emily Joyce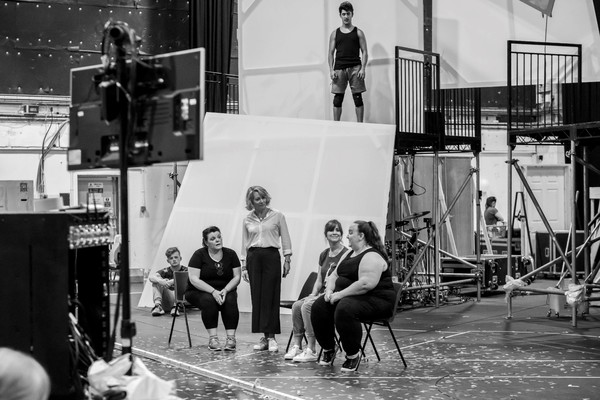 Rachel Lumberg, Emily Joyce, Jayne Mckenna, and Alison Fitzjohn

Sarah Kate Howarth, Rachelle Diedericks, Faye Christall, Katy Clayton, and Lauren Jacobs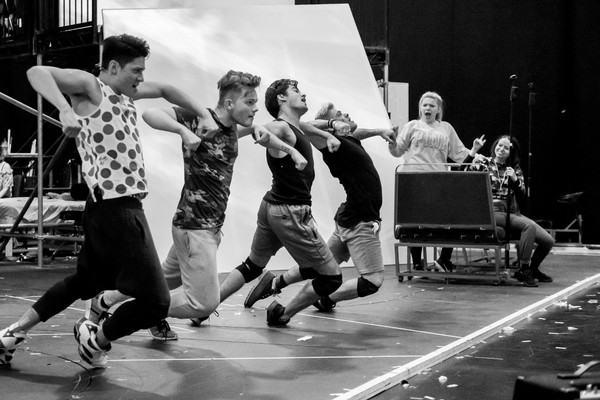 Sario Solomon, Nick Carsberg, Yazdan Qafouri, AJ Bentley, Katy Clayton, and Lauren Jacobs

The cast