Photo: First Look At Cate Blanchett and Stephen Dillane In WHEN WE HAVE SUFFICIENTLY TORTURED EACH OTHER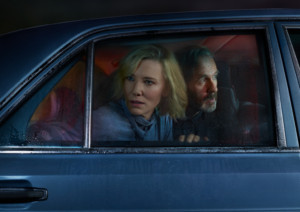 Ahead of the public ballot for tickets opening on Thursday 22 November, the National Theatre have released the image for When We Have Sufficiently Tortured Each Other, a new play by Martin Crimp, directed by Katie Mitchell, with a cast including Cate Blanchett, who makes her National Theatre debut alongside Stephen Dillane returning to the National Theatre for the first time since The Coast of Utopia in 2002. They are joined on stage by Babirye Bukilwa, Jessica Gunning, Emma Hindle and Craig Miller.
Martin Crimp's new play breaks through the surface of contemporary debate to explore the messy, often violent nature of desire, and the fluid, complicated roles that men and women play.
Using Richardson's novel as a provocation, six characters act out a dangerous game of sexual domination and resistance.
"Go on then: lock the doors and see what happens. Show me how much power you really have."
Katie Mitchell returns to the National Theatre following a sold out production of Cleansed in 2016, Katie said: "It's great to be working with Martin again on this powerful new text and to continue my special collaboration with Stephen Dillane. At the same time I'm delighted to welcome Cate Blanchett to the National, and look forward to developing a new working relationship with this extraordinary actor."
With set design by Vicki Mortimer, costume design by Sussie Juhlin-Wallén, and lighting design by James Farncombe. The composer & sound designer is Melanie Wilson, the songwriter is Roald van Oosten, the fight directors are Rachel Bown-Williams and Ruth Cooper-Brown, and the staff director is Lily McLeish.