Official: SUNSET BOULEVARD, SCROOGE Coming to the Curve in 2017-18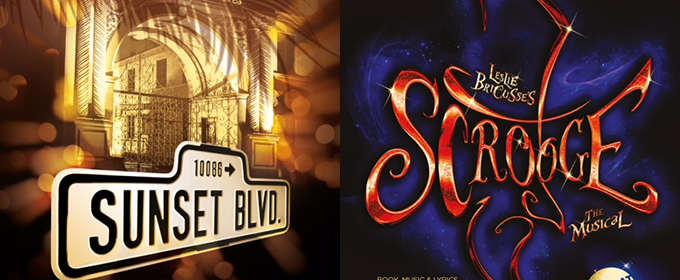 Following Curve's most successful Christmas season on record, with Grease and The Twits entertaining over 65,000 people to date, we are delighted to announce two new Made at Curve productions for Autumn & Winter 2017 : Andrew Lloyd Webber, Don Black & Christopher Hampton's Sunset Boulevard 16 - 30 September 2017 and Leslie Bricusse's family musical Scrooge 18 November 2017 - 7 January 2018.
Tickets for both productions will go on sale to the general public on 23 January with Curve members able to book a week ahead from 16 January at www.curveonline.co.uk or by calling the box office on 0116 242 3595.
Curve Chief Executive Chris Stafford and Artistic Director Nikolai Foster said in a joint statement: "We are proud to present these two magnificent British musicals during 2017, cementing Curve's reputation as one of the UK's leading producers of musical theatre. Sunset Boulevard is undoubtedly one of Andrew Lloyd Webber's finest scores and it will be the first time we have produced his work here at Curve. Strong female characters defined last year's season and we are proud the astonishing Ria Jones will lead the Sunset company, continuing this tradition.
Dickens' astonishing hymn to humanity and the transformative power of charity over capitalism seems more relevant than ever and we are honoured Leslie Bricusse has trusted us with his musical adaptation of this timeless story. As always, we are indebted to the Arts Council and Leicester City Council, but also to our co-producers, Michael Harrison and David Ian. Theatre must continue to evolve and find innovative ways to make the sums add up and we are honoured to work with such an accomplished range of theatres and co-producing partners across this year."
Further casting for both productions to be announced.
---
SUNSET BOULEVARD
Music by Andrew Lloyd Webber
Book and lyrics by Don Black & Christopher Hampton
Based on the film by Billy Wilder
Directed by Nikolai Foster
16 - 30 September 2017
Press night: 28 September 7pm
A brand new Made at Curve production of Andrew Lloyd Webber's Tony Award winning (Best Musical, Best Original Score & Best Book of a Musical) masterpiece Sunset Boulevard directed by Curve Artistic Director Nikolai Foster and starring Ria Jones as Norma Desmond. The production will open at Curve before joining other recent Made at Curve productions such as Breakfast at Tiffany's Sister Act, Hairspray, The Witches and The Twits on tour. The tour is produced by Michael Harrison and David Ian.
Co-Producers Michael Harrison and David Ian said "We are absolutely thrilled to be presenting this incredible show with Curve. Andrew Lloyd Webber's fabulous score and Don Black and Christopher Hampton's wonderful book and lyrics make this one of the all-time great musicals"'.
In her mansion on Sunset Boulevard, faded, silent-screen goddess, Norma Desmond, lives in a fantasy world. Impoverished screen writer, Joe Gillis, on the run from debt collectors, stumbles into her reclusive world. Persuaded to work on Norma's 'masterpiece', a film script that she believes will put her back in front of the cameras, he is seduced by her and her luxurious life-style. Joe becomes entrapped in a claustrophobic world until his love for another woman leads him to try and break free with dramatic consequences.
A complex study of unrequited love, loneliness and searing ambition, Sunset Boulevard pays homage to the golden age of Hollywood.
Internationally acclaimed musical theatre star Ria Jones, who received standing ovations every night when performing the role at the London Coliseum, will play Norma Desmond both at Curve and on tour across the UK.
With book and lyrics by Academy Award winners Don Black and Christopher Hampton and music by Andrew Lloyd Webber, Sunset Boulevard features songs such as With One Look, The Perfect Year, The Greatest Star Of All and the title song, Sunset Boulevard.
SCROOGE
Music, Book and Lyrics by Leslie Bricusse
Directed by Nikolai Foster
18 November 2017 - 14 January 2018
Press night: 23 Nov 2017 7pm
"What made me write the show was Dickens' genius for defining characters by their names- Cratchit, Fezziwig, Buzfuz, Pecksniff, Pumblecheek, Pickwick, Honeythunder - all perfectly crystallized in the one wonderful word Scrooge! It is nice to know that "Scrooge" continues to bring people together at Christmas. Long may he continue to do so." - Leslie Bricusse
Following the critically acclaimed and record-breaking run of Grease, Curve Artistic Director Nikolai Foster, will direct a magical new version of Academy Award winning composer, Leslie Bricusse's, festive family musical Scrooge.
Based on one of the most powerful and enduring stories of all time, Charles Dickens' classic A Christmas Carol, Scrooge brings the plight of the poor and their children during the boom decades of the industrial revolution, into startling focus.
A timeless story of the perils of greed and the transformative power of charity over capitalism, Curve's 25th anniversary production of this great British musical, features the songs I Hate Christmas, A Better Life and, Thank You Very Much.
Join Ebenezer, Bob Cratchit, Tiny Tim and a host of Dickens' other famous characters as Scrooge journeys with the Ghosts of Christmas Past, Present and Future in this spectacular retelling of the famous story.
Scrooge will also be presented by Michael Harrison and David Ian throughout the UK for Christmas seasons in 2018.
---
ABOUT THE ARTISTS:
Nikolai Foster is Artistic Director at Curve. Born in Copenhagen, Denmark, he grew up in North Yorkshire. Nikolai trained at Drama Centre London and at the Crucible, Sheffield.
Since taking up his post in January 2015, Nikolai has directed Jim Jacobs & WarRen Casey's Grease, Wilde's The Importance of Being Earnest (with Birmingham Rep), the Broadway musical Spring Awakening (with National Youth Music Theatre), Legally Blonde (& at Daegu International Festival, South Korea - Winner Best Musical), Truman Capote's Breakfast at Tiffany's (& Haymarket Theatre, London & national tour), Roald Dahl's The Witches, adapted by David Wood (with the Rose Theatre Kingston, Lyric Theatre Hong Kong, West Yorkshire Playhouse, Leeds & on tour), Tennessee Williams' A Streetcar Named Desire, Shakespeare's Richard III, Timberlake Wertenbaker's Our Country's Good, a performance to celebrate the reveal of the tomb of King Richard III at Leicester Cathedral and Jonathan Harvey's Beautiful Thing (with Nottingham Playhouse & on tour). @NikolaiFoster
Andrew Lloyd Webber is the composer of some of the world's best-known musicals including Cats, Evita, Joseph and the Amazing Technicolor Dreamcoat, Jesus Christ Superstar, The Phantom of the Opera and Sunset Boulevard. His latest musical, the hit stage version of the movie "School of Rock", opened on Broadway in December 2015 and London in November 2016.
His awards, both as composer and producer, include seven Tonys, seven Oliviers, a Golden Globe, an Oscar, the Praemium Imperiale, the Richard Rodgers Award for Excellence in Musical Theatre, a BASCA Fellowship, the Kennedy Center Honor and a Grammy for Best Contemporary Classical Composition for Requiem, his setting of the Latin Requiem mass which contains one of his best known compositions, Pie Jesu.
He owns seven London theatres including the Theatre Royal, Drury Lane and the London Palladium.
He was knighted by Her Majesty The Queen in 1992 and created an honorary member of the House of Lords in 1997.
He is passionate about the importance of music in education and the Andrew Lloyd Webber Foundation has become one of Britain's leading charities supporting the arts and music.
Don Black started out as a standup comedian and blames himself entirely for the death of Variety. He made his West End debut as a theatre lyricist with composer John Barry on the musical Billy, starring Michael Crawford at the Theatre Royal, Drury Lane, London.
Don received two Broadway Tony Awards for best book and lyrics of a musical for his work on Sunset Boulevard. This marked his third theatrical collaboration with Andrew Lloyd Webber. They first joined forces to write the song cycle Tell Me On A Sunday, which was developed to form the basis of the stage show Song and Dance. They were reunited for Aspects of Love. Don has also added songs to Andrew's stage shows Starlight Express and Whistle Down The Wind. He also wrote lyrics for the Andrew Lloyd Webber produced musical Bombay Dreams.
In a career that has won him many glittering prizes (an Oscar for his song Born Free, five Academy Award noninations, two Tony Awards plus three Tony nominations, Five Ivor Novello Awards, a Golden Globe and many platinum, gold and silver discs) he has worked with some of the world's leading composers: Jule Styne, Henry Mancini, Quincy Jones, Elmer Bernstein, Marvin Hamlisch, Charles Aznavour, etc.
Don has written over a hundred songs for motion picture including The Italian Job, The Pink Panther Strikes Again, True Grit, Dances With Wolves, Out of Africa and a quintet of James Bond theme songs - Thunderball, Diamonds Are Forever, The Man With The Golden Gun, Surrender from Tomorrow Never Dies and The World is Not Enough.
Among his many popular songs are Michael Jackson's Ben and Lulu's To Sir With Love, both U.S. number one hits.
He is currently working on a musical to be produced in Shanghai and is also re-working the musical of Bar Mitzvah Boy, a musical he wrote with Jule Styne. He has just completed a musical version of The Count of Monte Cristo with French composer Michel Legrand which is scheduled to open in London later this year.
Don was awarded an OBE in the Queen's Birthday Honours list and has just been awarded the Honorary Degree of Doctor of Arts by the City of London University. However, he says it is being inducted into the Songwriters Hall of Fame that has outshone any previous accolade.
Christopher Hampton (Writer) is a prolific playwright, screenwriter and director. As well as writing the stage play Les Liaisons Dangereuses, he also wrote the screenplay for the 1988 film adaptation Dangerous Liaisons starring Glenn Close, John Malkovich and Michelle Pfeiffer, for which he won the Academy Award for Best Adapted Screenplay. More recently Christopher adapted Ian McEwan's Atonement for the screen, earning an Academy Award nomination for Best Adapted Screenplay.
Christopher wrote his first play, When Did You Last See My Mother? while at Oxford University. It was subsequently performed at the Royal Court, before transferring to the Comedy Theatre in 1966. He then went on to become the Resident Dramatist and literary manager at the Royal Court from 1968 to 1970. Christopher's plays The Philanthropistand Tales From Hollywood have both been performed at the Donmar and his other plays include Total Eclipse, Alice's Adventures Under Ground, The Talking Cure andAppomattox. Christopher has written the book and lyrics for several successful musicals including Sunset Boulevard and Stephen Ward with Andrew Lloyd Webber and Don Black, and musical adaptations of Dracula and Rebecca. Screenplays include A Doll's House, Beyond the Limit, The Wolf at the Door, Total Eclipse, The Secret Agent, The Quiet American, Sunset Boulevard, A Dangerous Method and Ali and Nino.
Leslie Bricusse has been nominated for 10 Oscars, nine Grammys and four Tonys and won eight Ivor Novello Awards in an illustrious career. His composing started as a student at Cambridge, where he co-authored, directed and performed in his first two musical shows, Out of the Blue and Lady at the Wheel, both of which transferred to London's West End. He spent the first year of his professional life writing another musical, The Boy on the Corner and the screenplay and score of his first motion picture, Charley Moon, which won him his first Ivor Novello Award. His later stage musicals include Stop the World - I Want to Get Off; The Roar of the Greasepaint - The Smell of the Crowd; Pickwick; Harvey; The Good Old Bad Old Days; Goodbye Mr Chips; Henry's Wives; Scrooge; Sherlock Holmes; Jekyll and Hyde; Noah's Ark; Sammy; Cyrano de Bergerac Kennedy; Victor/Victoria andIt's a Dog's Life!
Related Articles View More UK / West End

Stories

Shows
More Hot Stories For You