Lee Ross and Rebecca McKinnis To Join the Cast of EVERYBODY'S TALKING ABOUT JAMIE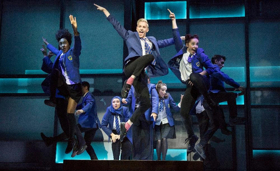 Everybody's Talking About Jamie, the award-winning feel good new musical sensation, is pleased to announce that Rebecca McKinnis will be stepping into the role of Margaret New and Lee Ross will be joining the cast to play Hugo from 16 July.
Continuing with the show are current cast members: John McCrea (Jamie), Shobna Gulati (Ray), Tamsin Carroll (Miss Hedge), Lucie Shorthouse (Pritti Pasha), Alex Anstey (Laika Virgin), Luke Baker (Dean Paxton), Luke Bayer, Courtney Bowman (Fatimah), Marvyn Charles, Ken Christiansen (Jamie's Dad), Jordan Cunningham (Sayid), Daniel Davids (Levi), James Gillan (Tray Sophisticay), Ryan Hughes (Mickey), Daniel Jacob (Sandra Bollock), Cherelle Jay, Harriet Payne (Bex), Chloe Pole, Shiv Rabheru (Cy), Lauran Rae (Becca) and Kirstie Skivington (Vicki).
Nica Burns, Producer of Everybody's Talking About Jamie, said "It's a big milestone saying goodbye to two of our terrific leading actors, Josie Walker and Phil Nichol. Josie has played Margaret New superbly from the very first workshop four years ago and Phil has brought his wonderful comic touch to the role of Hugo / Loco at the Apollo. I am delighted to reveal that Rebecca McKinnis - who has deputised brilliantly for Josie on a number of occasions, now makes Margaret New all her own. A big welcome to the talented Lee Ross who is putting on his heels to play the role of Hugo / Loco."
Jamie New is sixteen and lives on a council estate in Sheffield. Jamie doesn't quite fit in. Jamie is terrified about the future. Jamie is going to be a sensation.
Supported by his brilliant loving mum and surrounded by his friends, Jamie overcomes prejudice, beats the bullies and steps out of the darkness, into the spotlight. This fabulous, funny, feel good brand new musical sensation hits London with catchy new songs by lead singer-songwriter of The Feeling Dan Gillespie Sells and writer Tom MacRae. Sixteen: the edge of possibility. Time to make your dreams come true.
Music by Dan Gillespie Sells Book and Lyrics by Tom MacRae From an idea by Jonathan Butterell Directed by Jonathan Butterell Design by Anna Fleischle Choreography by Kate Prince Lighting design by Lucy Carter Sound design by Paul Groothuis Musical direction by Theo Jamieson Casting by Will Burton
The Sheffield Theatres Production of Everybody's Talking About Jamie is produced in the West End by Nica Burns, Ian Osborne, Paula Marie Black, Teresa and Craig Beech.
Director Jonathan Butterell saw the Firecracker documentary film 'Jamie: Drag Queen at 16' the true story of Jamie Campbell and his mother, Margaret. This inspired him to create this musical which is a dramatised portrayal of a period in Jamie's life but is not a faithful account. Certain events and characters have been fictionalised.
Everybody's Talking About Jamie opened at the Sheffield Crucible in 2017 and is now playing at the Apollo Theatre in the West End, currently booking until 6 April 2019. As well as receiving 5-star reviews, Everybody's Talking About Jamie was nominated for 5 Olivier Awards, received the UK Theatre and What's On Stage Awards for Best New Musical and won the Attitude Culture Award 2017. Dan Gillespie Sells won Best Composer at The Stage Debut Awards, John McCrea won the What's On Stage award for Best Actor in a Musical, the UK Theatre Award for Best Performance in A Musical and was named joint Most Promising Newcomer at the Critics Circle Awards and Lucie Shorthouse won the What's On Stage Award for Best Supporting Actresses in a Musical. Everybody's Talking About Jamie was screened live from the Apollo Theatre into over 500 cinemas across the UK, Ireland and select European territories on Thursday 5 July 2018. The official West End cast recording was released digitally worldwide and on CD in the UK on Friday 27 April 2018.
Rebecca McKinnis currently plays understudy Margaret in Everybody's Talking About Jamie. Her theatre credits include Cover Donna and Tania in MAMMA MIA! (Novello Theatre), Christina in Women on the Verge of a Nervous Breakdown (Playhouse Theatre), Tina Ruston in A Small Family Business (National Theatre Olivier), u/s and played Lauren in Viva Forever! (Piccadilly Theatre), Les Misérables (25th Anniversary Tour), Teacher, /u/s and played Killer Queen in We Will Rock You (Dominion Theatre), u/s Jeanie in Fat Pig (Trafalgar Studios), Susannah Townley in Three Hours After Marriage (Union Theatre), Grumio in The Taming of the Shrew (Changeling Theatre Company), Lucy Lockett in Beggars' Opera (Changeling Theatre Company), u/s and played Donna and Tanya in MAMMA MIA! (Prince of Wales), Virus/cover Kim and Big Sue in Taboo (UK Tour), Starting Here Starting Now (Upstairs at the Gatehouse) Anne in Half a Sixpence and Kitty in Charley's Aunt (CMC). Other credits include: Les Misérables 25th Anniversary Concert (O2 Arena), Beauty and the Beast (Disney), Sound of Music Live (ITV).
Lee Ross' work on stage has mainly been for the Royal Court where he originated leading roles for Joe Penhall, David Eldridge, Kevin Hood and Simon Stephens. He earned an Olivier Award nomination for his performance of Jack Firebrace in Birdsong (West End) and his most recent stage performance was the solo show 36 Phone Calls, directed by Jo McInnes (Hampstead Theatre). Other recent theatre credits include Our County's Good, directed by Nadia Fall (National Theatre), In Basildon, directed by Dominic Cooke (Royal Court) and Whipping It Up, directed by Tamara Harvey (Bush Theatre and West End).
An Award-winning screen actor, Lee has worked with Mike Leigh, Anthony Minghella, Steven Knight, and Rupert Wyatt. Recent film work includes the forthcoming independent feature Farming, directed by Adewale Akinnuoye Agbaje, opposite Kate Beckinsale. Other recent screen credits include Dawn of the Planet of the Apes, Locke and Containment for which he won the MIFF Best Actor Award. Recent television includes From the Cradle to the Grave directed by Sandy Johnson, The Driver directed by Jamie Payne and Southcliffe directed by Dean Durkin.