Kazuo Ishiguro's THE REMAINS OF THE DAY Announced As Part Of Royal & Derngate's Made In Northampton Season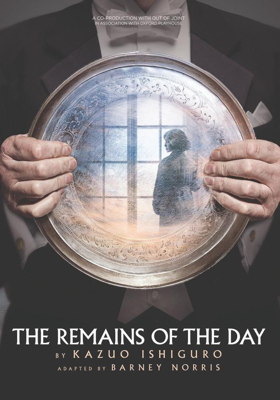 Artistic Director of Northampton's Royal & Derngate, James Dacre today announced that Royal & Derngate's commission of Kazuo Ishiguro's The Remains of the Day, adapted by Barney Norris, will receive its world premiere in Northampton in February 2019 before a national Out of Joint tour.
2017 Nobel Prize winner Kazuo Ishiguro's masterpiece has entranced generations as a novel and its story of memory, regret and undeclared love is now re-imagined by one of Britain's most exciting young writers, Barney Norris (Critics' Circle Award for Most Promising Playwright for Visitors; Times best-selling novelist) in collaboration with Ishiguro himself.
The Remains of the Day will be directed by Christopher Haydon (Twelve Angry Men, Birmingham Rep and West End; Fringe First and Offie-winning Grounded, Traverse Theatre Edinburgh, Studio Theatre Washington DC, national and international tour), who last year directed Royal & Derngate's co-production of The Caretaker. The production will be designed by Lily Arnold (Rules for Living, Royal & Derngate).
The fires of the Second World War rage through England. Through the memories of a proud butler, we discover the shocking, morally compromised truth behind the manicured gardens and grand receptions of an English stately home. Years later, faced with a life half-lived, he sets out on a journey to find the friend from his past who might finally offer him redemption.
Barney Norrris said: "This is a deeply emotional project for me, a chance to work with three companies I care for very much. There have been Norrises living in Northamptonshire as far back as records go, so to work in Northampton and get to share a play with my family there is glorious. To do that while also working with Oxford Playhouse, where I had my first job in the theatre and am still an associate now, and Out of Joint, the company that made me want to work in this trade and where I worked in the office for a couple of years, is a very precious opportunity. The Remains of the Day is one of those stories that appear every now and again which seem, almost as soon as they're written, to belong to the world. It has entered the bloodstream of our culture. To work with such extraordinary material is a great gift."
Christopher Haydon, Director, added "The Remains of the Day has been my favourite novel for many years. Barney Norris has exactly the right theatrical understanding and delicate sensibility to turn this engaging and highly political love story into a moving and dynamic piece of theatre. I am thrilled to be working with him on it."
The Remains of the Day can be seen at Royal & Derngate from Saturday 23 February to Saturday 16 March before embarking on a national tour. #RemainsTour19
James Dacre, Artistic Director, said: "Our commitment to adventurous commissions continues with these latest additions to our Made in Northampton 2018 season. Barney Norris's beautiful adaptation of Ishiguro's masterpiece joins a body of work in which leading playwrights and diverse creative teams are skillfully honouring the work of novelists from across generations and, in doing so, re-introducing their characters in a distinctive new theatrical light."
Made in Northampton 2018 includes world premieres of original commissions from David Greig, Bryony Lavery, Barney Norris, Guy Chambers, Jessica Swale and Emma Reeves.
The Remains of the Day joins a Made in Northampton season that has already included EM Forster's A Passage to India in collaboration with simple8, Agatha Christie's Love from a Stranger, now on tour, and the new folk musical The Selfish Giant, adapted by Guy Chambers from the Oscar Wilde children's story and running at London's Vaudeville Theatre till this Saturday, 14 April.
There is a second chance to see Royal & Derngate's Fringe First and Stage Ensemble Award-winning Education, Education, Education, as it returns to Northampton on its national tour. Devised by The Wardrobe Ensemble, the production uses their trademark inventive theatricality to explore the stories that have shaped our recent political history, asking big questions about a country in special measures, exploring what we are taught and why, and where responsibility lies. #Education18
In September, Royal & Derngate stages the world premiere of Alice Sebold's novel The Lovely Bones, a unique coming-of-age tale that captured the hearts of readers across the globe. Award-winning playwright Bryony Lavery collaborates with director Melly Still (Coram Boy, National Theatre), designer Ana Ines Jabres-Pita and composer Dave Price on this uplifting story about life after loss. The play is a co-production with Birmingham Repertory Theatre and Northern Stage, in association with Liverpool Everyman & Playhouse. #LovelyBones18
Joe Simpson's best-selling memoir, turned BAFTA-winning film, Touching the Void charts his struggle for survival in the Andes in 1985. This nail-biting adventure is now adapted for the stage by award-winning writer David Grieg (The Events, Suppliant Women, Charlie and the Chocolate Factor, The Lorax) and directed by Tom Morris (War Horse, The Grinning Man, Swallows & Amazons), telling of Joe's mental battle as he teeters on the brink of death and despair in a mountain crevasse from which he can't possibly climb to safety. #TouchingTheVoid
Looking ahead to Christmas, Jill Murphy's The Worst Witch books are brought to life on the Royal stage in an original story by Emma Reeves (winner of the Royal Television Society Award for Best Children's Television Programme, and of the 2017 British Screenwriters Award for Best Children's Programme). Directed by Theresa Heskins, Artistic Director of the New Vic Theatre, Staffordshire (2017 UK Theatre Award for Best Show for Children and Young People for The Snow Queen), this world premiere production is co-produced with Kenny Wax Family Entertainment, Novel Theatre and Nica Burns and will embark on a major national tour after its run at Royal & Derngate. #WorstWitchThePlay
Furthering Royal & Derngate's commitment to making work in their Underground Studio to introduce young audiences to the magic of immersive theatre, the venue will also be staging another world premiere for Christmas 2018, with an adaptation of Julia Donaldson and Rebecca Cobb's The Everywhere Bear, which comes to Northampton for the festive season after playing at its co-producing venues Polka Theatre and Little Angel Theatre. This captivating and beautiful story springs to life, with rhyme, original music and delightfully expressive puppets, in an exciting production, adapted and directed by Polka Theatre's Peter Glanville (Moominsummer Madness, We're Going on a Bear Hunt). #EverywhereBear18
Made in Northampton is sponsored locally by Michael Jones Jeweller.
More Hot Stories For You