Karan Gill and More to Star in CHILD OF THE DIVIDE UK Tour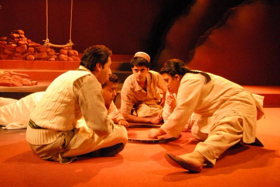 Summer 1947. Sixteen million people are on the move between India and the newly-formed Pakistan. Amid the violent political upheaval, young Pali's fingers slip from his father's hand, and his destiny changes forever.
Lost, dispossessed and alone, Pali is saved by a Muslim family. The boy is given a new home and new family, a new name, a new faith and a new life. But seven years later, his real father returns to claim him and Pali's life is turned upside down again. He is forced to decide who he is: the Hindu boy he was born to be, the Muslim boy he has become, or simply a child of the divide. To mark the seventieth anniversary of the partition of India, Sudha Bhuchar's remarkable story of family, identity and belonging set against a fractured landscape, takes to the road this Autumn. Inspired by the short story Pali by Bhisham Sahni, Child of the Divide weaves through the lives of Pali and four other children in a fictionalised account of real experiences, of families torn apart and of stolen pasts, where friendship and love are found in unexpected places. The role of Pali will be played by Karan Gill (Sweet Love Remember'd , All Places That the Eye of Heaven Visits - both at Shakespeare's Globe). He will be joined by Halema Hussain (Sean Turner's production of The Crucible, Shakespeare's Sister), Devesh Kishore (Gansta Granny, Piece of Silk), Nyla Levy (Diary of a Hounslow Girl and work with Cardboard Citizens, National Theatre and, Lyric Hammersmith) and Diljohn Singh (Punjabi Girl Punjabi Boy, Motortown, Total Eclipse). When the original production of Child of The Divide premiered at Polka in 2006, in a co-production with Tamasha, it received rave reviews and was named as that year's number one show for children and families by Time Out. With unaccompanied children gathering at our borders, this timely new production shines a light on the impact of world events on the lives of the young. The debut work of Sudha Bhuchar's recently formed company Bhuchar Boulevard, starts the tour with a return to Polka. A pilot of this new production was made in 2016 and brought with it a partnership with The Partition History Project. This is a joint initiative between senior clergy, The Royal Holloway University and The Runnymede Trust, whose mission is to promote the teaching of The Partition in Schools. The play text of Child of The Divide will be republished by Methuen to coincide with the 2017 production. Sudha Bhuchar is an actor/playwright and a pioneering artistic leader. She is co-founder of Tamasha theatre company where she served as co-artistic director for 26 years. At Tamasha she created Fourteen Songs, Two Weddings and a Funeral (winner of Barclays/TMA Best Musical) an adaptation of the booker shortlisted A Fine Balance, by Rohinton Mistry, and Strictly Dandia (all with Kristine Landon-Smith). Her solo plays include The House of Bilquis bibi (Lorca's The House of Bernada Alba transposed to contemporary Pakistan) and most recently the critically acclaimed My Name is... which was also broadcast on Radio 4. Sudha's extensive acting career includes Eastenders, Doctors and Casualty for the BBC, Stella for Sky tv, and most recently she played Sonia Rahman in Coronation Street. Sudha will make her first Disney appearance in Mary Poppins Returns in Dec 2018. Bhuchar Boulevard was founded Sudha Bhuchar with a mission to create heartfelt, unforgettable theatre for multiple and diverse audiences by holding up a mirror to our common humanity. Bhuchar Boulevard projects are inspired and informed by Sudha Bhuchar's evolving practice and built on her canon of ground-breaking landmark work. With a great emphasis on research and excavating personal and intimate stories of lives that take unexpected and diverse directions; Bhuchar Boulevard paints a broader canvas of today's changing world through capturing the cultural mix inherent in our everyday lives. In addition to Child of The Divide, the company is currently developing Golden Hearts, a creative response to the legacy of heart disease in Asian families, which is due to be staged in 2018.

Child of the Divide is supported using public funding by the National Lottery through Arts Council England.
FRIDAY 29 SEPTEMBER TO SUNDAY 15 OCTOBER
POLKA THEATRE, LONDON
020 8543 4888 /
https://polkatheatre.com
THURSDAY 19 OCTOBER TO FRIDAY 20 OCTOBER
Z-ARTS, MANCHESTER
0161 232 6089 /
http://www.z-arts.org
SATURDAY 21 OCTOBER
BURNLEY YOUTH THEATRE
01282 458655/
http://burnleyyouththeatre.org
SUNDAY 22 OCTOBER
THE BOO, ROSSENDALE
01706 220241/
www.horseandbamboo.org
TUESDAY 24 OCTOBER
THE EDGE, CHORLTON
01249 446699 /
www.edgetheatre.co.uk
WEDNESDAY 25 OCTOBER
UNITY THEATRE LIVERPOOL
0151 709 4988 /
http://www.unitytheatreliverpool.co.uk/
FRIDAY 27 OCTOBER
HAT FACTORY , LUTON
0333 666 3366 /
www.lutonculture.com/hat-factory/
SUNDAY 29 OCTOBER
RICH MIX - LONDON
020 7613 7498 /
www.richmix.org.uk
FRIDAY 3 TO SATURDAY 4 NOVEMBER
MIND THE GAP - BRADFORD
01274 487390 /
www.mindthegap.org.uk
TUESDAY 7 - SATURDAY 11 OCTOBER
TARA ARTS - LONDON
0116 252 2455 /
www.tara-arts.com
TUESDAY 14 NOVEMBER
BROADWAY THEATRE - LETCHWORTH
01462 681088 /
www.broadway-letchworth.com/theatre
SATURDAY 17 NOVEMBER
AN LANTAIR - STORNAWAY
01851 708 480 /
http://lanntair.com