EDINBURGH 2017: BWW Review: KIRI PRITCHARD-MCLEAN: APPROPRIATE ADULT, Pleasance Courtyard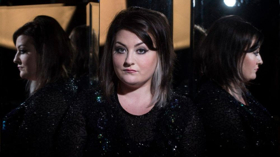 We meet Kiri Pritchard-McLean in a room with some DIY planets on strings and her in the shiniest green trousers at the Fringe. McLean takes us on a journey of the last 12 months of her life, including but not limited to: breaking up with her boyfriend of eight years, things you wouldn't admit you recently found out, volunteering with young people, and her opinions on children and parenting.
What's so refreshing about this show is it doesn't seem to matter what subject McLean is given - she can make it funny, smutty and somehow heartwarming all at the same time. She introduces her volunteering by explaining she wanted to help a young person by being both the cool and wise 'mum', which I'm sure we all found ourselves doing at one point.
She shares some common secrets we all know but never discuss, like we all want someone to come out to us, we want to have some juicy gossip, boring isn't fun, but a young girl's crush can be hilarious source material.
The show itself is not without quite a serious message that will stay with you for some time, as will the memory of encountering one of the best comics at the fringe. McLean is easily one of the must-see comedians on the circuit today.

Related Articles
More Hot Stories For You