BWW Review: TIMON OF ATHENS, RSC Swan Theatre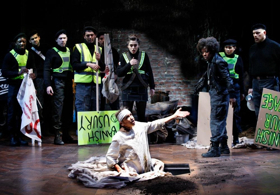 All that glisters is not gold - but try telling that to Timon, who fills her gaudy palace with greedy gluttons, glad to gorge on her food and grasp at golden handouts. The naive Timon thinks that she's doing good (or, perhaps a little more cynically, buying their friendship) but, as is always the case, she's merely purchasing their contempt - as any parent observing a spoilt child can attest.
When her creditors call in the debts, Timon's pleas for her generosity to be reciprocated go unheeded - she learns that the main reason why rich people have a lot of money, is that they like having a lot of money and will keep it that way if they possibly can.
So Timon renounces her gilded life in Athens society and retreats to the forest to live as a hermit, espousing the kind of worldview that John Cooper Clarke (of "Beasley Street" and "Twat" fame) would appreciate. Lo and behold, in search of the root vegetables on which she lives, she digs up a treasure chest, but prefers to use this new injection of bounty to finance those dedicated to the fall of Athens rather than seek her own rehabilitation. (I confess that I felt an unwelcome frisson of Osama Bin Laden's presence in that decision).
Timon of Athens is one of Shakespeare's less well-known plays and one can see why. It's a collaboration (probably with Thomas Middleton) and, as in The Beatles' "A Day In The Life", you can see the joins, with Middleton getting the first hour's aesthete and Shakey the closing hour's ascetic.
With that structure, and the jarringly random bouncing between verse and prose, I could have done without the gender reversal in casting Timon as a woman. Kathryn Hunter is good - especially in some lovely interplay beyond the fourth wall - but there's just no getting away from the fact that two alpha males wrote those lines for another alpha male acting an alpha male character. To hear them spoken by a slight woman, and with the structural issues identified above, the swap felt an unnecessary step too far for what is already a play with problems. (Most of the time, I'm happy to see gender-blind casting - it seldom matters much and, when it does, it often enhances the play with new perspectives and insights. But not this time).
Director, Simon Godwin, conjures a wholly credible ancien regime in the first half, designer, Soutra Gilmour, drowning our eyes in Trumpian excesses of gold. Sagar I M Arya and Ralph Davis stand out as a painter and poet double act of dubious talent but many needs, while Nic Gwynne's Apemantus expresses her disgust at Timon's foolishness with exactly the right quantum of disdain and tough love. Patrick Drury's servant, Flavius, gets the combination of paternal concern and know-thy-placeness just right, his decency a counterpoint to the dismal examples of humanity on show elsewhere.
The second half is less successful, the marching, banner-waving protestors lending a touch of forced am-dram right-onness, with their gilets jaunes prominently on display. The ending is unsatisfactorily dashed off, as if Shakey had had enough of his somewhat one-dimensional misanthrope and wanted to get on with something else. Which, to be fair, he did to great success.
Ultimately, Timon of Athens has many of the themes of what Shakey did get on with (well, it was there or thereabouts), King Lear, but little of the pathos and complexity of that brutal masterpiece. I suspect that I shan't be alone in being grateful for the opportunity to see a production of this rarely performed play - but once will be probably be enough.
Timon of Athens continues at the Royal Shakespeare Company Swan Theatre, Stratford-Upon-Avon until 22 February.
Photo by Simon Annand.
Related Articles View More UK / West End

Stories

Shows
Gary Naylor is chief reviewer for westend.broadwayworld.com and feels privileged to see so much of London's theatre. He writes about cricket at for 99.94 (nestaquin.wordpress.com) (read more about this author...)