BWW Review: THRILL ME: THE LEOPOLD & LOEB STORY, Jermyn Street Theatre
This macabre masterpiece is on trial until 5 February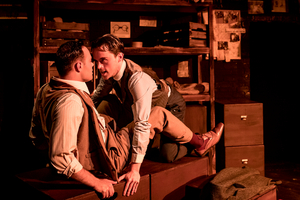 In Chicago, 1924, two wealthy teenagers are sentenced for the "crime of the century." Nathan Leopold and Richard Loeb each receive life, plus 99 years, for the despicable murder and kidnapping of 14-year-old Bobby Franks. Thrill Me: The Leopold & Loeb Story explores the events surrounding the tragedy through a series of flashbacks as Leopold, in his late 50s, pleads for his eventual parole.
This musical thriller by Stephen Dolginoff is tantalising from the outset and feels like a secret glimpse into a murderer's psyche. The limited capacity of the Jermyn Street Theatre creates a cramped, dark, and perfect corner for sadistic exposition.
Bart Lambert offers a fantastically obsessive Leopold in throbbing pursuit of his lover's affection. Jack Reitman as Richard Loeb is charming and calculated with never a hair out of place. The chemistry between the two is electric and full of sensual hedonism.
The most captivating element is without a doubt the detail in Rachael Ryan's costume and set. From Loeb's sharp velvet collar to the worn ID tags on each prop, the space is meticulously crafted with acute precision. The back wall is littered with newspaper clippings and evidence photographs, evoking a true sense of film noir. Matthew Parker's direction echoes this exactitude with agile stagecraft and seamless transitions between Leopold's older and younger self.
Lighting, by Chris McDonnell, and sound, by Simon Arrowsmith, are equally haunting. The crackling embers and foreboding engine hum that accompany "Nothing Like a Fire" and "Roadster" return throughout, serving as a stark reminder of our own complicity. The unanimous consideration for authenticity has produced an environment rich with painful realism.
The lyrics are simple and at times almost too explanatory, but the heavy romance in the piano, handled effortlessly by Benjamin McQuigg, drives the narrative forward with unwavering compulsion. The intense moments of obsession between Leopold and Loeb in gripping two-person harmony make up for the lack of memorable motifs in the score.
True crime has never been more popular or exploitative, but instead of mindlessly feeding the hype, Thrill Me feels like a stylish game of Cluedo. Within a clipped 80 minutes, the cultural yearning to uncover every grizzly detail is instead transformed into a fascination with how narcissism fuels the most sadistic of killers.
As we approach the 100-year anniversary of Franks' murder, it could be easy to forget that the entire premise is based on real fact. Dolginoff's story navigates the truth respectfully and allows the theatricality to swell in just the right places. When Reitman catches your eye in a moment of silence there is no choice but to be overcome with a harrowing sense of fight or flight. You cannot help but picture naïve Bobby Franks stepping into Loeb's car without a second thought as to how his life will viciously end.
After his release in 1958, Leopold settled in Puerto Rico until a fatal heart attack in 1971, 35 years after Loeb was murdered by fellow inmate James Day. Having failed to successfully evade justice, and mortality, the pair have been subject to multiple dramatisations, including Alfred Hitchcock's The Rope.
Thrill Me is a superb one-act rollercoaster and easily compensates for the melodic pitfalls with excellence in all other aspects. Although you won't get every historical detail, there is no mistaking why this atmospheric trial for justice has been thrilling audiences since 2003.
Thrill Me: The Leopold & Loeb Story at the Jermyn Street Theatre until 5 February
Photo credit: Steve Greyson