BWW Review: SHREK THE MUSICAL, Manchester Palace Theatre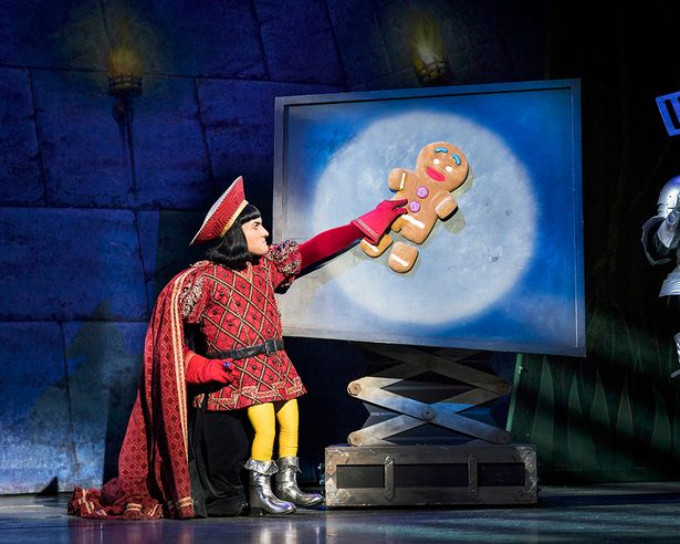 Shrek the Musical tells the tale of an ogre trying to get his swamp back. And David Lindsay-Abaire's adaptation has certainly managed to turn the famous Dreamworks Animation into a real life spectacle.
Steffan Harri's portrayal of Shrek is charming and full of life. The moment he jumps through a massive storybook onto the stage is magical. It's always a challenge to take on the role of a beloved character, especially a childhood icon like Shrek, but Harri certainly lives up to all expectations. Watching such a famous animation come to life in front of you is quite amazing, and Harri gives a fantastic performance throughout.
Classic lines from the film, such as "Do you know the muffin man?", and a rendition of "Welcome to Duloc", complete with blonde plastic wigs, are scattered throughout the script to get big laughs. A few musical nods to Dreamgirls, Les Mis and Wicked, to name a few, are also cleverly placed within the show.
The standout is definitely Samuel Holmes as Lord Farquaad. His comedic timing is spot on, utilising his facial expressions perfectly to make the moment even funnier. "The Ballad of Fardquaad" is hilarious, adding an unexpected, but very logical and funny, twist to the plot. Holmes also deserves recognition for dancing and running around the stage on his knees all night, an impressive performance that keeps the audience laughing throughout.
Lucinda Shaw as the voice of the dragon completely blows the roof off in "Forever", and the puppetry of the dragon itself is amazing. It moves beautifully onstage and is amazingly detailed, from the way it looks like it's breathing to the batting of the eyes.
"Freak Flag" is another highlight. Performed by an incredibly talented ensemble, it is a feast for the eyes. Each character impression from the film is accurate and does not slip at any point in the performance. Joseph Dockree as Pinocchio and Jemma Revell as Gingy particularly stand out.
The colours on stage, from the set, costumes designed by Tim Hatley, and the wonderful lighting by Hugh Vanstone, all work perfectly together to create a scene straight out of a picture book.
The design throughout is beautiful and completely transports the audience into the fairytale land of Duloc, and the creative way in which Fiona, played by Laura Main, is shown transforming each night is very elegantly done - it doesn't feel gimmicky or fake at all.
Overall, Shrek the Musical is an event for all the family to enjoy, young or old. It combines the magic of film and the thrill of theatre all in one, and will leave everyone humming a song or two on the way home.
Shrek the Musical at the Palace Theatre until 28 January
Photo Credit: Helen Maybanks
Featured BroadwayWorld Events
Check out these concerts...