BWW Review: SANCHO - AN ACT OF REMEMBRANCE, Wilton's Music Hall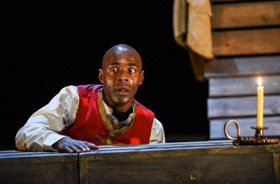 In something akin to the conspiratorial, ever so slightly camp, manner of Frankie Howerd in Up Pompeii, Paterson Joseph speaks directly to us at the start of the show. He explains a little of his heritage and tells us that he wrote the play too - so its all his fault. He also establishes a bond with the audience, one that only grows as his charisma shines through the performance.
The production is titled Sancho - An Act of Remembrance, but it could be just as easily called Sancho - An Act of Celebration.
Charles Ignatius Sancho was born on a slave ship and lost his father at an early age, but used his intelligence and wit to rise up to become a famous man of London letters and the first black man to vote in a Parliamentary election. You may see some parallels with the life of another man with roots in the Caribbean whose story has been given a musical treatment in New York and London.
Paterson (it's hard to call him Joseph as everyone feels on first name terms so warm is the show's vibe) starts with Thomas Gainsborough's portrait of our hero and then explores how he reached such a position in Georgian society, at a time when a black man was an object of curiosity, fear and the crudest of racism. In doing so, Paterson writes not just one man back into the history of England, but the many black men (often referred to as Moors) of whom Othello was a fictional character, but one drawn from a community larger than history books are comfortable explaining.
Though Paterson is a consummate actor and performer (and there are elements of both skills in play at all times) as this magnificent speech attests, the drama of Sancho's life feels a little familiar. He marries a Jamaican woman, he loses money in a gambling den, the family grows (not without childhood illness seeing off a few offspring) and, eventually he opens a grocery and writes letters to journals.
Throughout the telling, Paterson dips in and out playing Sancho and being himself, underlining the relevance of the tale to the present day.
Sancho was an outsider because of his ethnicity and his background, but his life was somewhat conventional - though that in itself is triumph enough. It's only at the very end of the show that real tension bubbles up, as he seeks to vote for the abolitionist Charles Fox, but his papers mislaid, is ruled ineligible, until his son brings them to him in the debating hall.
The show ends on a cry for freedom and the parallels with the recent Windrush generation scandal and the need for Black British people to prove their legitimacy to the State agian and again and again, is obvious. Over two centuries on since Sancho's act of emancipation - to vote is to be recognised - that black people are still treated in the same way in this country is both an appalling indictment of one of post-war Britain's most shameful episodes and a thoroughgoing justification for this intimate, if slightly anodyne, show.
Sancho - An Act of Remembrance continues at Wilton's Music hall until 16 June.
Photo Robert Day