BWW Review: MY NAME IS LUCY BARTON, Bridge Theatre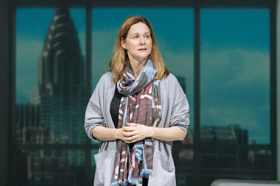 I

n her West End debut, Laura Linney proves that she is one of the greatest actresses in the theatre industry today. She stars in My Name is Lucy Barton, Rona Munro's adaptation of Elizabeth Strout's award-winning novel at the Bridge Theatre. This 90-minute monologue showcases Linney's talent as she plays a writer reminiscing about her difficult upbringing and time spent in a New York City hospital in the 1980s.
The production, directed by Richard Eyre, is tender and intimate. The novel it is based on, published in 2016, won a Pulitzer Prize and the material itself is hefty and moving. The book's first-person narrative lends itself well to being adapted to a one-person show for the stage.
Lucy Barton, a writer, tells the audience of her time spent in the hospital with a mysterious illness following an operation. Lucy feels isolated in the hospital, missing her two young daughters and her husband who rarely visits. Her mother, whom she has not seen in many years, suddenly comes from rural Illinois to be with her daughter.
The two swap stories as Lucy gradually reveals more about her rural childhood plagued by poverty and an abusive father suffering from PTSD after serving in WWII. The play also touches on other themes that sometimes feel underdeveloped due to the time constraints, like the ruthlessness with which Lucy escaped her hometown and forged a new life, and the AIDS crisis of the 1980s that looms both within and outside the hospital.
Linney is one of the most well-respected actresses on Broadway today and has two Golden Globes, four Emmys, three Oscar nominations, and four Tony nominations. Her talent is undeniable and I've never seen a London audience get to their feet so quickly for a standing ovation.
Linney brings an unassuming warmth to the character of Lucy as she addresses the audience directly. She so effectively portrays Lucy's mother in scenes with her that it's almost possible to forget there is only one actress in the show. She is wonderfully funny as Lucy's mother, delivering gossip about the neighbours in a nasally Midwestern accent with horrible delight at their misfortunes.
She paints vivid pictures and many times, she pauses for a moment to gather herself before continuing. This nuanced and painfully realistic portrait of someone sharing agonising memories, particularly when she discusses her children or her encounter in the hospital with a man dying of AIDS, is at times difficult to witness. The way she is able to portray raw emotion, even when bubbling out from under the surface, is astounding.
The design of the play, by Bob Crowley, adds to its intimate feel. This show has proven how truly versatile the Bridge Theatre is. The set is simple, with just a chair, night table, and hospital bed helping ground the audience in the main storyline, despite Lucy's detours to discuss her childhood and her life after her time in the hospital.
Peter Mumford's lighting helps portray the shifting moods of the piece. The projections, by Luke Halls, go between a view of New York City outside a hospital room window and the cornfields of Illinois where Lucy grew up.
This production is surely one not to miss. Lucy Barton's tale of escaping a troubled childhood only to find herself still seeking her parents' love years later is poignant. But while it's a moving story, it's worth seeing just to witness Linney's performance. One-person plays are not always easy, but Linney is more than capable of taking the audience on a beautiful and moving journey all on her own.
My Name is Lucy Barton is at the Bridge Theatre to 23 June.
Photo Credit: Manuel Harland