Review: MY MUM'S A TWAT, Royal Court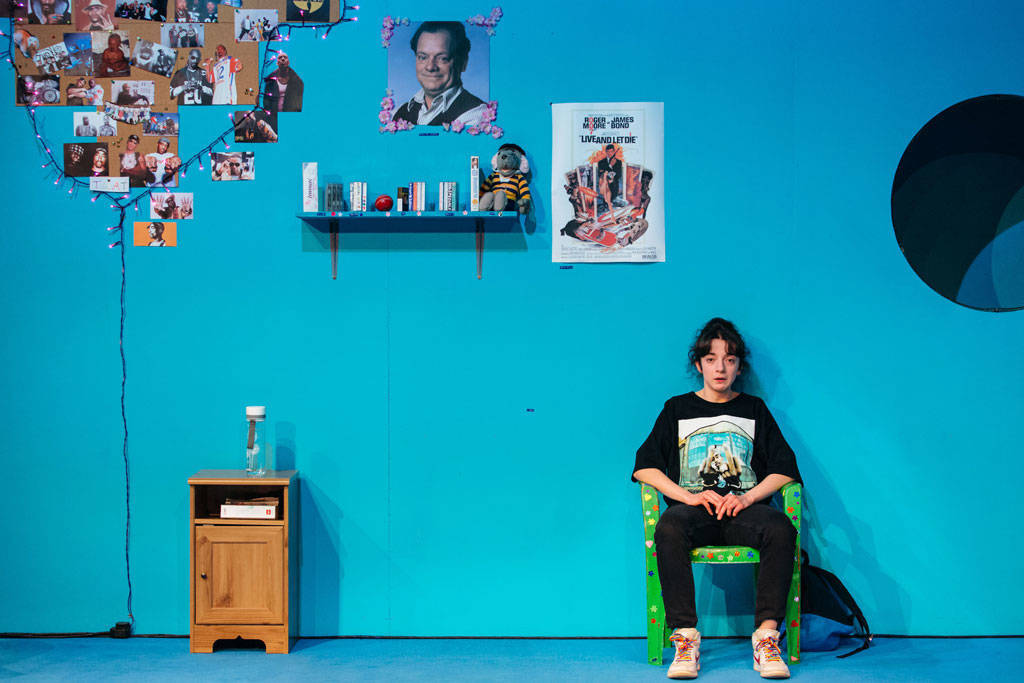 A girl plays jingles on a Casio keyboard, whilst the audience choose between a chair and a beanbag for a seat. I of course chose a beanbag, because how often does that opportunity come around? You get comfortable and take in the surroundings. We're in a child's bedroom; the walls are painted with an overwhelming blue gloss, and decorated with various pictures of celebrities and golden retrievers (design by Chloe Lamford).
Patsy Ferran jumps into action and recites a 75-minute monologue explaining how she lost her mum. The parent didn't die; she just joined a cult, resulting in her and the new beau (who has been labelled as 'Moron') immigrating to Canada, leaving the girl motherless. Despite what it may seem, it's not all doom and gloom, as debut playwright Anoushka Warden puts in just the right amount of one-liners to make you laugh throughout.
It's a coming of age tale that Ferran explains with clarity, by taking the audience through an entire family's history: cricket, 2pac, The Beatles, Trolls and even David Jason are all discussed, and it really gives us a sense of the foundations that made her the woman we see today. The play has been billed as an "unreliable version of a true story", as the content is derived directly from Warden's own upbringing.
Ferran has a tremendous acting range. Throughout the play she connects with everyone in the room, sharing a personal moment of truth, and in doing so, we see a real depth to her performance. Above all else, Vicky Featherstone and Jude Christian's co-directed production feels like you're at a sleepover with your best mate - who is simply telling you a story of why her mum is a twat.
And that's great. This play isn't going to change the world, but what it will guarantee is an enjoyable night at the theatre - where you'll be treated to a quick-witted narrative, brought to life by an incredible talent. Last year was full of ups and downs for the Court, but My Mum's A Twat is a wonderful start to the New Year.
My Mum's A Twat at the Royal Court until 20 January
Photo Credit: Helen Murray