BWW Review: I LOVED LUCY, Arts Theatre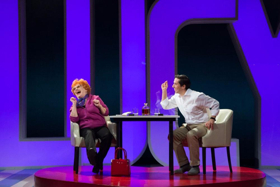 Lee Tannen's two-hander, I Loved Lucy, based on his memoir of his ten years with Lucille Ball as her confidant, backgammon buddy and friend, was one of my highlights of 2016 (here's some gushing praise). In 2017, the hit show gets a transfer to the Arts Theatre, a change in cast and a different look, but retains its most precious asset, the wonderful Sandra Dickinson as Lucy herself.
Re-visiting a near flawless production brings almost impossibly high expectations that one carries into the stalls and echoes of the old production (for good or ill) resonating in the new. Inevitably, there are gains and losses, but Anthony Biggs has now directed it three times and his sure hand updates and develops the show.
Not everything works better though. A strength of the tiny Jermyn Street Theatre was its intimacy - you could almost reach across and move the backgammon men yourself - but that's gone in the larger venue. Here we observe conversations rather than eavesdrop on them; here Matthew Scott (as Lee) announces the narrative to the audience rather than shares it conspiratorially. That can't be helped, but I felt the huge backdrop letters "L" "U" "C" Y" (too clunking a reference to the "H O L L Y W O O D" sign) did not help the tone of the play. One of the joys of Dickinson's performance is how Lucy's superstardom, nay, megastardom of the 50s, 60s and 70s oozes from her every pore, the charisma of the actor doing all the work required.
If they are the downsides, the upside is a more plaintive tone, the colours of Lucy and Lee's relationship deeper in hue. We still get the knockabout joshing between two friends who love (and need) each other, the pitch-perfect gossip from the Golden Age of Hollywood and Lucy's slapstick driving, but there's more pathos on second viewing. Lee appears more resentful of Lucy's entourage and Lucy herself more fearful not just of the ageing process stealing her glamour and her health, but of its conclusion. I saw much again of my relationship with my mother in her later years, but with a wistfulness that was largely absent on first viewing - and the play is a more rounded work as a result of this small shift in emphasis.
Broadway star, Scott, was not quite as vulnerable in performance as written - I expect he will relax into the role - but he's still a fine companion for us, immediately breaking the fourth wall and taking us into Lucy's hotel rooms and homes. A bit more Tannen and a bit less Scott will come through in time, I'm sure.
Dickinson, from first shuffle (to audible "ooohs" in the house, as people "recognised" Lucy ) and her unique, tobacco-inflected cackling owns the play from then until the end. Everything is just right - the look, the fragile confidence, the chutzpah and, more than ever, the gnawing anxiety about what time is doing to her in body and soul. When she rails against her own judgement in an ill-advised attempt to re-package I Love Lucy for the 1980s, you feel her pain, feel the affront to her pride, feel her missing ex-husband, the complete bastard, but brilliant business brain, Desi Arnez. Suddenly (well, almost suddenly) she's the last one standing and she doesn't know which way to turn. It's the fate of many much less famous than America's biggest TV star ever.
If the set isn't quite right and the venue unsympathetic, acting and script are still very much on message in a show that is, of course, about Lucille Ball and her unparalleled place in the history of 20th century entertainment. But it's also a show about how we should treat each other, the challenges of old age and the consolation of humour. One is not merely entertained - one is made wiser for the watching of it.
"Never cut a laugh, Lee" says Lucy - and that works as well in real life as is does in sitcom land.
I Loved Lucy continues at the Arts Theatre until 2 September.
Photo - Alessia Chinazzo