BWW Review: FUN HOME, Young Vic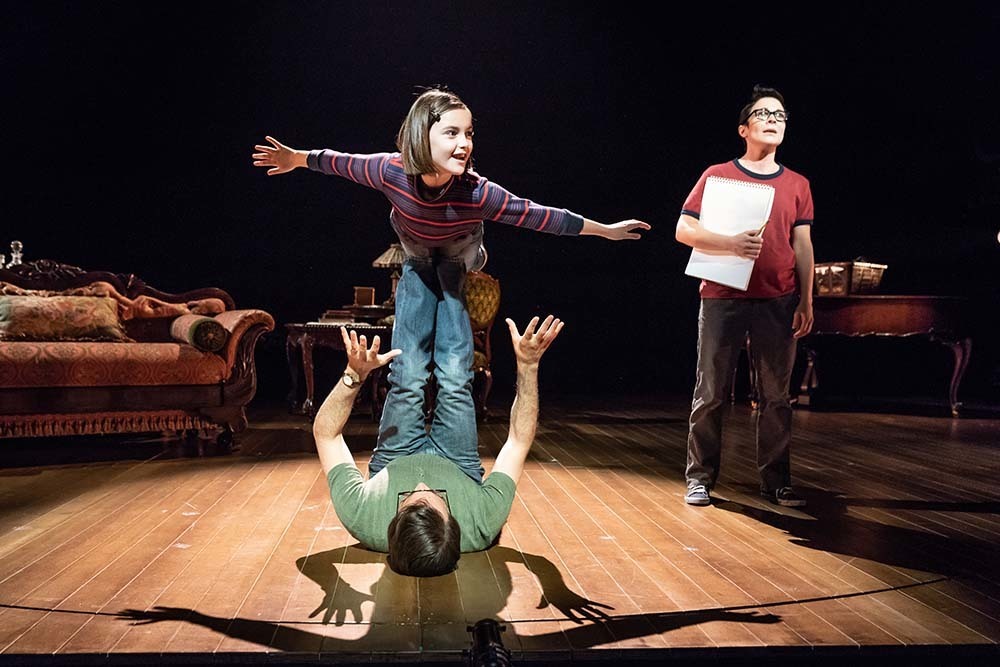 Five years since premiering at The Public Theater and with five Tonys under its belt, Fun Home comes to London and instantly finds a home with audiences.
Based on the graphic-novel memoir by Alison Bechdel, Fun Home is an examination of sexuality, the self and cycles, brought to life by a dynamic set and standout performances.
The narrative centres around cartoonist Alison, drawing her memoirs by drawing on real events from various stages of her life. We see Small Alison growing up in the family's fun(eral) home in Pennsylvania, dominated by a controlling father. Medium Alison soon leaves for college, embracing freedom and her sexuality as she meets Joan.
Reflecting on her own memories, these soon become intertwined with those of Alison's father, Bruce. Exploring relationships and inter-generational attitudes to homosexuality, "now gives way to then" as Alison relives her previous memories. Almost always watching from the outside, both she and the audience see how the past impacts the present.
As memories and stories so often are, one's ending is another's beginning: a perfect circle. Fittingly, the show itself is cyclical in structure and themes. Bruce's cycle of repressing his feelings, wife Helen's cycle of the "days and days and days" she gave to him. Whether it be through cautionary warnings or copies of Collette, Alison and her parents seem determined that her life not take this form.
Alison notes she "can draw a circle, [Bruce's] whole life fits inside". David Zinn superbly reflects this in the set, physically mapped onto the stage: the action taking shape and form on a circular revolve.
A writing desk takes due prominence at the front of the stage; behind it, pieces of furniture piled up just out of sight and mind as the show begins. As Alison quite literally draws on her memories, these start to move and form a picture for her and the audience. A living room comes to life, sofas here, first editions there; everything has its place as Small Alison fights to fit into Bruce's controlled world.
As time passes, key memories take shape and become more fleshed out. So too does the world on stage. The last time Alison sees her Dad, she remembers every single detail. Previously shadows and pieces of furniture, the set extends to reveal a house of memories. After their last talk (or lack thereof) however, the world closes down, the stage literally folding in on itself.
Set in a funeral home and dealing with such issues, you'd be forgiven for thinking the soundtrack would be more on the morose side. You'd be wrong. Jeanine Tesori and Lisa Kron's music and lyrics are equal parts surprising and sublime - notably the first female parntership to win Best Original Score at the Tony Awards.
There are shades of Sondheim in "Welcome to Our House on Maple Avenue". Kron channels The Jackson 5 in "Come to the Fun Home", really putting the 'fun' in funeral home and celebrating the joys of formaldehyde.
There are some beautifully sincere moments too in "Edges of the World", as Alison builds towards a moment heralded (but avoided) since the beginning. "Changing My Major" is a love anthem not just for coming of age, but for the ages.
With a rotating young cast, this makes for an immensely talented ensemble. Ramsay Robertson and Charlie McLellan are double trouble as John and Christian, stealing the entire scene of "Come to the Fun Home" (in even just a dusting of a coffin). Brooke Haynes's Small Alison has a big presence, and a real connection exists between the three actresses portraying Alison.
Eleanor Kane bursts onto the stage with an unbridled energy as Medium Alison, an energy now no longer confined by her father (or barrette). Her delivery of "Who needs dignity?" is possibly my favourite moment from the show.
Kaisa Hammarlund steps into her own story in "Telephone Wire", and leaves you wanting to see even more of her. I'd happily watch this a second time, purely to watch her watching her younger versions.
Cherrelle Skeete oozes confidence as Joan, while Ashley Samuels pulls quadruple duty rounding out the cast. Jenna Russell's vocals are impeccable, though she never quite connects to Bruce as Helen (or the audience for in parts).
Zubin Varla has a unique presence, creating a booming and powerful figure as Bruce. Even in jest with the children, Varla still keeps that control deep-rooted in every action.
There's swagger and there's bearing, in a beautifully structured and executed adaptation. Though on for a limited run at the Young Vic, here's hoping Fun Home will find another home after this engagement.
Fun Home at the Young Vic until 1 September
Photo credit: Marc Brenner