BWW Review: A CHRISTMAS CAROL, Old Vic

There are many reasons why Charles Dickens' A Christmas Carol has been adapted endlessly. A cautionary tale of debt, ghosts, meanness of spirit and salvation set in a snowy Victorian Christmas is irresistible to directors and theatregoers alike. This year the Old Vic has taken up the baton with Matthew Warchus' traditional and utterly charming take on the festive classic.
The Christmas spirit was well and truly alive with the audience welcomed with warm mince pies and satsumas, given out by the jovial cast in traditional Victorian costumes. There are sprouts, there is snow and there are carols. The Old Vic could not feel warmer or more joyful if it tried.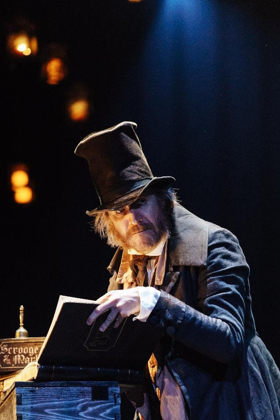 Designer Robert Howell has moved the set to the centre of the theatre, with a long catwalk for characters to enter and leave by. It is deceptively simple but brilliantly effective, with a multitude of decorative lanterns hanging down from the ceiling lit as though filled with candles, which flutter and flicker in time with various dramatic events on stage.
It allows the audience to be completely immersed in the action, with lovely touches of fruit sellers, musicians and other characters appearing around the stage.
Rhys Ifans as Scrooge will be the big draw here, but he doesn't disappoint. He works incredibly hard at being as spiritually barren, bitter and acerbic as possible, literally spitting out his lines (he often sprays the front row of the audience).
Jack Thorne, of Harry Potter and the Cursed Child fame, supplies an adaptation that gives Scrooge many dimensions to his performance, from being over the top and slightly manic in miserly fervour to subtly nuanced and tender.
A glimpse into his childhood, bullied by an overbearing and cold father, helps to explain his current mindset. In one scene from his future, Ifans approaches his younger self, perched on top of his own coffin and laments what the innocent young man has become. As he looks into his own eyes and embraces himself, the effect is heartbreaking.
In a brilliant supporting cast, Erin Doherty is sweetly caring as Belle. Although none of the ghosts are in any way frightening, Myra McFadyen is excellent as the Ghost of Christmas Past, with Melissa Allan's charming Little Fan also becoming the Ghost of Christmas Future.
Warchus knows how to pull on audience heartstrings and piles on the sentimentality with Tiny Tim. Toby Eden also makes a promising and very sweet theatrical debut as the boy on press night, holding the audience in the palm of his hand.
The adaptation is fairly faithful to the original and is as Dickensian as you could hope for in atmosphere. There are a few moments which felt a little rushed; Marley's ghost appearing was visually impressive as he trailed his length of chains along the whole catwalk of the stage, but it feels a truncated scene.
It might also have been beneficial to spend a little more time on the extent of Scrooge's churlish behaviour at the start, especially in relation to Bob Cratchit. These, however, are very small niggles and do not detract in the least from the huge enjoyment of the production overall.
Music is a huge part of the production and Christopher Nightingale's arrangement making this a carol in every respect. The production is like a play with a beautifully arranged Christmas carol concert combined, with the charming addition of bellringing, performed beautifully by the cast.
There is no better way of getting into the festive mood this Christmas; this is a wonderful production, brimming with charm and joy.
A Christmas Carol is at the Old Vic until 20 January, 2018
Photo Credit: Manuel Harlan