BWW Review: 42ND STREET 2017 London Cast Recording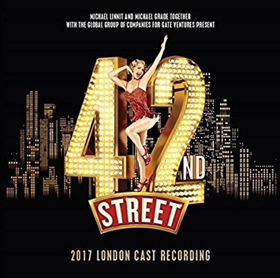 Currently enjoying a West End revival at the Theatre Royal Drury Lane, 42nd Street has also released a brand new cast recording.
The ultimate showbiz tale about a young girl whose dream is to perform on Broadway, the musical also features one of the most recognisable overtures - and with numbers including "We're In The Money", "Shuffle Off To Buffalo" and title track "42nd Street", what's not to like!
From the outset, the overture is rousing and toe-tapping; a theme sustained throughout the recording. Unlike some productions, the vast majority of the musical numbers can be listened to as stand-alone tracks and do not need the support of the other songs.
It also greatly helps that Harry Warren's music is so damn catchy! The team of orchestrators have contributed to an already brilliant score that still feels current in today's theatre market. "Getting Out Of Town" particularly showcases the orchestra at its best, led by Musical Director Jae Alexander.
The entire album has a jovial and upbeat feel to it, but there is a good balance of tempos. From the beautiful ballad "I Only Have Eyes For You", featuring Grammy winner Sheena Easton as diva Dorothy Brock, to the razzmatazz of "We're In The Money", it makes for very easy listening.
42nd Street is known for its tap routines and the tapping almost forms another part of the orchestration. The latter part of the overture and "Go Into Your Dance" are great examples of this. Even though you can't see the choreography on a recording, including it in sound form makes the numbers very visual.
"Shuffle Off To Buffalo" is a definite highlight, featuring Christopher Howell as Bert and Emma Caffrey as Annie on dominant vocals. The signature squeak in Caffrey's vocals is pitched perfectly, and when the ensemble joins, the number really comes together.
Tom Lister as director Julian Marsh also delivers "Lullaby on Broadway" well; perhaps a little nasal at times, but he represents a clear strong male character. Ultimately though, the star of the show is the title track, as it's so synonymous with the show - and it doesn't fail to deliver.
The 42nd Street 2017 London Cast Recording is available from the show's official website, along with other leading retailers
Featured This Week on Stage Door
Shoutouts, Classes, and More from Your Favorite Broadway Stars
Related Articles