BWW Interview: Jamie Morton Explains How MY DAD WROTE A PORNO Went from Podcast to Stage Show
Jamie Morton chats about the podcast, touring the world, theatre and musical comedy cabaret nights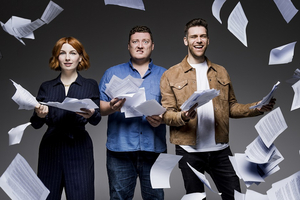 Earlier this year, Jamie Morton, co-creator of popular podcast My Dad Wrote a Porno, was touring North America when the live shows were shut down due to COVID-19.
Morton, along with friends and co-creators James Cooper and Alice Levine, recently announced their rescheduled European dates, a Belinda Blinked Christmas special and a new sixth series next year.
Outside of the podcast world, Morton also co-runs a musical comedy cabaret night in London called Round to Rita's. We caught up with him to talk all things My Dad Wrote a Porno, theatre, and Rita.
---
You've had a bit of a break from recording the podcast - are you excited to get back to it?
Yeah, we've got the Christmas special coming up and then we're going to be opening Belinda Blinked 6. I can't believe we're going to be reading the sixth book, that feels ridiculous, but I haven't read it yet so I don't know what to expect. I'm excited but also dreading it, which is how I've always felt about it. I'm intrigued to see what Dad has cooked up, because it's never what you think it's going to be. We've had a long enough break as well - we took this year off because we were supposed to be touring all year, but that got stopped in March, so it'll be nice to be back.
A lot of people really relate to your friendship with James and Alice - do you think that's one of the reasons the podcast does so well?
100%. It was such a weird thing to start doing, because it was so personal to me, and I talked to my friends about it, two of whom were Alice and James. We all got a little bit obsessed with just how bad and funny it was, and we were a bit nervous about whether anybody else would find it funny - we were worried that you'd have to know my dad or us to find it funny.
But we always wanted the listener to feel like they're the fourth person around the table, and it's so nice when people tell us they feel part of the gang, because that's what we wanted. If you didn't feel part of the group, it would be quite a weird thing to listen to - it might feel a bit voyeuristic - so I think you do need that dynamic of us just having fun with it, which allows everyone else to have fun with it too.
The chapter you read at the live shows is new to the audience, but how do you, James and Alice keep it fresh?
We try to make each other laugh, so we change what we say around the book each night. But this show has a lot of audience participation, which makes it different every time. With this show my dad, god bless him, has tried to write what we call 'Pick Your Own Porno', where the audience chooses where the story goes at various points, so it's actually a brand new show every single time you see it. That makes it fun for us and for the audience too, as some people come and see the show multiple times.
You usually write and direct - did you ever think you'd be on stage or in front of a camera?
Never! I get really bad stage fright, but I think it's just the fact that I never thought I'd be doing something like this. Right now, I'm just riding the wave, because it's not going to last forever, so I just want to enjoy it and not regret that I didn't do things because I was too afraid. It's so different to directing, because when I do that, I'm in control, but when I'm on stage I can't say "Cut! Let's do that again".
Now that you've taken the show all over the world, do you find there's a difference in audience members' reactions in each country?
A little bit - the audience in Australia are mental, they're absolutely hilarious. That was the one part of the tour that we managed to complete earlier this year. But most people who come to the show have listened to the podcast, so they're all birds of a feather really, and there's a whole drinking game as part of the show as well, so everyone gets involved in that.
You're a big theatre fan too. How did you get into it?
When I was a kid, my big sister was really into theatre and acting, and because I was her little brother, I just wanted to do whatever she did - she used to go to this weekend acting thing for kids at our local theatre, so I did that too. I was there all the time and I wrote plays and put them on with all my friends - it was a really safe environment to experiment with theatre.
When I went to university, I got into directing TV and film and so my focus shifted, and and that's when I met Alice and James. Then I moved to London and worked in TV. Once I earned enough to go to the theatre, it really reignited that passion and made me realise how much I love it.
One of the perks of touring with the podcast must be the theatres you get to perform in?
Absolutely - we get to play incredible theatres like the London Palladium, Royal Albert Hall, Radio City Music Hall and Sydney Opera House. It's so exciting to be backstage and see what other shows have performed there.
There's one theatre in Seattle that we played at, and on the stage there was a really badly made trap door. I asked one of the people who worked there what it was and they said that Houdini had played that theatre and his water tank didn't fit through the trap door, so he got a saw from a local shop and sawed through the stage to make his own trap door, which is just so cool. I think there's just something really magical about theatres.
Theatres have been closed for the last few months - what was the last thing you saw, and do you have anything booked that you're looking forward to?
The last thing I saw was actually on Broadway. I went to watch Company because they were doing previews and we were in New York doing some press before the tour and got invited to go and watch it. It's a shame it didn't get to open properly - I really hope it's able to come back, as it's such an amazing production. I was supposed to see Sunday in the Park with George, which I hope will come back too.
But to be honest, I'll see anything at this point - I just want theatre back. I think one of the only positives to come from this is that people have realised how much they miss it. I hope people will appreciate it a lot more, as well as the people who work in the arts, when it comes back.
You also co-run a musical comedy cabaret night called Round to Rita's - could you tell us a bit about it?
It's hosted by West End musical theatre 'legend' Rita Zeta-Jones, who is hilarious, and every show starts with her singing a medley of theatre songs, but she changes the lyrics to make them funny. Then the floor opens up to the audience so people can get up and sing - we do big sing-a-longs and it's just a really fun night out in London. The venue changes every week, so it's like a pop-up night, as we want to try and reach as many places and new people as we can.
How did you come up with the idea?
We were inspired by piano bars in New York - they're such a cool underground scene, and if you know about them then you're totally in with the theatre crowd. There's nothing really like that in London, which is crazy when you think about how big the theatre scene is here. It's such an inclusive crowd and everyone is so supportive of each other - it's just a really lovely place to spend some time. Even if you can't sing that well, you can get up and just have some fun. We want people to have a night like you would in Marie's Crisis or Club Cumming, but not have to go all the way to New York for it.
Have you been able to do some fun virtual things since lockdown started?
We've done some fun videos on Instagram - [Rita's] been doing snippets of her one-woman show called Quarantine and Sing and we were filming some fun videos just before England went into lockdown. It was really nice to be funny and creative with it again.
When we were in the nationwide lockdown, we would do Saturday matinees on Instagram Live where Rita would perform songs from a different musical, and then we'd have people joining the stream to sing various parts of songs.
We've also just launched a YouTube channel. It's been great to be creative in a really uncertain time and to make it into something that's more than just a night out in London.
For more information on the rescheduled My Dad Wrote a Porno dates and tickets, visit here
You can also follow Round to Rita's on Instagram
Featured BroadwayWorld Events
Check out these concerts...