BWW Feature: EMIL AND THE DETECTIVES with National Theatre Let's Play at Theatre Royal Brighton
Year 5 pupils from Queen's Park Primary School, Brighton, staged their own production of Emil and the Detectives at Theatre Royal Brighton this week on 3 April in a collaborative project with Theatre Royal Brighton and the National Theatre.
The majority of the 58-student cohort took to the stage to retell Erich Kastner's story about Emil, a chap on his way to Berlin and the mischief he finds himself involved in along the way.
Emil was creatively shared between three performers, and some larger-than-life performances were given by the young actors who played a variety of salon customers, detectives and villagers. Clever use of different theatrical elements, such as shadow puppetry and mime, ensured every student had a role in telling the story.
The National Theatre has a number of schemes that involve the next generation of theatre-makers and theatergoers in the creative process. One of these includes the "Let's Play" initiative geared towards Key Stage 1 and 2 pupils. They have partnered with around 100 schools so far.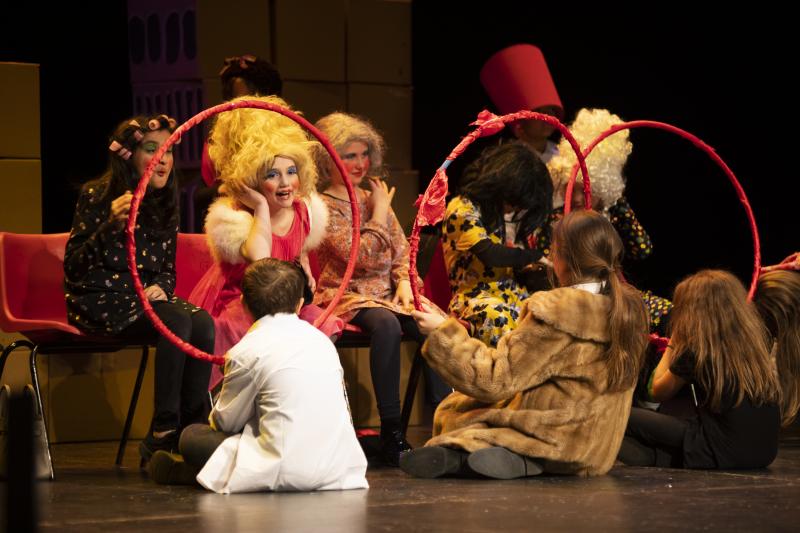 The Year 5 pupils were involved in every aspect of planning and creating this year's end-of-term play, including set design, costumes, lighting, sound, special effects, make-up and designing programmes for the audience - complete with word searches and cast lists.
The children also stage managed and operated sound and light for the performances under the guidance of Theatre Royal Brighton's tech team. This is the first time a Brighton School has performed its end-of-term play in their local theatre.
Once a month since November, the 58 Year 5 pupils, along with teachers and support staff, have spent the day at Theatre Royal Brighton meeting the tech team, exploring the building, trying out lighting, sound and special effects, experimenting with movement and staging, and learning how a theatre works - front of house and backstage.
Let's Play is a new programme from the National Theatre that provides everything that teachers need to make an outstanding piece of theatre, whilst supporting them to embed the arts and creativity into all aspects of teaching and learning.
Schools signed up to the programme can send up to four teachers on a theatre-making course, led by professional theatre artists, and get access to specially commissioned scripts, musical scores and backing tracks for original songs as well as curriculum-linked teaching resources. The programme inspires creative learning across the curriculum and aims to bring together the whole school community.
Exhibits of the extensive work that had gone on in the classrooms at Queen's Park were displayed in the Theatre Royal's foyer - from costume mood boards to programme and ticket designs.
Jackie Alexander, Creative Learning and Community Partnerships Manager at Theatre Royal Brighton, said: "The Let's Play project has given us an opportunity to get to know the teachers and Year 5 pupils at Queen's Park Primary School and we have loved working with them! There is a real energy and excitement in the theatre, with 50+ children playing on the stage and exploring how to make a play together."
When asked about the most rewarding part of her work, Lorna McGinty, Let's Play Project Manager at the National Theatre, said: "It's two-fold. I enjoy working with the teachers in the training days we provide for them when they see the value giving them a space to work in. It is also amazing to see the children having an amazing time and their families being proud of them.
"Education in theatre is important because it is important to engage the next generation of theatregoers and theatre workers. These projects tap into skills individuals didn't know they had, and it gets them working with peers and engaged from a very young age."
Mhari Smith, Year 5 class teacher at Queen's Park Primary School, said, "This has been nothing short of a truly immersive theatrical experience. It has been so rewarding to witness children who were reluctant and shy to begin with give some of the most exciting, heartfelt performances; their growth in confidence has been immeasurable.
"It's been the most rewarding creative project I've taken part in, with exceptional CPD and support from the National Theatre. We have also been very lucky to have made connections with all the wonderful people at the Theatre Royal Brighton, who have been so welcoming and supportive of this project."
Pupils involved in the show spoke to BroadwayWorld about their favourite moments in the play from "the chase scene" to the "hairdresser scene", and the whole project had made theatre seem very exciting to them. One even remarked she was now thinking about a career as an actor. Another shared that getting to perform the play twice alleviated their nerves the second time around.
The children enjoyed playing a number of games - some specific examples were "stop and go", "clap a jump" and "opposites" - to help them focus and unleash their creative energy as they prepared their production.
The experience was described by the young creatives as "cool", "amazeballs", "magical" and "sublime", and a student was heard asking towards the end of the day "When can we do another play?".
Information about the Let's Play programme and how schools can take part can be found on the National Theatre's website.
Photography credit: Ellie Kurttz
Related Articles View More UK / West End

Stories

Shows