Acting For Others Announce Over 150,000 Has Been Raised At This Year's One Night Only At The Ivy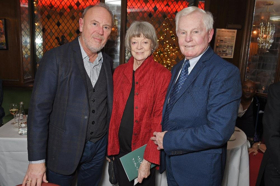 Theatrical charity Acting for Others announces that over £150,000 has been raised at this year's One Night Only at The Ivy - setting the record for the highest amount raised from this event. Stars of the stage and screen swapped their costumes for aprons and served diners across two sittings at The Ivy, world-renowned for their unfaltering impeccable service. Heading up the waiting staff this year to ply their trades in bartending, waiting tables, manning cloakrooms and welcoming guests were Noma Dumezweni, Arlene Phillips and Freddie Fox. They were joined by Annette Badland, Samantha Bond, Janie Dee, Neil Dudgeon, Celia Imrie, Cassidy Janson, George Layton, Tamzin Outhwaite, Jemma Redgrave, Anne Reid, Joanna Riding, Neil Stuke, Owen Teale, Kate Thornton, Stephen Tompkinson, Hannah Waddingham and Giles Watling MP.
Sir Derek Jacobi and Dame Maggie Smith were also in attendance hosting the Dame and Knights table with Anne Reid and Richard Clifford as their guests.
The two dinner services, Acts I and II, started at 6pm and 8.45pm and with identical auctions taking place after dinner. The enviable prizes including, dinner at The Ivy's restaurants every month for a year and VIP Olivier Award tickets, with the walk-on part in Les Miserables prize going for the highest amount at £22,000.
Sir Stephen Waley-Cohen, Chairman of Acting for Others also said, "Huge thanks to all the actors who gave the performances of their lives, and to the guests at two sold-out sittings at The Ivy, and to all the donors and bidders for the wonderful auction prizes on Sunday evening. Together they helped Acting For Others to raise really worthwhile funds for all theatre-workers in need."
Director of The Ivy, Fernando Peire said "The Ivy's centenary has seen much celebration and many special events over the past 12 months. The evenings dinner, served by our friends in the acting community has been the icing on the cake for us. We are extremely proud to have raised over £150,000 - the most we have ever raised, for Acting for Others."
Acting for Others is an umbrella organisation for 15 theatrical charities which use the funds raised to offer emotional and financial support to any theatre workers who have fallen on hard times through illness, injury or circumstance.
The Acting for Others charities are Actor's Children's Trust, Dancers' Career Development, Denville Hall, Drury Lane Theatrical Fund, Equity Charitable Trust, Evelyn Norris Trust, Grand Order of Water Rats, International Performers' Aid Trust, King George V Fund for Actors and Actresses, Ralph and Meriel Richardson Foundation, Dance Professionals Fund, The Royal Opera House Benevolent Fund, The Royal Theatrical Fund, Theatre Chaplaincy UK and The Theatrical Guild.
The Ivy has been home to stars of the stage and screen for nearly a hundred years. It is has seen more deal-making handshakes, celebratory lunches and dinners, column inches and even actors scurrying through the kitchen door to avoid the throngs of photographers outside the restaurant, than its West End counterparts. 2017 marks a year of celebrations for The Ivy, including Acting for Other's One Night Only.