Review Roundup: CRAZY FOR YOU at Signature Theatre - What Did The Critics Think?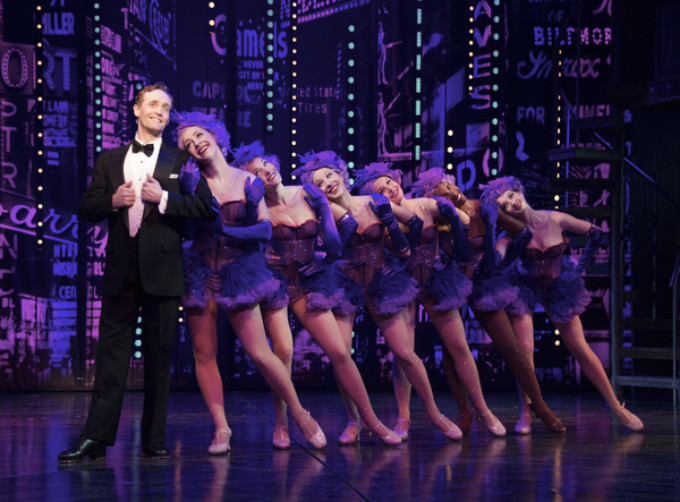 CRAZY FOR YOU runs at Signature Theatre through January 14, 2018. The show has music and lyrics by George and Ira Gershwin and a book by Ken Ludwig.
A musical-loving banker sent to foreclose on a small-town theatre decides to revive it instead with the magic of the Follies, some slapstick comedy and a whole lot of charm. Flush with mistaken identities, a classic love story and 1930s glamour, Crazy for You radiates with playful humor and high-energy show-stopping numbers.
The cast stars Ashley Spencer as Polly, Danny Gardner as Bobby Child, Bobby Smith as Bela Zangler, Harry A. Winter as Everett Baker, Sean Bell as Billy/Perkins, Kurt Boehm as Mingo, DeMoya Watson Brown as Louise, Cole Burden as Lank Hawkins, Jennifer Cordiner as Betsy, Natascia Diaz as Irene, Tricia Desario as Margie, Sherri L. Edelen as Lottie Child, Colleen Hayes as Patsy, Andre Hinds as Custus, Elise Kowalick as Vera, Robert Mintz as Jimmy, Georgina Moore as Sheila, Corinne Munsch as Mitzi, A. Ross Neal as Moose, Maria Rizzo as Tess, Robbie Roby as Wyatt, Thomas Adrian Simpson as Pete/Eugene Fodor, and Harrison Smith as Sam.
CRAZY FOR YOU is directed by Matthew Gardiner, with musical direction by Jon Kalbfeisch, choreography by Denis Jones, original Broadway choreography by Susan Stroman, scenic design by Paul Tate DePoo III, lighting design by Jason Lyons, costume design by Tristan Raines, and sound design by Ryan Hickey.
Let's see what the critics had to say!
Gina Daifonzo, DC Metro Theatre Arts: The two of them [Spencer and Gardner] bring powerhouse voices and loads of charm to their respective roles, and they handle Jones' choreography beautifully, especially in the duet "Shall We Dance," an acting as well as a dancing tour de force for both. In fact, one of the best things about the cast as a whole is their expressiveness throughout every dance number (and as I mentioned, there are a lot of dance numbers!). Their faces are as active as their bodies; in the clichéd but still meaningful phrase, they're telling a story with their dancing.
Peter Marks, The Washington Post: Signature's production, directed by whiz-bang in-house star Matthew Gardiner, offers up some heady demonstrations of tap, courtesy of choreographer Denis Jones, and there's even one heavenly number in which the ensemble wittily takes up washboards, saws, hooch jugs and emery boards to keep the beat... You're more impressed than swept away, though, over the course of these 2½ hours. It may be, too, that the showbiz archetypes that "Crazy for You" celebrates no longer live all that vibrantly in the bodies of young actors.
Sara Dudley Brown, The Zebra: Channeling a young Fred Astaire and a super smart, but perky-when-she-needs-to-be Ginger Rogers, are Danny Gardner as Bobby Child and Ashley Spencer as Polly Baker. Oh my! They both have it all: elegant dancing expertly choreographed by Denis Jones using every inch of the versatile stage, lovely perfect-for-the-period singing voices, and personalities galore!
Photo: C. Stanley Photography
Related Articles View More Washington, DC

Stories

Shows
More Hot Stories For You