National Philharmonic Announces Program for NORTHERN LIGHTS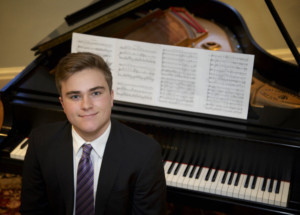 A cappella singing and New Age music align in a fascinating concert entitled Northern Lights presented by The National Philharmonic Orchestra and Chorale on Saturday, April 28, 8pm at the Music Center at Strathmore. Philharmonic Chorale Artistic Director Stan Engebretson leads a concert juxtaposing the rich traditions of Rachmaninoff's Vespers with new sounds by popular Norwegian composer Ola Gjeilo (pronounced Yay-lo) and local wunderkind composer Alistair Coleman, currently studying at the Juilliard School. The Philharmonic will also be Joined At The piano by these two contemporary composers. In addition, the concert features guests from the Montgomery College Chorus and the Strathmore Children's Chorus. A pre-concert lecture by Philharmonic Associate Director Victoria Gau begins at 6:45pm in the Concert Hall. After the concert, Mr. Gjeilo and Mr. Coleman will join Artistic Director Stan Engebretson for a Member Q&A. Tickets start at $23 and can be purchase at nationalphilharmonic.org or by calling the Strathmore Ticket Office at 301-581-5100. Kids 7-17 are free.
The concert begins with an a cappella setting of Rachmaninoff's Vespers (also known as All-Night Vigil), one of the greatest compositions of Russian sacred music. This magnificent and majestic work was composed in 1915, in a climate of a major renaissance of choral music in Russia, and was motivated by Rachmaninoff's desire to create a musical setting that would do justice to the magnitude of the evening service of the Russian Orthodox Church. Written in just two weeks, Vespers has often been praised as Rachmaninoff's finest achievement, and the composer himself held it as one of his favorite works.

Vespers was Rachmaninoff's last major composition before he left his country forever following the October Revolution. A member of the elite of Russian society, the composer found himself without a home, without a country. On December 22, 1917, about two months after the Revolution, Rachmaninoff and his family escaped to Scandinavia. After settling in the United States in 1918, he had a successful career as a virtuoso pianist, conductor and composer, but he could never forget the destruction of his former way of life and was perpetually afflicted with longing for a country that no longer existed. His works were banned in Russia, he never returned to his native country, and was granted America citizenship barely one month before he died.
The Northern Lights are among nature's greatest natural phenomena and so too is the mesmerizing music from this northern region that begins the second half of program. Our guest artist, Ola Gjeilo, a prominent Norwegian/American composer, performs intricate improvisations within his incredible compositions Dark Night of the Soul, Luminous Night of the Soul, and the signature work of the evening, Northern Lights. Gjeilo's compositions take inspiration from the mystical poetry of St. John of the Cross (1542-1591) as well as from the Aurora Borealis of his native Norway.
The second half of the program also features the world premiere of National Philharmonic's Young Composer-in-Residence, Alistair Coleman's I Wandered Lonely as a Cloud. The Philharmonic premiered Mr. Coleman's Of Radiance and Light in 2016 when the composer was a student at Walt Whitman High School. Now studying composition at the Juilliard School, he returns with a setting of the beloved Wordsworth poem.
"I Wandered Lonely as a Cloud is my latest work written for SATB choir, children's chorus, piano, and strings based on a text by William Wordsworth," said Mr. Coleman. "With this piece, my goal was to capture the simultaneous intimacy and expansiveness of the Wordsworth text, which is packed with vivid imagery and self-reflection. I specifically took advantage of the choir's accompaniment of piano and strings, and experimented with the numerous timbres and textures that can be achieved to illustrate the evocative surroundings of the poem's speaker.
"With this new commission from The National Philharmonic, I'm really excited to collaborate in a brand-new way performing piano for the piece's premier," Mr. Coleman continued. "It's an incredible opportunity to explore my role in bringing a new piece to life not only as a composer, but as a performer. This fall, I began studies at The Juilliard School in New York City, so performing a premier at Strathmore with The National Philharmonic truly feels like coming home."
Composer/Pianist Ola Gjeilo
Ola Gjeilo was born in Norway in 1978 and moved to the United States in 2001 to begin his composition studies at the Juilliard School in New York City, where he currently resides and works as a full-time composer.
Ola's albums include his 2016 Decca Classics label debut, Ola Gjeilo, featuring Tenebrae and Voces8, as well as his two piano records (Stone Rose, Piano Improvisations) and Phoenix Chorale's Northern Lights.
Gjeilo's (pronounced Yay-lo) choral works are published by Walton Music, wind band works by Boosey & Hawkes, and piano pieces by Walton Music and Edition Peters.
Composer/Pianist Alistair Coleman
Alistair Coleman is a young composer from Washington, DC, and is the Jim and Carol Trawick Young Composer-in-Residence of The National Philharmonic. His music has been programmed broadly, including performances by the Atlantic Music Festival Orchestra, Maryland Classic Youth Orchestra, Houston Brass Band, Boston University Marsh Chapel Choir, Cathedral Choral Society, and members of the Minnesota Opera Orchestra.
With three published works, Alistair is the youngest composer ever published by E.C. Schirmer Music Company. He has received awards and honors from ASCAP, American Composers Forum, National Young Arts Foundation, Symphony Number One, and NAfME. He was featured on the National Public Radio program, "From the Top" in 2018.
Alistair has studied composition at the Atlantic Music Festival, Curtis Young Artists Summer Program, Oberlin Composition Workshop, and the New York Summer Music Festival. He has studied with Richard Danielpour and David Ludwig, faculty members at the Curtis Institute of Music in Philadelphia. Alistair currently studies with Robert Beaser as an undergraduate student at The Juilliard School in New York City.
National Philharmonic Chorale Artistic Director Stan Engebretson (conductor)
A native of North Dakota, Engebretson grew up in a musical environment, receiving his early training singing in the Scandinavian choral tradition. He earned Bachelor's and Master's degrees in Piano and Voice from the University of North Dakota, and then went on for his Doctor of Musical Arts degree in Conducting from Stanford University. He has held faculty positions within the University of Texas system and at the University of Minnesota. In addition, he served as the Artistic Director of the Midland-Odessa Symphony Chorale and was the Associate Conductor of the Minnesota Chorale. Dr. Engebretson has served as the Artistic Director of The National Philharmonic Chorale since its inception.
In Washington, DC since 1990, Dr. Engebretson also is Professor of Music and Director of Choral Studies at George Mason University, and is the Director of Music at the historic New York Avenue Presbyterian Church. From 1993-2003, he was the Artistic Director of the predecessor to The National Philharmonic Chorale, the Masterworks Chorus and Orchestra and their smaller ensemble, the National Chamber Singers. In 2009 he served as a Fulbright Scholar to Iceland.
Since 1992, Engebretson has lectured for the Smithsonian Institution during summer tours including the Bach Festival in Carmel, CA; the Aspen Music Festival in Aspen, CO; and the Spoleto-USA Festival in Charleston, SC. Abroad in recent seasons he performed in workshops presented by the Europa Cantat and AMJ (Arbeitskreis Musik in der Jugend) events, plus others in Germany, Spain, France, Italy, Russia, Lithuania, Iceland,
Led by Maestro Piotr Gajewski, The National Philharmonic is known for performances that are "powerful," "impeccable," and "thrilling" (The Washington Post). In July 2003, the National Chamber Orchestra and Masterworks Chorus merged to create The National Philharmonic, an ensemble with more than 50 years of combined history, bringing high caliber musical performances to the Washington area. The National Philharmonic took up residence at the state-of-the-art Music Center at Strathmore upon its opening in February 2005. Now, more than 250 performances later, and with far-reaching educational programming, The National Philharmonic is the largest and most active professional orchestra based in Montgomery County.
The National Philharmonic boasts a long-standing tradition of reasonably priced tickets and free admission to all young people age 7-17, assuring its place as an accessible and enriching component in Montgomery County and the greater Washington, D.C., area. As the Music Center at Strathmore's orchestra-in-residence, The National Philharmonic showcases world-renowned guest artists in time-honored symphonic masterpieces conducted by Maestro Gajewski, with additional conducting by Associate Conductor Victoria Gau, and monumental choral masterworks under National Philharmonic Chorale Artistic Director Stan Engebretson.

Tickets start at $23 and can be purchased at nationalphilharmonic.org, by phone (301-581- 5100), or in person at the Strathmore Ticket Office. Young people 7-17 are Free. Parking is complimentary in the Grosvenor-Strathmore Metro garage.
More Hot Stories For You