Hannah Yelland to Star in World Premiere of INTELLIGENCE at Arena Stage; Cast Set!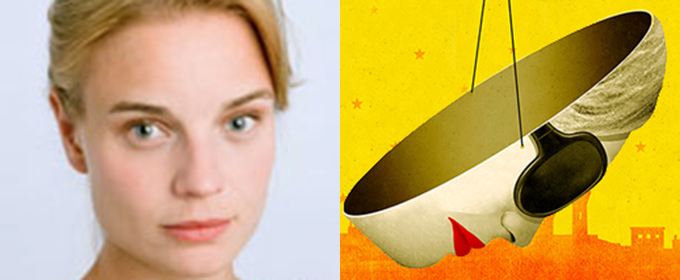 Jacqueline E. Lawton's new political thriller Intelligence makes its world premiere at Arena Stage at the Mead Center for American Theater. Under the direction of Daniella Topol (Round House's Ironbound), Intelligence explores the cost of deception and the consequences of speaking truth to power. Due to popular demand, the production has been extended for one week with eight additional performances and will run February 24-April 9, 2017 in the Arlene and Robert Kogod Cradle.
Intelligence is a fictionalized account of a covert operative who, tasked with protecting the national security of the United States post-9/11, is racing to find weapons of mass destruction in Iraq. With her country at war, her cover is blown and the lives of her assets are put in jeopardy. Inspired by true events, Intelligence follows one woman's journey to serve her country, protect her family and fight for the truth and justice.
The production features Tony Award nominee Hannah Yelland (Broadway's Brief Encounter) as Valerie Plame, Lawrence Redmond (Arena Stage's All the Way) as her husband Joseph Wilson, Nora Achrati (Forum Theatre's I Call My Brothers) as Leyla Nazari, Ethan Hova (Woolly Mammoth's Guards at the Taj) as Dr. Malik Nazari and Aakhu TuahNera Freeman (Arena Stage's The Great White Hope) as Elaine Matthews.
"What excites me most about Jacqueline Lawton's new play and Arena's new Power Plays initiative is that we will explore politics from 1776 to the present day," shares Artistic Director Molly Smith. "This story of truth and lies amidst great political pressure in 2003 provides a fascinating look at what it means to be an American."
Intelligence is the third commission to debut as part of Arena Stage's Power Plays, an ambitious initiative commissioning and developing 25 new plays and musicals from 25 writers over the course of the next 10 years. With Power Plays, Arena Stage focuses Washington, D.C.'s unique theatrical voice on politics and power, amplifying the theater's role as a national center dedicated to American voices and artists, located in the heart of the nation's capital. The massive undertaking features one story per decade, beginning with 1776 through today, and builds on the tremendous success of two previous Arena Stage commissions and Power Plays-John Strand's The Originalist and Lawrence Wright's Camp David. For additional details on Power Plays visit arenastage.org/artistic-development/new-play-institute/powerplays.
"I'm honored that Intelligence will receive a world premiere as part of the Power Plays initiative," says Lawton. "Writing this play has forced me to process the betrayal I felt when the Bush Administration told a series of lies that led to the war in Iraq. This historical fiction is as much a political thriller as it is a clarion call for citizens to hold their leaders accountable. Never before has this message been more urgent than right now, and there is no better place for this play to be presented than at Arena Stage, in the heart of the nation's capital."
"I am thrilled to direct Intelligence, a fast-paced and emotionally-charged political drama that captures the complexity of one woman's journey to serve her country and her family in uncertain times," adds Topol. "Arena, with its steadfast commitment to launching political plays of resonance, is the ideal theater to launch this vital and relevant new play. And I am honored to work with such an excellent cast and creative team who will create an innovative and ambitious production."
The real, living people depicted in Intelligence (specifically Valerie Plame and Joseph Wilson) did not authorize the writing of this play, nor did they participate in or otherwise give consent or approval of this production. Certain dramatic elements have been added to the documented facts.
IF YOU GO:
Intelligence
By Jacqueline E. Lawton
Directed by Daniella Topol
In the Arlene and Robert Kogod Cradle | February 24-April 9, 2017
CAST:
Leyla Nazari: Nora Achrati
Elaine Matthews: Aakhu TuahNera Freeman
Dr. Malik Nazari: Ethan Hova
Joseph Wilson: Lawrence Redmond
Valerie Plame: Hannah Yelland
CREATIVE TEAM:
Playwright: Jacqueline E. Lawton
Director: Daniella Topol
Set Designer: Misha Kachman
Costume Designer: Ivania Stack
Lighting Designer: Kathy A. Perkins
Original Music & Sound Design: Jane Shaw
Projection Designer: Jared Mezzocchi
Dialect Coach: Leigh Wilson Smiley
Stage Manager: Trevor A. Riley
Stage Management Assistant: Elle Bolin
PERFORMANCE DATES:
Sunday, Tuesday & Wednesday at 7:30 p.m.
Thursday, Friday & Saturday at 8:00 p.m.
Saturday & Sunday at 2:00 p.m.
Weekday matinees at noon on Wednesday, 3/15; Tuesday, 3/28; & Wednesday, 3/29
Full calendar: tickets.arenastage.org/single/PSDetail.aspx?psn=23016
Open-captioned performances: 3/15 at 7:30 p.m. & 3/23 at 8:00 p.m.
Audio-described performances: 3/11 at 2:00 p.m.
Tickets for Intelligence are $40-90, subject to change and based on availability, plus applicable fees. For information on savings programs such as pay-your-age tickets, student discounts, Southwest Nights and hero's discounts, visit arenastage.org/shows-tickets/single-tickets/savings-programs.
Tickets may be purchased online at arenastage.org, by phone at 202-488-3300 or at the Sales Office at 1101 Sixth St., SW, D.C.
Sales Office/Subscriptions: 202-488-3300
Group Sales Hotline for 10+ Tickets: 202-488-4380
TTY for deaf patrons: 202-484-0247
Info for patrons with disabilities: 202-488-3300
Post-Show Conversations:
Connect with our shows beyond the performance at a post-show conversation with artists and staff-March 14 following the 7:30 p.m. performance; March 15, March 28 and March 29 following the noon performance; and March 30 following the 8:00 p.m. performance.
ABOUT THE ARTISTS:
Jacqueline E. Lawton (Playwright)'s plays include Anna K; Blood-bound and Tongue-tied; Deep Belly Beautiful; The Devil's Sweet Water; The Hampton Years; Love Brothers Serenade; Mad Breed; and Noms de Guerre. She has received commissions from Adventure Theatre-MTC, Discovery Theater, National Portrait Gallery, National Museum of American History, Round House Theatre and Theater J. Her play Cinder Blocks was published in Experiments in a Jazz Aesthetic: Art, Activism, Academia, and the Austin Project (University of Texas Press). A 2012 TCG Young Leader of Color, she is an alumna of the National New Play Network (NNPN), Arena Stage's Playwrights' Arena and Center Stage's Playwrights Collective. She is a proud member of the Dramatists Guild of America. She received her M.F.A. from the University of Texas at Austin, where she was a James A. Michener Fellow.
Daniella Topol (Director)'s area credits include Ironbound (Round House, Rattlestick/Women's Project, Steppenwolf) and Photograph 51 and Andy and The Shadows (Theater J). Recent NY credits include When January Feels Like Summer (Ensemble Studio/P73), How the World Began (South Coast Repertory, Women's Project), Charles Ives Take Me Home (Rattlestick), Jesus in India (Magic Theatre, Ma-Yi Theater), Lascivious Something (Women's Project/Cherry Lane) and The Sugarhouse at the Edge of the Wilderness (Ma-Yi Theater). Daniella received her undergraduate degree in directing and master's in arts management from Carnegie Mellon. She was associate producing director of City Theatre, new works program director at the National Alliance for Musical Theatre and artistic program director of the Lark Play Development Center. A D.C. native, Daniella lives in Brooklyn with her husband and 4-year old daughter and serves as artistic director of Rattlestick Playwrights Theater.
Nora Achrati (Leyla Nazari) is thrilled to be making her Arena Stage debut with Jacqueline Lawton's new work. Recent D.C. credits include Where Words Once Were (u/s, the Kennedy Center Theater for Young Audiences) and Falling Out of Time (Theater J). Nora is a proud member of the artistic ensemble at Forum Theatre, where she most recently appeared in I Call My Brothers and The Last Days of Judas Iscariot. She is a narrator of recorded books for the Library of Congress, and writes and performs folklore-based shows with New Moon Theater in Baltimore, MD. Nora holds an M.A. in Arab Studies from Georgetown University. Her work and her love are dedicated to her husband Bradley and son Omar. www.norafachrati.com
Aakhu TuahNera Freeman (Elaine Matthews) is happy to return to Arena Stage where she previously appeared as Clara in The Great White Hope, Sue in All My Sons and Della in The Royal Family. Other credits include Rose in Fences and Mrs. Coleman in The Soul Collector (Everyman Theatre); Mrs. Breedlove in The Bluest Eye and Gerthe in Insurrection: Holding History (Theater Alliance); Cat on a Hot Tin Roof and four national tours (the Kennedy Center); Much Ado About Nothing and Richard III (Folger Theatre); Our Lady of 121st Street (Woolly Mammoth); Something You Did (Theater J); and Amen Corner (African Continuum Theatre). Her most recent performance was in Fresh Brewed: Tales from the Coffee Shop in Riyadh, Saudi Arabia.
Ethan Hova (Dr. Malik Nazari) makes his Arena Stage debut. He is a founding member of the New York Theater collective, Exit, Pursued by a Bear and a member of Ensemble Studio Theatre. D.C. credits include Guards at the Taj (Woolly Mammoth). Off-Broadway credits include Metro Cards (Ensemble Studio Theatre); The Wong Kids in the Secret of the Space Chupacabra Go! (La MaMa); and Spinning the Times (Origin's 1st Irish Theatre Festival, Best Actor Award Winner). Regional credits include Water by the Spoonful (Premiere Stages); Cock (Kinetic Theatre); and Tamara (Quantum Theatre). TV/film credits include The Blacklist, ER, E-Ring and Accepted. Ethan holds a B.F.A. from Carnegie Mellon University. Instagram: @ethanethane. www.ethanhova.com
Lawrence Redmond (Joseph Wilson) was last seen at Arena Stage as Richard Russell in All the Way. Other Arena Stage credits include The Music Man, Ruined, Christmas Carol: 1941, Damn Yankees (Helen Hayes nominee), Passion Play: a cycle, South Pacific (Helen Hayes nominee), The Misanthrope, The Great White Hope, Guys and Dolls and Cat on a Hot Tin RooF. Earlier this season he was seen in Titanic (Signature Theatre) and A Prayer for Owen Meany (Cincinnati Playhouse in the Park). Other D.C. credits include A Midsummer Night's Dream, Much Ado About Nothing and The Government Inspector (Shakespeare Theatre Company); Rock 'n' Roll and Jerry Springer: The Opera (Studio Theatre); and The Nutcracker, The Trip to Bountiful and Permanent Collection (Round House Theatre).
Hannah Yelland (Valerie Plame) makes her Arena Stage debut. Recent D.C. credits include Moment (Studio Theatre), Hermione in The Winter's Tale (Shakespeare Theatre Company) and Laura Jesson in Brief Encounter (Shakespeare Theatre Company; visiting production by Kneehigh Theatre Company, Helen Hayes Award). Hannah originated the role of Laura in Brief Encounter on Broadway and received a Tony nomination for Best Leading Actress in a Play. She toured this production to A.C.T., St Ann's Warehouse, The Guthrie and Wallis Annenberg Center. Other theater credits include Rachel in My Cousin Rachel (Gate Theatre, Dublin and Spoletto Festival); Nora in A Doll's House (Abbey Theatre, Dublin); Kate in Nicholas Nickleby (West End and Chichester Festival, Toronto); and Vivie in Mrs. Warren's Profession directed by Sir Peter Hall. TV/film credits include AKA, The Secret, Dalziel & Pascoe, Dinotopia and Agatha Christie's Poirot.
The creative team for Intelligence includes Set Designer Misha Kachman, Costume Designer Ivania Stack, Lighting Designer Kathy A. Perkins, Original Music & Sound Design by Jane Shaw, Projection Designer Jared Mezzocchi, Dialect Coach Leigh Wilson Smiley, Stage Manager Trevor A. Riley and Stage Management Assistant Elle Bolin.
For full company bios, visit arenastage.org/shows-tickets/the-season/productions/intelligence.
Arena Stage at the Mead Center for American Theater, under the leadership of Artistic Director Molly Smith and Executive Director Edgar Dobie, is a national center dedicated to American voices and artists. Arena Stage produces plays of all that is passionate, profound, deep and dangerous in the American spirit, and presents diverse and ground-breaking work from some of the best artists around the country. Arena Stage is committed to commissioning and developing new plays and impacts the lives of over 10,000 students annually through its work in community engagement. Now in its seventh decade, Arena Stage serves a diverse annual audience of more than 300,000. For more, visit arenastage.org.
Related Articles View More Washington, DC

Stories

Shows
More Hot Stories For You