BWW Review: World Premiere ALL SAVE ONE at Washington Stage Guild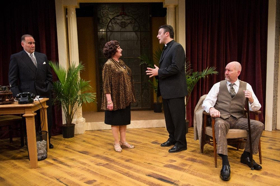 "All Save One" is Greg Jones Ellis' world premiere play about a 1950s Hollywood in which a Oscar Wilde-type playwright is ensconced in Hollywood, with a front marriage to a film star, a longtime relationship with a man who has become his secretary, and temptations right outside the window of his beachside home.
As presented in a crisp new production at Washington Stage Guild, this is a place where wisecracks tinkle like the ice in the extra-cold gin served up any old time of the sunny day.
It provides a good showcase for some Stage Guild standouts, Artistic Director Bill Largess as the playwright Sims Glendenning, and the stately Laura Giannarelli as his wife - both well versed in landing each line, as is R. Scott Williams in the role as the long-suffering man servant. Despite the fact they're all supposed to be from England, they all rather speak in the elocution of classic Hollywood, with all of its artificial musical tones infusing the rapid patter.
This makes the play under Carl Randolph's direction, a little hard to take as anything more than precious play acting, though the well-burnished bon mots often have the added knife-edge of contemporary curse words.
That it's set in the 50s means there are hints of the encroaching (and real) witch hunt of reds in entertainment, and the always underlying threat of exposure of private lives (particularly ones still unlawful) to gossip mongers.
The main force of these plot turns is, oddly, entirely unseen in the play. It's some young offstage beach bum playmate turned vicious blackmailer. For all of the plot he churns, he is only spoken of by others and only heard occasionally howling.
Sims has nonetheless turned his attention to a good looking young priest, hired as technical advisor for his recent play. Is he finding a new young companion or actually converting to religion? Williams' haughty Basil is having none of it and calls out both men.
Lawrence Redmond is a standout as a producer who has professed his love for Giannarelli's Claire; he's also the one who may be called to testify to Congress about past Communist connections.
Less polished is Danny Beason as the young priest, though being flustered and out of his league in the prevailing war of sharp witticisms may be part of his character description.
For such a long time spent in the same space, designer Carl Gudenius, Jingle Dai and Kirk Kristlibas create an appealing space of columns, ferns and sunshine. But the costumes seemed problematic - the sweaters ill-fitting and a belt worn by Giannarelli snapping during one scene (which Redmond graciously refastened).
Randolph's direction of "All Save One," for a play entirely of talking in one room, keeps lively, pausing for some long, not always convincing kisses.
As it builds to a climactic showdown, there are some takedowns of religion that seem uncharitable for a company whose very space is provided by a Methodist Church.
But there's also an unseemly happy ending for such unhappy people - and no one seems especially concerned at how it was attained -- the most morally questionable point in a show bent on exposing hidden secrets. Such is life in a drawing-room concoction brimming with dialog so well-burnished it seems to only increase an artificiality that keeps it from having the impact it intends.
Running time: Two hours and 10 minutes; one intermission.
Photo credit: Lawrence Redmond, Laura Giannarelli, Danny Beason and Bill Largess in "All Save One." Photo by C. Stanley Photography.
"All Save One" continues through Dec. 9, presented by Washington Stage Guild at the Undercroft Theatre at Mount Vernon Place United Methodist Church, 900 Massachusetts Ave., NW. Tickets at 240-582-0050 or online.
Related Articles View More Washington, DC

Stories

Shows