BWW Review: Washington National Opera's FAUST is a Devilishly Good Time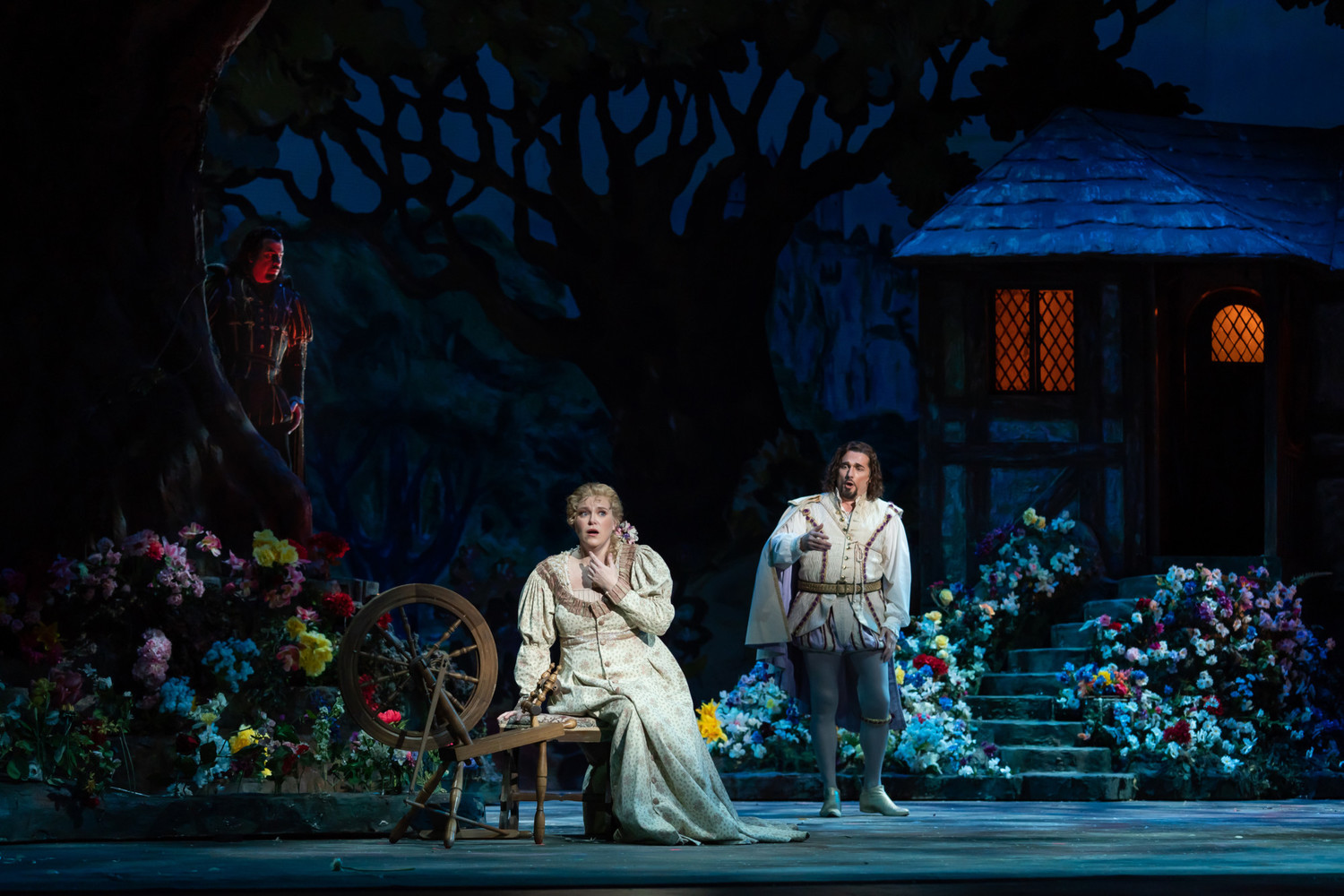 Few works have inspired such a long-lasting legacy as Johann Wolfgang von Goethe's Faust. The Faustian bargain has become a common expression for metaphorically selling one's soul in order to obtain their goals. Of course, the metaphor is much less metaphorical in von Goethe's work and, subsequently, the Charles Gounod opera which stems from this German classic. Gounod's opera isn't always perfect, but the Washington National Opera's new production which opened at the Kennedy Center on Saturday evening breathes enough life into this piece that you'll likely not notice the over three hours you've spent watching the drama unfold.
At the story's outset, an elderly Faust summons the demonic Mephistopheles as he mourns his old age. Faust makes a deal to sell his soul to the devil in order for his youth to be restored. In a nearby village, Faust is taken with the pure Marguerite, who rebuffs Faust's advances. His passions are ignited by her rejection and, with Mephistopheles's help, Faust offers a box of jewels as a gift to Marguerite. Although she tries to fight her urges, the token is enough to win her affections and the two become romantically involved. Marguerite bears Faust's child and is shunned by the community and continues to fall to rock bottom as her brother perishes in a duel with Faust and Marguerite kills her own baby in desperation. Alone and awaiting execution, Marguerite finally rejects Faust's final advances which is enough to save her soul while securing Faust's own sentence in hell.
There are even more secondary and tertiary plot points that cannot be detailed for fear of making the summary overly long. Even with so much ground to cover, however, the production never feels like there is too much going on. Thanks to some solid direction from Garnett Bruce, the plot flows continuously with no dead spaces during the night. This is a great accomplishment for a show running nearly three and a half hours. To have each scene clip along to the point that the audience doesn't realize just how long they've been watching is a true testament to the production team.
Marcelo Puente, in his Washington National Opera debut, is a solid player as Faust. Although the work is named for him, Faust is never really the center of the action. At every turn, Mr. Puente is outshined by his stellar co-stars who are provided with much more interesting material in Gounod's opera. Raymond Aceto was positively radiant as Mephistopheles, injecting his performance with as much humor as malice and creating a shockingly complex portrayal of this demon. He consistently contributed evening highlights with a particularly gut-busting moment where Mephistopheles flirts a little too expertly with Dame Marthe (Deborah Nansteel) and is pursued by the woman. At every turn, Mr. Aceto derives even more humor than his character probably deserves.
Erin Wall is also impressive as Marguerite, but it takes her a little longer to come into her own. Perhaps it is in the content, as Marguerite's first few appearances onstage are relatively forgettable. Or perhaps it is the fact Ms. Wall exudes so much confidence and self-determination that believing her as a vulnerable young maiden is sometimes a stretch. Either way, once Ms. Wall's "Jewel Song" aria comes about in the second act she becomes the unavoidable center of the production. No wonder all of the promotional material shows an image of Marguerite peering into a jewel box. At the end of the day it is Marguerite, and not the eponymous Faust, who is the center of this tragic tale.
The WNO has once again filled their opera to the brim with impressive set pieces and costumes. Earl Staley draws out a simultaneous feeling of grandness and simplicity in his costumes, particularly those of Mephistopheles that teem with devilish flourishes. In a show with so many impressive storybook-inspired set pieces, the most eye-catching is the creation of moving trees in front of Marguerite's house in the second act. With the action taking place under beautiful foliage, the tree branches move up and down throughout the scene, allowing the production to create grandness or intimacy depending on the tone of the songs. With some additional help from Michael Clark's solid lighting design, the entire performance is filled with eye candy.
There are, of course, some minor stumbles along the way. It takes far too long for any real emotional tension to appear between Faust and Marguerite, making their interactions prior to the third act a little difficult to invest oneself in. Additionally, while the chorus is impressive overall the diction seemed much less crisp than usual and resulted in a lot of blurred vowel sounds lacking the necessary consonants to create a clean execution of their numbers. But neither of these hiccups drew away from my overall enjoyment.
All in all, Faust is an opera that begs to be seen. If you are wary about the nearly three and a half hour runtime don't be. The time flies by thanks to the skillful production onstage. If you're not already an opera fan, it may be a tougher sell. But a solid work like this that includes a good amount of humor is a great starting point before diving into heavier works in the opera canon. For lack of a better word, this production is devilishly good.
The Washington National Opera's Faust runs approximately 3 hours and 20 minutes with 2 intermissions and is playing at the Kennedy Center's Opera House through March 30. For information and tickets, click here. For additional information on the WNO's season, click here.
---
---
Sam Abney is a Washington, D.C. based arts professional. A native of Arizona, he has happily made D.C. his new home. Sam is a graduate from George Mason University with a degree in Communication and currently works for Arena Stage as a member of their Development team. He is a life-long lover of theater and is excited about sharing his passion with as many people as possible.
To stay up-to-date on reviews from Sam, click here and subscribe to alerts.
Related Articles View More Washington, DC

Stories

Shows