Click Here for More Articles on REGIONAL - DC Metro Area Virginia
BWW Review: THREE SISTAHS at MetroStage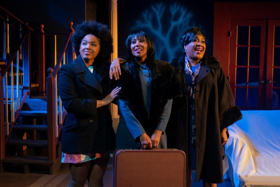 MetroStage continues its winning 2018/19 season with the company's fourth production of Three Sistahs. This musical premiered in 2002 and it's easy to understand why it is one of Producing Artistic Director Carolyn Griffin's favorites.
Janet Pryce's story is brought to full and wonderful life by writer/director/lyricist/choreographer Thomas W. Jones II and composer William Hubbard. It's the story of three sisters coming together to clean out their childhood home as they mourn the loss of their brother killed in Vietnam. Their domineering father died the year prior, presumably of a broken heart after his wife's passing.
Olive (Roz White) is the oldest of the three and cared for her father as his health started to deteriorate while middle sister Marsha (Kara-Tameika Watkins) and the youngest of the three Irene (Ayana Reed) went off and lived their own lives. As with any family, when sorting out the affairs of loved ones, demons from the past tend to rear their ugly heads - including two of the sisters' lack of presence when their father's health was in decline and how to handle a ring that the father wanted to be passed down to their now deceased brother. Ultimately Olive decides what to do with the ring and the choice doesn't go over well with the others.
They reminisce about their upbringing in song. One of my personal favorites is a song called "Basement Kind of Love" in which Olive recounts her and her boyfriend making love on the couch and her father walking in on them. It's definitely one of the lighter moments in the show and is a crowd pleaser to be sure.
Let's face it, any show that only has three characters in it must have three powerhouse performers and Three Sistahs most definitely does.
The trio of White, Watkins, and Reed blow the roof off of MetroStage with powerhouse vocals in a score that ranges from gospel to blues and more. I would normally single out individual elements from each performance, but the ladies work so well as a unit that they should be praised as such. No one performer outshines the other.
All three also possess incredibly strong acting abilities. It would be very easy for this show to include a lot of screeching and over-the-top acting, but there isn't any of that here. Jones directs the show with tons of heart, pathos and genuineness.
The ladies are backed by a fantastic trio of musicians playing Hubbard's music to full potential and bravado. They include Musical Director William Knowles on piano, Yusef Chisholm on bass, and Greg Holloway on drums.
Lighting designer Alex Keen gets some very nice looks out of a minimal lighting plot while complementing the set (Carl Gudenius is the set consultant).
All in all, Three Sistahs is the perfect cure for your winter blues. With three incredible performances and good production elements, MetroStage again proves you don't need a large budget to create good theater. This show is not the "Same Ole Dance." Get your tickets and see for yourself.
Running Time: One hour and 50 minutes with one intermission.
Three Sistahs runs through February 24, 2019 at MetroStage, located at 1201 North Royal Street in Alexandria, VA. For tickets, click here.