Click Here for More Articles on REGIONAL - WASHINGTON, DC
BWW Review: THE LARAMIE PROJECT presented by The Wandering Theatre Company at Capital Fringe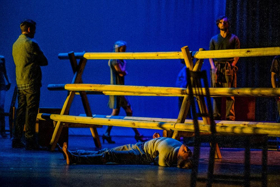 Anytime a company presents something I don't expect to see in a festival setting, it generally peaks my interest. The Laramie Project is one of those shows I never thought I would see performed in Capital Fringe. When The Wandering Theatre Company presents the piece and then disrespects the material by doing things to the show that are not needed it results in the following diatribe even if the production features some strong performances.
Almost nineteen years ago in Laramie, Wyoming a 21-year-old gay man named Matthew Shepard was brutally beaten, tied to a fence, and left for dead in a field. His assailants Aaron McKinney and Russell Henderson were found guilty of his murder. Whether or not Shepard came on to his killers in a bar or not isn't the issue, this was a hate crime in a small town and this play explains how it impacted the residents of that town.
NYC'S Tectonic Theater Project with its Artistic Director Moises Kaufman visited Laramie on several occasions. The company's interviews, existing public records, and excerpts from the assailants' trials are the basis for the play. The material actually doesn't need much "help" to grab the audience's attention and make an impact because the statements pack a wallop all by themselves.
Unfortunately, Director Natalie Villamonte Zito doesn't trust the material because this production features a couple of bizarre choices. First off, other actors move about while some of the monologues are being performed, which becomes more of a distraction than a welcome addition. Sometimes you just ask "WHY?" and move on. Secondly, Zito and Daphne Liu's soundscape overpowers the material rather than enhances it. There is nothing worse for an audience member than having an actor deliver a monologue and noticing the music more than the words.
Next up, this piece recalls the events leading to Shepard's death and the aftermath so making Matthew Shepard (Adam Davidson) an actual character in the show who meanders all over the stage for most of the show is the biggest misstep yet. If you don't see him it's more powerful.
Lastly, the lighting by Jak Prince left many of Zito's performers in the dark so while they sounded great it would have been nice to see them as well. If this show was being performed in a bar type of venue, I would be more forgiving, but it is being performed at the Atlas Performing Arts Center's Lang space, which is a real theater with a good festival lighting plot.
All this negativity aside, I do need to mention that there were a few good performances that stuck out for me so this show wasn't a total bust.
The company plays multiple roles and one the strongest and powerful performances comes from John Squires, particularly when he plays Dennis Shepard and delivers a statement to one of his son's killers at his trial. If there were more of those moments in this production, I wouldn't have come out of the theater so ornery.
The other performer that stuck out was Kendra McNulty in the role of Officer Reggie Fluty. Her portrayal of an officer called to the scene of a brutal crime and doing everything she can to treat him with respect and dignity was a true highlight.
The lesson here is that some shows are not meant for this kind of set up. If Zito was presenting this piece as a regular run somewhere with ample tech time, her new, albeit unnecessary, reimagining might have come off better to me. I give the Wandering Theatre Company an "A" for effort, but in this festival setting the end product - especially for someone like me who has seen the show before - doesn't have the resonance or urgency that it should have. That's pretty unfortunate.
Running Time: Two hours with no intermission.
The Laramie Project runs through July 21,2017 as part of the Capital Fringe Festival at Atlas Performing Arts Center. The venue is located at 1333 H St NE, Washington, DC. For tickets, click here.