Review: THE COMEDY OF ERRORS Makes Up for Some Errors with Great Comedy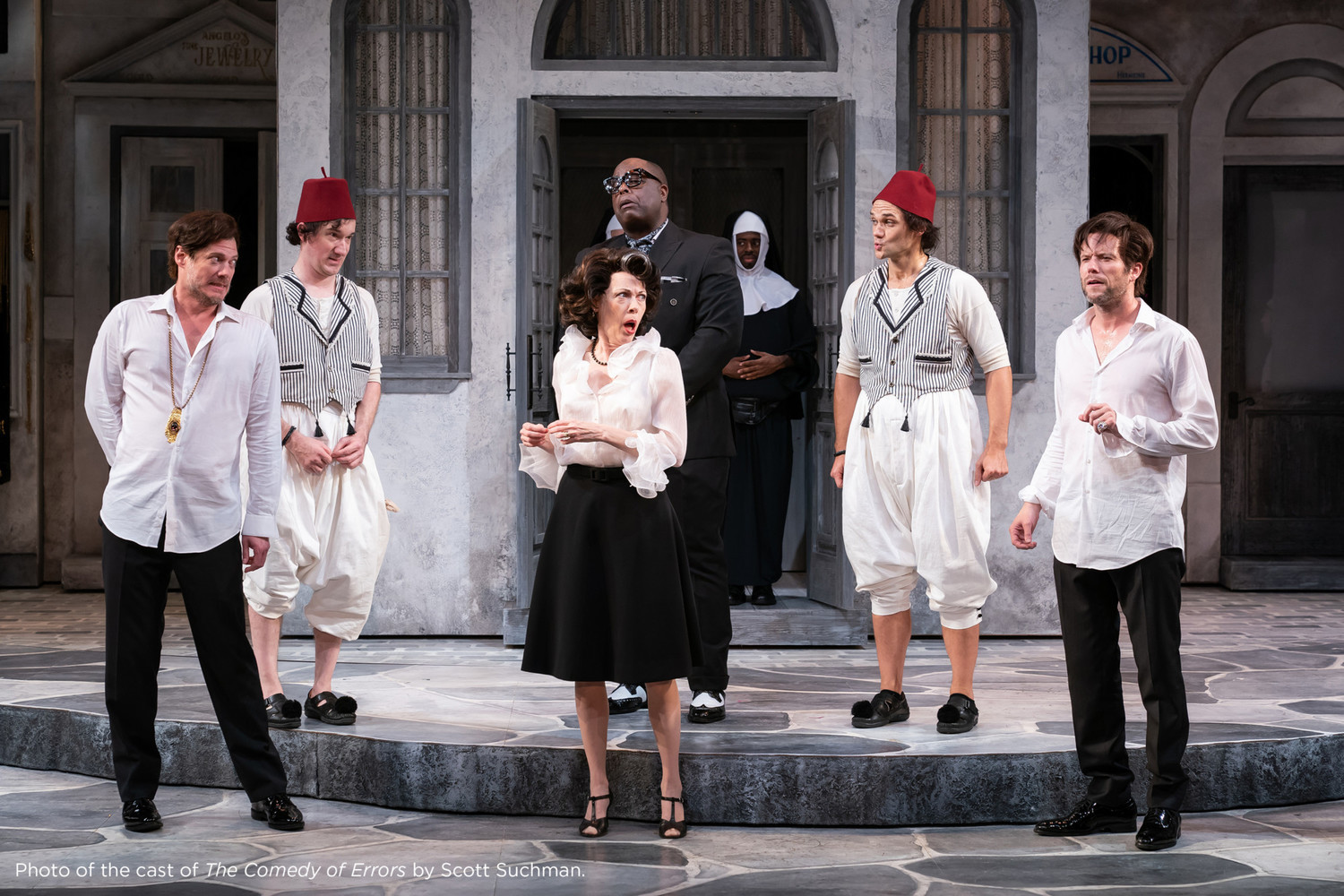 There's nothing quite like a case of mistaken identity to really spice up a relationship. This is a lesson learned the hard way for Adrianna, wife of Antipholus of Syracuse, in Shakespeare Theatre Company's newest staging of The Comedy of Errors. As if dealing with one set of twins didn't provide enough twists for both the characters and the audience, Shakespeare's work throws two pairs of twins into the mix. While it takes a little while for this staging to settle into a groove, Alan Paul's deft direction supplies some of the finest comedic moments of the D.C. theater season thus far.
The plot is predictably set up during an opening monologue from the Syracuse merchant, Egeon (an ever-reliable Ted Van Griethuysen), who explains that he had been long ago separated from his wife and children. But these aren't any ordinary children-he was father to one pair of twins and adoptive father to another pair. In the storm, he still remained with Antipholus and Dromio of Syracuse (Gregory Wooddell and Carson Elrod) while each of their matching companions was lost at sea. Unbeknownst to any of the players, the Syracuse brothers have recently arrived in the city of Ephesus where their counterparts, Antipholus and Dromio of Ephesus (Christian Conn and Carter Gill), reside. The ensuing ninety minutes consist of more cases of mistaken identity than might seem possible. But this is a Shakespearean comedy, so it is a good idea to suspend disbelief for the time being.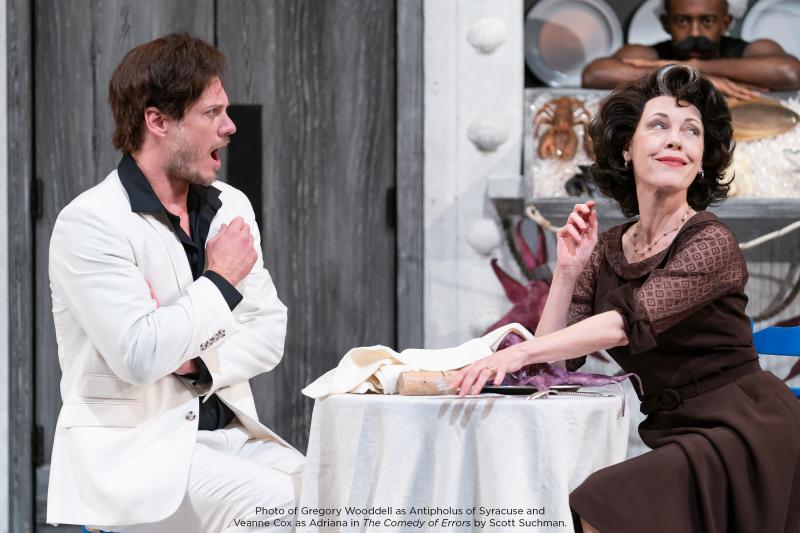 As The Comedy of Errors is the shortest of Shakespeare's works, it is typically augmented in some way. In this instance, the production is envisioned as a musical. While Shakespeare Theatre Company's Associate Artistic Director, Alan Paul, has proven himself adroit with musical adaptations in the past, there is an unshakable clunkiness to the music (composed by Michael Dansicker) in this production. None of the songs are particularly hummable and they'll likely fly out of an audience member's head before the short show has even ended but, more importantly, they are all about a verse too long. Even the crowd-pleasing tap number led by the Ephesus Officer (Matt Bauman) overstays its welcome. Additionally, the transition back into Shakespearean language is so jarring that the pacing of the show is adversely affected by these numbers on multiple occasions. All in all, the musical elements seem like afterthoughts meant to do little more than increase the production's run time.
But what a comedy it is. At it's heights-and this production reaches many heights-The Comedy of Errors is a masterclass in comedy. A great deal of this success stems from the chemistry Mr. Wooddell and Mr. Conn share with Mr. Elrod and Mr. Gill. Even when they are talking to the wrong twin there is a kinship that exists between all of the actors that makes their cases of mistaken identity all the more believable. It is funny, however, that Dromio is constantly mistaken because Mr. Elrod and Mr. Gill do not look very much alike. But, then again, they are the servants for Antipholus so it wouldn't be surprising if the affluent players onstage didn't really register their faces.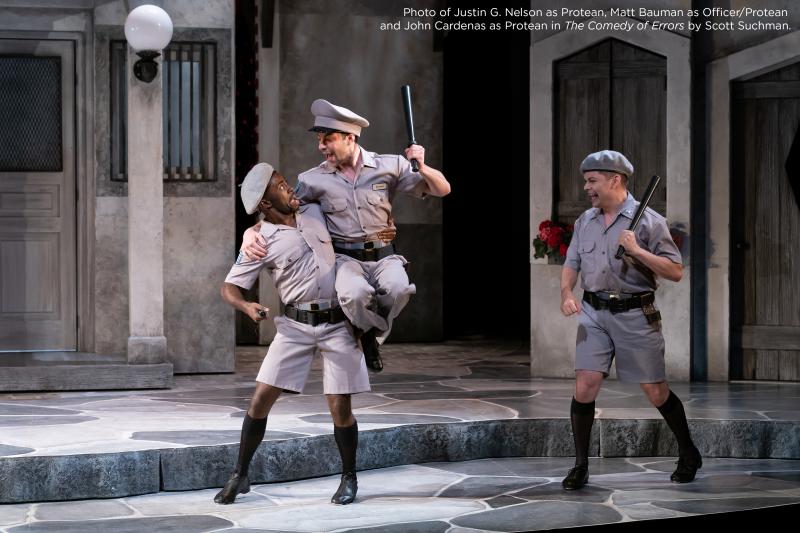 The real highlight of the production, beyond the twins, is Veanne Cox as Adriana, the wife of Antipholus of Ephesus. When she first appears, it seems like Ms. Cox will be nothing more than the straight-laced counterpoint to all of the wacky absurdities around her. How wrong you would be for assuming this. Whether sliding herself along the floor, running around the stage or throwing herself at Antipholus, Ms. Cox provides many more layers to this character than available in Shakespeare's script. Whenever she is on stage, Ms. Cox demands attention, even if she is just patiently listening to another's speech, patiently awaiting her next opportunity to chew the set around her.
I don't blame her for chewing the set. It is a delicious Grecian playground that James Noone has provided. Filled with shades of grey, white, black and brown, the set is evocative of classic Greek films or even newer Greek films (or Mamma Mia, which is also set in Greece). The small pops from Adriana's green couch or Antipholus's bright yellow Vespa provide enough color to give the scene some additional depth. Most impressive, however, is the set's turntable which allows for different storefronts to be moved in and out with particular ease and allow for quick changes to the playing space that Mr. Noone has supplied. When coupled with masterful lighting design by Mary Ellen Stebbins, this is one of the best sets I have seen at Shakespeare Theatre Company.
Gabriel Berry's costumes, conversely, fall a little short. With most actors dressed head-to-toe in warm earth tones or shades of black and white, the costumes often fade into the background. Even flashier costume pieces, like a porcupine-inspired dress worn by the town's Cortesan (Eleasha Gamble), don't exactly wow. It would have been nice to see a greater variety of textures and colors across the board.
When The Comedy of Errors gets it right, it gets it really right. The final twenty minutes of this piece are gut-busting and a perfectly zany conclusion to the mistaken identity saga which precedes. There are certainly some errors in this production, but thankfully there is enough comedy to make this an enjoyably escapist night of theater.
Shakespeare Theatre Company's The Comedy of Errors is playing through November 4 at the Lansburgh Theatre. Tickets are $44-$118 and can be purchased by calling (202) 547-1122 or by clicking here. For more information about Shakespeare Theatre Company's upcoming productions, click here.
---
Sam Abney is a Washington, D.C. based arts professional. A native of Arizona, he has happily made D.C. his new home. Sam is a graduate from George Mason University with a degree in Communication and currently works for Arena Stage as a member of their Development team. He is a life-long lover of theater and is excited about sharing his passion with as many people as possible.
To stay up-to-date on reviews from Sam, click here and subscribe to alerts.