BWW Review: Stellar Lead Performances Populate NextStop Theatre Company's THE WEDDING SINGER
The Wedding Singer is commonly regarded as one of Adam Sandler's greatest films. That doesn't set an especially high bar but the 1998 sitcom is revered as a well-crafted send-up of the best and most over-the-top elements of the 80s. While the film was an undeniable hit, the musical adaptation which opened in 2006 fizzled by comparison-closing on Broadway by year's end. Despite a less-than-stellar original run, the show's upbeat score and feel-good nature have made it a popular choice for regional and community theater productions nationwide. Even if you haven't seen the original film, the musical is still a fun ride. Despite some missteps, NextStop Theatre Company's new production is an undeniably good time, thanks in large part to some winning lead performances.
Robbie (Ricky Drummond) is a wedding singer in New Jersey who is satisfied with his life: he sings in a band with good friends, he lives with his grandmother, and he is ready to wed his fiancé Linda (a hit-or-miss Rachel Barlaam). Despite that, he is undeniably drawn to waitress Julia (Molly Rumberger, the production's MVP) thanks to her good heart. When Robbie is dumped at the alter, it is Julia who (quite literally) helps him out of the dumps. Everything would be going well for the two if it weren't for Julia's dreadful fiancé, Glen (James Finley), who is everything you would expect from an 80s Wall Street sleaze-ball. But this is a feel-good romantic comedy, so you probably know how this will all turn out.
The cast is populated with a colorful assortment of characters. Amanda Leigh Corbett lights up the stage as Julia's firecracker best friend, Holly, who seduces the audience with the same ease that she seduces any man she encounters. Robbie's bandmates, Sammy (Joshua Redford) and George (Evan LaChance) manage to come across as simultaneously aimless and endearing. There is a certain tentativeness to Mr. LaChance's performance, however, that prevents a lot of George's punchlines from landing. Rounding out the cast is a delightful and engaging Marylee Nicholas as his grandmother, Rosie.
All of these performances, however, are tools to better accentuate this production's stellar leads. Mr. Drummond has a voice strong enough to carry the bulk of this musical's production numbers with just enough roughness to remind you of the lead singer in a local band. He is an engaging performer who connects well with everyone on stage. None more so than his effervescent co-star Ms. Rumberger, who is an eminently watchable delight throughout the evening. Julia's naivety and sheer goodness is brought to life brilliantly with Ms. Rumberger's deft hand. She commands every moment that she is on stage dominates every scene without forgetting to connect with the performers around her. The role of Julia isn't particularly complex, but Ms. Rumberger gives a more thoughtful and layered performance than one might expect. Together, Mr. Drummond and Ms. Rumberger make for a delightful couple you can't help but root for.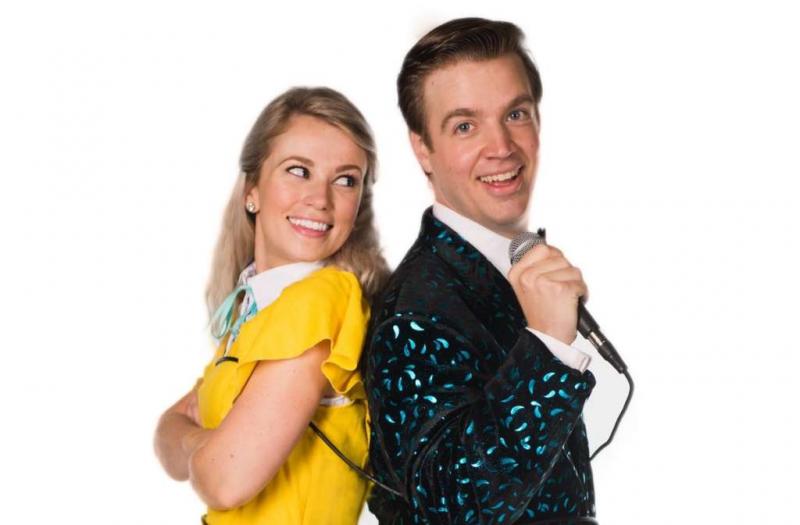 While the performances are all winning, some technical aspects of the production could have used some more refining. For starters, Reid May's sound design featured multiple balance issues during Saturday night's performance, often drowning out dialogue or song lyrics with the sound of the band (helmed wonderfully by Steve Przybylski). Most of these problems will likely correct themselves at other performances, but it was distracting enough to pull me out of the performance multiple times. Additionally, and most noticeably, Cathy Oh and Mark Hidalgo have choreographed The Wedding Singer for a space twice the size of that which NextStop has. During almost every large production number (particularly the act one finale "Saturday Night in the City"), there are more spins and kicks and rolls than seems appropriate for such an intimate space. I wouldn't have been surprised if the actors fell on the audience members sitting in the first row-which nearly happened a few times. There are a lot of good moments in the choreography but, unfortunately, the tight quarters make the dancing appear much less polished than one might hope.
When it comes to the costumes, Amy MacDonald relishes in the garish nature of 80s fashion, bedecking the performers in more ruffles than you thought still existed. During a shopping montage midway through the show, there is a delightful examination of racks of clothes that are each puffier and fluffier than the last. JD Madsen provides a serviceable playground for the evening, keeping the stage minimalistic to provide as much extra room as possible in the intimate Herndon, VA theater. A bar that doubles as a dumpster and a central platform that turns into a manual-crank turntable are a few highlights of the scenery.
Evan Hofmann, who directs this production skillfully, starts the party from the moment you enter the theater, with actors milling about as wedding guests and interacting with audience members. It's a fun way to engage early-comers to the production that properly sets up the high-energy fun ahead. The rest of the production keeps this same energy going throughout, even when faltering with some of the execution. At the end of the day, this is the kind of show that will leave you with a smile on your face and a song in your heart.
NextStop Theatre Company's The Wedding Singer runs approximately two hours and thirty minutes and plays through October 14. For tickets and information, click here.
---
Sam Abney is a Washington, D.C. based arts professional. A native of Arizona, he has happily made D.C. his new home. Sam is a graduate from George Mason University with a degree in Communication and currently works for Arena Stage as a member of their Development team. He is a life-long lover of theater and is excited about sharing his passion with as many people as possible.
To stay up-to-date on reviews from Sam, click here and subscribe to alerts.
Related Articles View More Washington, DC

Stories

Shows